Beatmap Listing » Atsuko Asahi & Manaka Kataoka - Bubblegum K.K.
Artist:
Atsuko Asahi & Manaka Kataoka
Circle Size:

Approach Rate:

Title:
Bubblegum K.K.
HP Drain:

Star Difficulty:

(4.88)
Creator:
Veridian
Accuracy:

Length:
0:49 (0:49 drain)
Source:
とびだせ どうぶつの森
Genre:
Video Game (Instrumental)
BPM:
155
Tags:
keke aidoru polkamocha polka slider nintendo aircheck good animal crossing crossing: new leaf kk pop radio
User Rating:
Success Rate:
Points of Failure:


(graph is accumulative, based on % at fail/retry)

14.8% (5094 of 34326 plays)

Submitted:
Ranked:
Oct 12, 2015
Nov 29, 2017
Rating Spread:

Favourited 46 times in total

Users that love this map: GINJIANG, tilinga1, Pilesos, chocolatesushi, MyPreciousThing, MadTemp0, frostwich, DeviantDreamer, ChrisTheThird, BlackXXL, MenzoCz, - Necrox -, AlwaysSinking, Cheebee, Yahiyahir, citruslump, ginger23303, Milan4, FoxySurYouTube, Homkakun and many more!
Options:
Modding / Discussion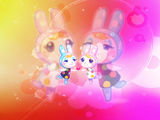 <<#9>>
Last map by PolkaMocha </3
read for info!
redl as of August 3, 2017
Art by: justduet
Lyrics by: A Simpleton
Skin by: kawaiipandah (link:
t/55657)
Storyboard by: kinda me (lowkey abused xincrins generators)
uyghti is in the lead! ()
Score
2,118,192 (97.13%)
Max Combo
373
300 / 100 / 50
178 / 8 / 0
Misses
0
Geki (Elite Beat!)
31
Katu (Beat!)
6
Mods
HD,DT
Top 50 Scoreboard
| | Rank | Score | Accuracy | Player | Max Combo | 300 / 100 / 50 | Geki | Katu | Misses | Mods | |
| --- | --- | --- | --- | --- | --- | --- | --- | --- | --- | --- | --- |
| #1 | | 2,118,192 | 97.13% | uyghti | 373 | 178&nbsp&nbsp/ 8 / 0 | 31 | 6 | 0 | HD,DT | Report |
| #2 | | 2,102,881 | 95.25% | Myst1k | 373 | 173&nbsp&nbsp/ 12 / 1 | 27 | 9 | 0 | HD,DT | Report |
| #3 | | 2,019,522 | 97.85% | yotampoco | 373 | 180&nbsp&nbsp/ 6 / 0 | 31 | 6 | 0 | HD,HR | Report |
| #4 | | 1,983,538 | 94.98% | karott90 | 373 | 172&nbsp&nbsp/ 14 / 0 | 25 | 12 | 0 | HD,HR | Report |
| #5 | | 1,975,663 | 95.34% | lain | 373 | 173&nbsp&nbsp/ 13 / 0 | 27 | 10 | 0 | DT | Report |
| #6 | | 1,954,779 | 96.06% | Wario | 353 | 175&nbsp&nbsp/ 11 / 0 | 27 | 10 | 0 | HD,DT | Report |
| #7 | | 1,947,513 | 94.80% | Blazink | 370 | 172&nbsp&nbsp/ 12 / 2 | 26 | 9 | 0 | DT | Report |
| #8 | | 1,941,494 | 100.00% | Nanitoxx | 373 | 186&nbsp&nbsp/ 0 / 0 | 37 | 0 | 0 | HD | Report |
| #9 | | 1,935,223 | 98.92% | Sly | 373 | 183&nbsp&nbsp/ 3 / 0 | 34 | 3 | 0 | HD | Report |
| #10 | | 1,933,102 | 98.57% | xasuma | 373 | 182&nbsp&nbsp/ 4 / 0 | 33 | 4 | 0 | HD | Report |
| #11 | | 1,932,691 | 98.57% | petitekpl | 373 | 182&nbsp&nbsp/ 4 / 0 | 33 | 4 | 0 | HD | Report |
| #12 | | 1,927,291 | 98.92% | Uni-Desu | 373 | 183&nbsp&nbsp/ 3 / 0 | 34 | 3 | 0 | HD | Report |
| #13 | | 1,924,990 | 98.48% | flipshock8 | 373 | 182&nbsp&nbsp/ 3 / 1 | 33 | 3 | 0 | HD | Report |
| #14 | | 1,924,304 | 97.49% | SamPokLord | 373 | 179&nbsp&nbsp/ 7 / 0 | 31 | 6 | 0 | HD | Report |
| #15 | | 1,922,929 | 98.21% | OcklePod | 373 | 181&nbsp&nbsp/ 5 / 0 | 32 | 5 | 0 | HD | Report |
| #16 | | 1,922,755 | 97.49% | chezbananas | 373 | 179&nbsp&nbsp/ 7 / 0 | 31 | 6 | 0 | HD | Report |
| #17 | | 1,921,314 | 98.21% | Blue Wells | 373 | 181&nbsp&nbsp/ 5 / 0 | 32 | 5 | 0 | HD | Report |
| #18 | | 1,920,026 | 97.85% | Tomadoi | 373 | 180&nbsp&nbsp/ 6 / 0 | 31 | 6 | 0 | HD | Report |
| #19 | | 1,920,008 | 98.92% | Minorsonek | 372 | 183&nbsp&nbsp/ 3 / 0 | 34 | 3 | 0 | HD | Report |
| #20 | | 1,912,658 | 98.21% | toybot | 373 | 181&nbsp&nbsp/ 5 / 0 | 33 | 4 | 0 | HD | Report |
| #21 | | 1,912,081 | 96.24% | Rif Raf | 373 | 176&nbsp&nbsp/ 8 / 2 | 29 | 6 | 0 | HD | Report |
| #22 | | 1,911,658 | 97.13% | jehlp | 373 | 178&nbsp&nbsp/ 8 / 0 | 29 | 8 | 0 | HD | Report |
| #23 | | 1,910,697 | 97.49% | KabyL | 373 | 179&nbsp&nbsp/ 7 / 0 | 30 | 7 | 0 | HD | Report |
| #24 | | 1,910,587 | 93.91% | TopSp1n | 373 | 169&nbsp&nbsp/ 17 / 0 | 24 | 13 | 0 | HD,HR | Report |
| #25 | | 1,909,565 | 97.04% | Juanvfx | 372 | 178&nbsp&nbsp/ 7 / 1 | 30 | 6 | 0 | HD | Report |
| #26 | | 1,909,212 | 97.49% | outuyo | 373 | 179&nbsp&nbsp/ 7 / 0 | 31 | 6 | 0 | HD | Report |
| #27 | | 1,907,861 | 98.57% | Duskyui | 373 | 182&nbsp&nbsp/ 4 / 0 | 34 | 3 | 0 | HD | Report |
| #28 | | 1,903,401 | 96.77% | klumper7 | 373 | 177&nbsp&nbsp/ 9 / 0 | 29 | 8 | 0 | HD | Report |
| #29 | | 1,901,326 | 97.49% | MultR | 371 | 179&nbsp&nbsp/ 7 / 0 | 30 | 7 | 0 | HD | Report |
| #30 | | 1,900,201 | 98.21% | AndrewRK | 373 | 181&nbsp&nbsp/ 5 / 0 | 32 | 5 | 0 | HD | Report |
| #31 | | 1,892,685 | 97.76% | Anto | 373 | 180&nbsp&nbsp/ 5 / 1 | 31 | 5 | 0 | HD | Report |
| #32 | | 1,892,136 | 97.13% | BobbyZlich | 373 | 178&nbsp&nbsp/ 8 / 0 | 29 | 8 | 0 | HD | Report |
| #33 | | 1,882,033 | 96.77% | big boob | 373 | 177&nbsp&nbsp/ 9 / 0 | 29 | 8 | 0 | HR | Report |
| #34 | | 1,878,078 | 94.80% | JUMPINGCARROTS | 373 | 172&nbsp&nbsp/ 12 / 2 | 25 | 10 | 0 | HD | Report |
| #35 | | 1,876,940 | 95.88% | gimly32 | 373 | 175&nbsp&nbsp/ 9 / 2 | 26 | 9 | 0 | HR | Report |
| #36 | | 1,872,494 | 94.98% | Otaku_Ninha | 373 | 172&nbsp&nbsp/ 14 / 0 | 25 | 12 | 0 | HD | Report |
| #37 | | 1,864,497 | 95.88% | TheUnexpected6 | 356 | 175&nbsp&nbsp/ 9 / 2 | 26 | 9 | 0 | DT | Report |
| #38 | | 1,859,675 | 96.77% | Anathema | 372 | 177&nbsp&nbsp/ 9 / 0 | 30 | 7 | 0 | HD | Report |
| #39 | | 1,844,082 | 94.53% | xXmcgamer2004Xx | 356 | 171&nbsp&nbsp/ 14 / 1 | 23 | 13 | 0 | HD,HR | Report |
| #40 | | 1,835,040 | 94.44% | Num5119 | 342 | 171&nbsp&nbsp/ 14 / 0 | 22 | 14 | 1 | HD,DT | Report |
| #41 | | 1,833,370 | 100.00% | Fuwzie | 373 | 186&nbsp&nbsp/ 0 / 0 | 37 | 0 | 0 | None | Report |
| #42 | | 1,832,650 | 98.92% | Serenita | 373 | 183&nbsp&nbsp/ 3 / 0 | 34 | 3 | 0 | None | Report |
| #43 | | 1,831,645 | 95.16% | Kelhoy | 371 | 173&nbsp&nbsp/ 12 / 0 | 28 | 8 | 1 | HD | Report |
| #44 | | 1,831,330 | 99.19% | mar | 373 | 184&nbsp&nbsp/ 1 / 1 | 35 | 1 | 0 | None | Report |
| #45 | | 1,830,490 | 98.48% | Kuma Sun | 373 | 182&nbsp&nbsp/ 3 / 1 | 33 | 3 | 0 | None | Report |
| #46 | | 1,828,770 | 99.64% | jakads | 373 | 185&nbsp&nbsp/ 1 / 0 | 36 | 1 | 0 | None | Report |
| #47 | | 1,828,090 | 99.28% | pudingkokoro | 373 | 184&nbsp&nbsp/ 2 / 0 | 35 | 2 | 0 | None | Report |
| #48 | | 1,827,600 | 98.39% | DariosHD | 373 | 182&nbsp&nbsp/ 2 / 2 | 33 | 2 | 0 | None | Report |
| #49 | | 1,826,844 | 98.30% | Flore | 343 | 182&nbsp&nbsp/ 2 / 1 | 34 | 1 | 1 | NC | Report |
| #50 | | 1,826,090 | 98.12% | sasamori niko | 373 | 181&nbsp&nbsp/ 4 / 1 | 32 | 4 | 0 | None | Report |