Beatmap Listing » Morimori Atsushi - Tits or get the fuck out!!
Artist:
Morimori Atsushi
Circle Size:

Approach Rate:

Title:
Tits or get the fuck out!!
HP Drain:

Star Difficulty:

(8.04)
Creator:
ManP
Accuracy:

Length:
2:29 (2:26 drain)
Source:
東方Project
Genre:
Unspecified (Other)
BPM:
220
Tags:
backfire kinomicandy koyomi_222 tasuke912 sksalt zun 上海アリス幻樂団 team shanghai alice 東方神霊廟 ten desires. touhou shinreibyou デザイアドライブ desire drive アレンジ arrange
User Rating:
Success Rate:
Points of Failure:


(graph is accumulative, based on % at fail/retry)

18.9% (592 of 3129 plays)

Submitted:
Loved:
Jul 15, 2015
Feb 14, 2017
Rating Spread:

Favourited 64 times in total

Users that love this map: Backfire, KinomiCandy, yyyyyyyyyyypetu, oswaldwylee, 404 AccNotFound, whosthebox, Elfie, bvrieivewvw, komasy, Shinsekai-, Marmota221, chika_Chan, XxLeonardoxX, naiya891, namaniku, cccbc123, Osamix, - Genesis -, koyomi_222, Koumakan Family and many more!
Options:
Modding / Discussion
This map is in a LOVED state.
As such, it will not award any pp and leaderboards may be reset by the beatmap creator.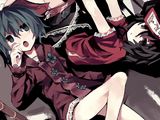 Re-download please(September 2nd,2016)
Many modders made this mapset better <3 Thanks a million :3/
Other GD
ice's OC and yzrn's Inner Oni are now available on
here
The maps were made by
yuzu_rinrin
and
iceOC
! Thanks for you mapping!
_yu68 is in the lead! ()
Score
1,549,500 (99.68%)
Max Combo
1245
300 / 100 / 50
1237 / 8 / 0
Misses
0
Geki (Elite Beat!)
36
Katu (Beat!)
0
Mods
HD
Top 50 Scoreboard
| | Rank | Score | Accuracy | Player | Max Combo | 300 / 100 / 50 | Geki | Katu | Misses | Mods | |
| --- | --- | --- | --- | --- | --- | --- | --- | --- | --- | --- | --- |
| #1 | | 1,549,500 | 99.68% | _yu68 | 1245 | 1237&nbsp&nbsp/ 8 / 0 | 36 | 0 | 0 | HD | Report |
| #2 | | 1,542,888 | 99.36% | Mew104 | 1245 | 1229&nbsp&nbsp/ 16 / 0 | 39 | 0 | 0 | HD | Report |
| #3 | | 1,538,214 | 99.00% | janitoreihil | 1245 | 1220&nbsp&nbsp/ 25 / 0 | 39 | 1 | 0 | HD | Report |
| #4 | | 1,534,734 | 98.71% | 1RoHa_ | 1245 | 1213&nbsp&nbsp/ 32 / 0 | 6 | 0 | 0 | HD | Report |
| #5 | | 1,489,140 | 99.20% | 1rori | 1245 | 1225&nbsp&nbsp/ 20 / 0 | 0 | 0 | 0 | None | Report |
| #6 | | 1,484,740 | 98.92% | ImHS | 1245 | 1218&nbsp&nbsp/ 27 / 0 | 38 | 1 | 0 | None | Report |
| #7 | | 1,475,100 | 98.39% | Nelodisan | 1245 | 1205&nbsp&nbsp/ 40 / 0 | 35 | 0 | 0 | None | Report |
| #8 | | 1,473,900 | 98.67% | Bonehead | 1245 | 1212&nbsp&nbsp/ 33 / 0 | 25 | 0 | 0 | None | Report |
| #9 | | 1,463,210 | 97.55% | thomas1195 | 1245 | 1184&nbsp&nbsp/ 61 / 0 | 0 | 0 | 0 | None | Report |
| #10 | | 1,462,200 | 96.87% | Y u w a n | 1177 | 1168&nbsp&nbsp/ 76 / 0 | 17 | 1 | 1 | HD | Report |
| #11 | | 1,457,830 | 97.55% | Ekoro | 1245 | 1184&nbsp&nbsp/ 61 / 0 | 66 | 2 | 0 | None | Report |
| #12 | | 1,450,860 | 96.63% | pmriva | 1245 | 1161&nbsp&nbsp/ 84 / 0 | 0 | 0 | 0 | None | Report |
| #13 | | 1,437,240 | 96.67% | 7_7 | 1245 | 1162&nbsp&nbsp/ 83 / 0 | 51 | 4 | 0 | None | Report |
| #14 | | 1,435,192 | 98.80% | nananass | 903 | 1217&nbsp&nbsp/ 26 / 0 | 60 | 0 | 2 | None | Report |
| #15 | | 1,426,582 | 98.07% | Lze | 1074 | 1198&nbsp&nbsp/ 46 / 0 | 28 | 0 | 1 | None | Report |
| #16 | | 1,426,270 | 95.14% | JunJun KiTaFuMa | 1245 | 1124&nbsp&nbsp/ 121 / 0 | 71 | 6 | 0 | None | Report |
| #17 | | 1,424,366 | 98.27% | CreepyDuck | 854 | 1204&nbsp&nbsp/ 39 / 0 | 0 | 0 | 2 | None | Report |
| #18 | | 1,417,694 | 97.43% | AlvaroYL | 1060 | 1182&nbsp&nbsp/ 62 / 0 | 58 | 1 | 1 | None | Report |
| #19 | | 1,413,080 | 97.91% | sobatsuyu | 825 | 1200&nbsp&nbsp/ 38 / 0 | 21 | 0 | 7 | HR | Report |
| #20 | | 1,409,110 | 97.35% | Smallwu | 1069 | 1187&nbsp&nbsp/ 50 / 0 | 7 | 1 | 8 | None | Report |
| #21 | | 1,406,344 | 97.27% | bobson860412 | 697 | 1178&nbsp&nbsp/ 66 / 0 | 30 | 0 | 1 | None | Report |
| #22 | | 1,406,310 | 97.11% | [Sunshine] | 1245 | 1173&nbsp&nbsp/ 72 / 0 | 28 | 6 | 0 | None | Report |
| #23 | | 1,396,840 | 96.51% | ChoSeung | 1068 | 1170&nbsp&nbsp/ 63 / 0 | 1 | 1 | 12 | None | Report |
| #24 | | 1,396,226 | 96.71% | Sar7 | 792 | 1170&nbsp&nbsp/ 68 / 0 | 49 | 4 | 7 | None | Report |
| #25 | | 1,391,834 | 95.70% | mangomizer | 889 | 1140&nbsp&nbsp/ 103 / 0 | 37 | 4 | 2 | None | Report |
| #26 | | 1,388,300 | 96.22% | Fahrenheit7 | 751 | 1153&nbsp&nbsp/ 90 / 0 | 1 | 0 | 2 | None | Report |
| #27 | | 1,387,150 | 95.78% | X a v y | 1073 | 1147&nbsp&nbsp/ 91 / 0 | 23 | 0 | 7 | None | Report |
| #28 | | 1,386,558 | 96.18% | Felt7z | 1002 | 1160&nbsp&nbsp/ 75 / 0 | 58 | 1 | 10 | HD | Report |
| #29 | | 1,386,250 | 95.82% | taiko_ryuki | 843 | 1143&nbsp&nbsp/ 100 / 0 | 48 | 4 | 2 | None | Report |
| #30 | | 1,372,170 | 98.27% | XK2238 | 583 | 1206&nbsp&nbsp/ 35 / 0 | 74 | 1 | 4 | None | Report |
| #31 | | 1,355,970 | 97.87% | ROTO2001 | 895 | 1198&nbsp&nbsp/ 41 / 0 | 41 | 0 | 6 | None | Report |
| #32 | | 1,347,720 | 92.41% | PING | 790 | 1063&nbsp&nbsp/ 175 / 0 | 76 | 1 | 7 | None | Report |
| #33 | | 1,345,964 | 93.69% | Tem | 978 | 1095&nbsp&nbsp/ 143 / 0 | 24 | 1 | 7 | None | Report |
| #34 | | 1,339,148 | 96.02% | Hanjamon | 903 | 1158&nbsp&nbsp/ 75 / 0 | 0 | 0 | 12 | None | Report |
| #35 | | 1,335,012 | 95.66% | Shinsekai- | 910 | 1144&nbsp&nbsp/ 94 / 0 | 66 | 5 | 7 | None | Report |
| #36 | | 1,332,936 | 95.74% | Midnaait | 892 | 1154&nbsp&nbsp/ 76 / 0 | 0 | 0 | 15 | None | Report |
| #37 | | 1,330,410 | 93.49% | Devon | 848 | 1084&nbsp&nbsp/ 160 / 0 | 36 | 4 | 1 | None | Report |
| #38 | | 1,328,256 | 96.10% | babysnakes | 790 | 1153&nbsp&nbsp/ 87 / 0 | 35 | 0 | 5 | None | Report |
| #39 | | 1,315,656 | 95.54% | millibar | 790 | 1151&nbsp&nbsp/ 77 / 0 | 0 | 0 | 17 | None | Report |
| #40 | | 1,312,816 | 95.06% | meyu841 | 901 | 1141&nbsp&nbsp/ 85 / 0 | 0 | 0 | 19 | None | Report |
| #41 | | 1,312,730 | 94.30% | Vulkin | 907 | 1107&nbsp&nbsp/ 134 / 0 | 4 | 1 | 4 | None | Report |
| #42 | | 1,301,046 | 95.66% | vzk | 748 | 1151&nbsp&nbsp/ 80 / 0 | 8 | 0 | 14 | None | Report |
| #43 | | 1,296,430 | 95.74% | -Valony- | 479 | 1145&nbsp&nbsp/ 94 / 0 | 1 | 0 | 6 | None | Report |
| #44 | | 1,296,019 | 95.38% | Ulqui | 855 | 1145&nbsp&nbsp/ 85 / 0 | 66 | 0 | 15 | HD | Report |
| #45 | | 1,293,048 | 96.99% | bbj0920 | 892 | 1182&nbsp&nbsp/ 51 / 0 | 23 | 1 | 12 | None | Report |
| #46 | | 1,291,388 | 95.46% | MikuWRS | 860 | 1139&nbsp&nbsp/ 99 / 0 | 66 | 6 | 7 | None | Report |
| #47 | | 1,288,080 | 94.54% | -syamu | 790 | 1132&nbsp&nbsp/ 90 / 0 | 31 | 2 | 23 | None | Report |
| #48 | | 1,276,758 | 94.14% | Catgirl | 792 | 1117&nbsp&nbsp/ 110 / 0 | 1 | 0 | 18 | HD | Report |
| #49 | | 1,276,212 | 95.18% | KitajimaYN | 747 | 1139&nbsp&nbsp/ 92 / 0 | 3 | 1 | 14 | None | Report |
| #50 | | 1,274,583 | 95.34% | Runa | 789 | 1143&nbsp&nbsp/ 88 / 0 | 66 | 6 | 14 | HR | Report |