Beatmap Listing » Yu Miyake, Masayuki Tanaka - Katamari on the Rocks
Artist:
Yu Miyake, Masayuki Tanaka
Circle Size:

Approach Rate:

Title:
Katamari on the Rocks
HP Drain:

Star Difficulty:

(2.62)
Creator:
Impossible
Accuracy:

Length:
3:29 (2:47 drain)
Source:
Genre:
Video Game (Japanese)
BPM:
160
Tags:
User Rating:
Success Rate:
Points of Failure:


(graph is accumulative, based on % at fail/retry)

22.6% (35974 of 159117 plays)

Submitted:
Ranked:
Nov 26, 2007
Dec 6, 2007
Rating Spread:

Favourited 68 times in total

Users that love this map: nintendoto, mtmcl, asiaclonk, catears, leewar, Luke Schmuke, Frekydelic, Trax3r, darkfrdragon, TopGear, sparton1798, megaleo, Rapi, Damo900, loli66, Selth, inskid, Doodley, ShakeZkilla, patricia00 and many more!
Options:
Modding / Discussion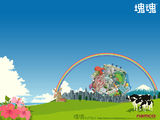 NA NAAAAAAA NA NA NA NA NA NA NA NA KATAMARI DAMASHII!!!
If there was any doubt as to whether or not I'm completely insane, this map has quite thoroughly removed it from my mind. And I guess anyone else's. I'll have to do a Normal version, too... It can be particularly tough since it follows the lyrics quite closely.
The original song is actually over 5 minutes long... Can anyone tell where it was edited? Surprisingly, I don't think it's noticable.
Edit: Normal mode added, and a few other things fixed up. Should be finished now.
WubWoofWolf is in the lead! ()
Score
6,726,740 (98.16%)
Max Combo
534
300 / 100 / 50
433 / 11 / 1
Misses
0
Geki (Elite Beat!)
61
Katu (Beat!)
7
Mods
HD,HR,DT
Top 50 Scoreboard
| | Rank | Score | Accuracy | Player | Max Combo | 300 / 100 / 50 | Geki | Katu | Misses | Mods | |
| --- | --- | --- | --- | --- | --- | --- | --- | --- | --- | --- | --- |
| #1 | | 6,726,740 | 98.16% | WubWoofWolf | 534 | 433&nbsp&nbsp/ 11 / 1 | 61 | 7 | 0 | HD,HR,DT | Report |
| #2 | | 6,593,284 | 96.67% | -cr1mmy- | 533 | 423&nbsp&nbsp/ 21 / 1 | 53 | 15 | 0 | HD,HR,DT | Report |
| #3 | | 6,572,551 | 95.51% | Karthy | 534 | 415&nbsp&nbsp/ 30 / 0 | 48 | 21 | 0 | HD,HR,DT | Report |
| #4 | | 6,497,965 | 94.31% | xasuma | 534 | 407&nbsp&nbsp/ 38 / 0 | 46 | 23 | 0 | HD,HR,DT | Report |
| #5 | | 6,375,125 | 99.10% | Dariuski | 534 | 439&nbsp&nbsp/ 6 / 0 | 63 | 6 | 0 | HD,DT | Report |
| #6 | | 6,369,844 | 98.50% | Fretzi | 534 | 435&nbsp&nbsp/ 10 / 0 | 61 | 8 | 0 | HD,NC | Report |
| #7 | | 6,336,066 | 98.01% | Zavarka | 534 | 432&nbsp&nbsp/ 12 / 1 | 60 | 8 | 0 | HD,DT | Report |
| #8 | | 6,290,707 | 96.70% | Kubu | 534 | 423&nbsp&nbsp/ 22 / 0 | 53 | 16 | 0 | HD,DT | Report |
| #9 | | 6,280,542 | 96.67% | XII | 534 | 423&nbsp&nbsp/ 21 / 1 | 55 | 13 | 0 | HR,DT | Report |
| #10 | | 6,209,197 | 97.00% | TrickMirror | 534 | 425&nbsp&nbsp/ 20 / 0 | 53 | 16 | 0 | HD,DT | Report |
| #11 | | 6,209,114 | 97.12% | Lybydose | 534 | 426&nbsp&nbsp/ 18 / 1 | 55 | 13 | 0 | HR,FL | Report |
| #12 | | 6,111,213 | 100.00% | ShaggoN | 534 | 445&nbsp&nbsp/ 0 / 0 | 69 | 0 | 0 | FL,SD | Report |
| #13 | | 6,110,113 | 100.00% | rorineko | 534 | 445&nbsp&nbsp/ 0 / 0 | 69 | 0 | 0 | FL,SD | Report |
| #14 | | 6,106,813 | 100.00% | spring ephemera | 534 | 445&nbsp&nbsp/ 0 / 0 | 69 | 0 | 0 | FL | Report |
| #15 | | 6,096,312 | 99.55% | Rucker | 534 | 442&nbsp&nbsp/ 3 / 0 | 66 | 3 | 0 | DT | Report |
| #16 | | 6,066,655 | 94.53% | jehlp | 533 | 409&nbsp&nbsp/ 34 / 2 | 42 | 25 | 0 | HD,NC | Report |
| #17 | | 6,056,595 | 99.51% | Kroko95 | 534 | 442&nbsp&nbsp/ 2 / 1 | 66 | 2 | 0 | FL | Report |
| #18 | | 6,047,567 | 98.95% | Melancholy | 534 | 438&nbsp&nbsp/ 7 / 0 | 63 | 6 | 0 | DT | Report |
| #19 | | 6,024,448 | 98.65% | Hulmy | 534 | 436&nbsp&nbsp/ 9 / 0 | 63 | 6 | 0 | DT | Report |
| #20 | | 5,999,565 | 98.05% | BluGalaxian | 534 | 432&nbsp&nbsp/ 13 / 0 | 57 | 12 | 0 | HD,HR | Report |
| #21 | | 5,997,388 | 97.75% | YuaKKuma | 534 | 430&nbsp&nbsp/ 15 / 0 | 58 | 11 | 0 | HD,HR | Report |
| #22 | | 5,981,505 | 92.81% | kemoixxx | 534 | 397&nbsp&nbsp/ 48 / 0 | 36 | 33 | 0 | HD,DT | Report |
| #23 | | 5,974,547 | 98.50% | H1ko | 534 | 435&nbsp&nbsp/ 10 / 0 | 63 | 6 | 0 | DT | Report |
| #24 | | 5,970,836 | 98.61% | dkdlrh77 | 534 | 436&nbsp&nbsp/ 8 / 1 | 63 | 5 | 0 | FL | Report |
| #25 | | 5,964,078 | 98.16% | Moyaso | 534 | 433&nbsp&nbsp/ 11 / 1 | 60 | 8 | 0 | DT | Report |
| #26 | | 5,957,756 | 98.20% | TTTL | 534 | 433&nbsp&nbsp/ 12 / 0 | 61 | 8 | 0 | DT | Report |
| #27 | | 5,945,838 | 97.45% | Kaoru | 534 | 428&nbsp&nbsp/ 17 / 0 | 57 | 12 | 0 | DT | Report |
| #28 | | 5,937,878 | 96.48% | Gyve | 534 | 422&nbsp&nbsp/ 21 / 2 | 52 | 15 | 0 | HD,HR | Report |
| #29 | | 5,937,523 | 98.46% | Jintsuu | 534 | 435&nbsp&nbsp/ 9 / 1 | 63 | 5 | 0 | FL,SD | Report |
| #30 | | 5,937,407 | 96.33% | Mismagius | 534 | 421&nbsp&nbsp/ 22 / 2 | 54 | 13 | 0 | NC | Report |
| #31 | | 5,929,003 | 95.81% | Aery | 534 | 417&nbsp&nbsp/ 28 / 0 | 52 | 17 | 0 | HD,HR | Report |
| #32 | | 5,890,328 | 97.12% | - Auto - | 534 | 426&nbsp&nbsp/ 18 / 1 | 57 | 11 | 0 | DT | Report |
| #33 | | 5,878,111 | 95.96% | Tripletth | 534 | 418&nbsp&nbsp/ 27 / 0 | 50 | 19 | 0 | HD,HR | Report |
| #34 | | 5,867,621 | 96.10% | staszek00700 | 534 | 419&nbsp&nbsp/ 26 / 0 | 52 | 17 | 0 | HD,HR | Report |
| #35 | | 5,863,683 | 96.07% | MajcherM | 534 | 419&nbsp&nbsp/ 25 / 1 | 55 | 13 | 0 | DT | Report |
| #36 | | 5,856,096 | 96.37% | Tofu Naturale | 534 | 421&nbsp&nbsp/ 23 / 1 | 49 | 19 | 0 | DT | Report |
| #37 | | 5,852,075 | 95.88% | Kyshiro | 534 | 418&nbsp&nbsp/ 25 / 2 | 51 | 16 | 0 | DT | Report |
| #38 | | 5,840,426 | 95.21% | GGBY | 534 | 413&nbsp&nbsp/ 32 / 0 | 46 | 23 | 0 | DT | Report |
| #39 | | 5,837,041 | 96.22% | Kido | 534 | 420&nbsp&nbsp/ 24 / 1 | 51 | 17 | 0 | DT | Report |
| #40 | | 5,822,319 | 97.15% | Jonita | 534 | 427&nbsp&nbsp/ 14 / 4 | 58 | 8 | 0 | FL,SD | Report |
| #41 | | 5,816,467 | 95.02% | bnu | 534 | 412&nbsp&nbsp/ 32 / 1 | 51 | 17 | 0 | DT | Report |
| #42 | | 5,796,224 | 88.13% | Muxy | 534 | 366&nbsp&nbsp/ 78 / 1 | 31 | 37 | 0 | HR,DT | Report |
| #43 | | 5,779,824 | 99.85% | Bianco | 534 | 444&nbsp&nbsp/ 1 / 0 | 68 | 1 | 0 | HD | Report |
| #44 | | 5,777,849 | 95.24% | Rorry | 534 | 414&nbsp&nbsp/ 28 / 3 | 48 | 18 | 0 | DT | Report |
| #45 | | 5,771,885 | 99.70% | kbgnago | 534 | 443&nbsp&nbsp/ 2 / 0 | 68 | 1 | 0 | HD | Report |
| #46 | | 5,765,654 | 99.70% | Rhyto | 534 | 443&nbsp&nbsp/ 2 / 0 | 67 | 2 | 0 | HD | Report |
| #47 | | 5,754,780 | 99.55% | NDee | 534 | 442&nbsp&nbsp/ 3 / 0 | 66 | 3 | 0 | HR | Report |
| #48 | | 5,750,433 | 99.55% | Beuchi | 534 | 442&nbsp&nbsp/ 3 / 0 | 67 | 2 | 0 | HD | Report |
| #49 | | 5,740,755 | 93.48% | Adiopulse | 534 | 402&nbsp&nbsp/ 41 / 2 | 45 | 22 | 0 | HD,HR | Report |
| #50 | | 5,738,721 | 94.42% | Kealamauloa | 534 | 408&nbsp&nbsp/ 36 / 1 | 50 | 18 | 0 | DT | Report |