Beatmap Listing » Motoi Sakuraba - It can waver and fight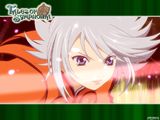 Well, I finished Normal and Hard both.... I've also given a shot at an Insane mode, though that has a little less testing than I might have liked. There's the combination of how difficult it is to break it up into sections to test, as well as the fact that I can neither hit a single button fast enough, nor do I actually have the coordination to tap multiple buttons in sinc with each other. Which means that I can't really test the quick targets well, although I THINK they're timed right...
Anyways, I hope I did alright with this. I know, at least, that I'm very pleased with it! Though I'll keep in mind any feedback that's given to me.
Update (around 9pm MST XP): Took some advice from foulcoon, as well as fixed the offset to his suggestion and double-checked the timing of my targets on all difficulty levels (again).
Bump (Oct.3). =3 Oh, and moved around a few of the beats on Insane.
Update (Oct.4): Made changes based on Sinistro's suggestions. In other words, the biggest thing I did was move a lot of beats around. =3
Update (Oct.7): Bump. And used distance snap for a couple spots on Hard and Insane because I couldn't stand how my own spacing had been going there.
Bump (Oct.10)
Bump (Oct.13)
Edit (Oct.13): Thank you peppy! :) Weird Easy>Normal issue has been fixed.
Update (Oct.13, only later in the day): Made adjustments based on Ash's suggestions.
Bump (Oct.16)
Bump (Oct.22)
Bump. (Oct.26)
Bump (Oct.30)
Edit (Right after the bump): Made a small change to a beat I found to be off on Insane. Reuploaded.
Update (Oct.31): Made changes based on James' feedback.
Bump (Nov.4)
Update (Nov.22): Went through and did huge fixes to everything, as well as some physical changes.
[REVIVED]
Update (Mar.10): Yep. Stepping back from this and working on improving myself has left a lot open to me as I've come back to it and started remapping it.
Please focus on Hard2 and Insane2;
these are the remapped difficulties. I am still working on a new Normal and Easy. I would especially appreciate timing feedback, especially with the 1/6th beat areas. I have yet to add hitsounds (will do this after finishing the first two difficulties).
Update (Mar.11): Finished up the new Normal for the most part.
Update (Mar.15): Finished the new Easy, made miscellaneous fixes elsewhere. Still haven't worked on sounds.
Update (Mar.21): Various fixes by Cheese's suggestion.
[MOVED TO PENDING]
Update (Apr.5): Finished up hitsounds and made a couple very slight adjustments here or there. Ready once again for pending. Feel free to leave some feedback on the sounds (just don't nazi them), as for the most part I wasn't feeling up at top when working with them, although I think I touched everything up nicely in the end. Excess difficulties removed (I still have these though) and the remapped difficulties renamed accordingly.
Update (May 6): Some changes based on SFGs feedback.
Update (July 18): Changed a combo which mrtn suggested.
Update (July 21): Various fixes, mostly suggested by blissfulyoshi
Update (Aug.10): Slight adjustment as suggested by alvisto.
Update (Feb.17): Added a preview time, made a couple combo adjustments, by Fuuko's suggestion.