Artist:
sHimaU
Circle Size:

Approach Rate:

Title:
SlotcorE is dead
HP Drain:

Star Difficulty:

(8.58)
Creator:
Arphimigon
Accuracy:

Length:
2:43 (2:31 drain)
Source:
Genre:
Unspecified (Other)
BPM:
265
Tags:
hula breakcore miracle dodo naruto da cloudsplash16 voli diraimur irreversible astrosexy
User Rating:
Success Rate:
Points of Failure:


(graph is accumulative, based on % at fail/retry)

8.8% (471 of 5377 plays)

Submitted:
Loved:
Apr 24, 2015
Feb 14, 2017
Rating Spread:

Favourited 70 times in total

Users that love this map: showgood163, [-obee58-], ItsLingers, Mel, Kaine, Black Wolf159, Biwa Hoshi, Silverboxer, Antares-, [Nemesis], -AngelicDragon, Mitchell Gwr, ragenik, diraimur, HighTec, -Space-, [Micro-Quazar], Aceihar, Fingy, Okinotori and many more!
Options:
This Beatmap's Thread
This map is in a LOVED state.
As such, it will not award any pp and leaderboards may be reset by the beatmap creator.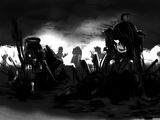 -"Well, I'm glad I'm not human."-
Recommend you have headphones!
Insane by Irreversible, diraimur, Voli and me.
Timestamps for collab diff
00:06:225 - 00:38:542 - Irreversible
00:38:542 - 00:52:764 - diraimur
01:03:430 - 01:46:097 - Voli
02:00:319 - 02:45:208 - Arphimigon
filsdelama is in the lead! ()
Score
10,073,089 (98.63%)
Max Combo
1315
300 / 100 / 50
1122 / 13 / 0
Misses
7
Geki (Elite Beat!)
259
Katu (Beat!)
10
Mods
HT
Top 50 Scoreboard
| | Rank | Score | Accuracy | Player | Max Combo | 300 / 100 / 50 | Geki | Katu | Misses | Mods | |
| --- | --- | --- | --- | --- | --- | --- | --- | --- | --- | --- | --- |
| #1 | | 10,073,089 | 98.63% | filsdelama | 1315 | 1122&nbsp&nbsp/ 13 / 0 | 259 | 10 | 7 | HT | Report |
| #2 | | 8,019,054 | 95.48% | OskaRRRitoS | 1195 | 1069&nbsp&nbsp/ 64 / 0 | 227 | 40 | 9 | HT | Report |
| #3 | | 5,872,717 | 88.09% | Loli_Silica | 1043 | 939&nbsp&nbsp/ 201 / 0 | 179 | 92 | 2 | HT | Report |
| #4 | | 5,670,172 | 90.19% | Vaxei | 495 | 998&nbsp&nbsp/ 94 / 4 | 211 | 38 | 46 | None | Report |
| #5 | | 5,334,082 | 97.75% | SylvieLism | 851 | 1108&nbsp&nbsp/ 25 / 0 | 251 | 17 | 9 | HT | Report |
| #6 | | 5,102,359 | 97.84% | Orbi | 691 | 1107&nbsp&nbsp/ 31 / 0 | 251 | 19 | 4 | HT | Report |
| #7 | | 3,391,769 | 92.35% | jhoo902 | 687 | 1022&nbsp&nbsp/ 97 / 2 | 205 | 58 | 21 | HT | Report |
| #8 | | 3,344,516 | 92.70% | _AvA | 737 | 1032&nbsp&nbsp/ 79 / 2 | 215 | 42 | 29 | HT | Report |
| #9 | | 3,241,826 | 89.23% | -Konpaku- | 270 | 984&nbsp&nbsp/ 103 / 4 | 188 | 50 | 51 | None | Report |
| #10 | | 2,849,570 | 97.96% | 1E308 | 440 | 1114&nbsp&nbsp/ 14 / 0 | 255 | 11 | 14 | HD,HT | Report |
| #11 | | 2,763,314 | 91.33% | Green NPC | 168 | 1019&nbsp&nbsp/ 70 / 4 | 218 | 33 | 49 | None | Report |
| #12 | | 2,608,017 | 92.51% | waywern2012 | 523 | 1029&nbsp&nbsp/ 82 / 1 | 206 | 53 | 30 | HT | Report |
| #13 | | 2,607,735 | 97.12% | Sandsky0 | 551 | 1100&nbsp&nbsp/ 27 / 1 | 249 | 12 | 14 | HT | Report |
| #14 | | 2,508,398 | 93.40% | Maffe | 536 | 1051&nbsp&nbsp/ 47 / 0 | 228 | 20 | 44 | HT | Report |
| #15 | | 2,471,742 | 94.64% | Mordrag | 407 | 1061&nbsp&nbsp/ 59 / 1 | 231 | 34 | 21 | HT | Report |
| #16 | | 2,428,331 | 93.62% | NNAisle | 512 | 1047&nbsp&nbsp/ 64 / 5 | 224 | 35 | 26 | HT | Report |
| #17 | | 2,232,326 | 77.47% | Plz Enjoy Game | 208 | 791&nbsp&nbsp/ 273 / 16 | 133 | 97 | 62 | None | Report |
| #18 | | 2,091,025 | 90.47% | minelolpride | 575 | 1002&nbsp&nbsp/ 90 / 7 | 199 | 50 | 43 | HT | Report |
| #19 | | 2,088,406 | 87.48% | Spare | 167 | 966&nbsp&nbsp/ 93 / 12 | 196 | 39 | 71 | None | Report |
| #20 | | 2,069,969 | 92.95% | SillyFangirl | 410 | 1034&nbsp&nbsp/ 81 / 3 | 209 | 45 | 24 | HT | Report |
| #21 | | 1,887,962 | 87.95% | Shiny Mint | 387 | 947&nbsp&nbsp/ 165 / 14 | 197 | 62 | 16 | HT | Report |
| #22 | | 1,882,531 | 88.44% | intu13 | 367 | 959&nbsp&nbsp/ 150 / 6 | 193 | 63 | 27 | HT | Report |
| #23 | | 1,868,904 | 88.78% | fishipat | 513 | 979&nbsp&nbsp/ 101 / 7 | 204 | 39 | 55 | HT | Report |
| #24 | | 1,865,788 | 73.99% | mokia- | 165 | 727&nbsp&nbsp/ 345 / 18 | 118 | 115 | 52 | None | Report |
| #25 | | 1,861,986 | 83.39% | [ Zane ] | 169 | 893&nbsp&nbsp/ 175 / 6 | 171 | 61 | 68 | None | Report |
| #26 | | 1,861,014 | 92.82% | RMEfan | 354 | 1033&nbsp&nbsp/ 81 / 0 | 210 | 49 | 28 | HT | Report |
| #27 | | 1,741,965 | 91.02% | -Machine- | 406 | 1010&nbsp&nbsp/ 82 / 13 | 215 | 37 | 37 | HD,HT | Report |
| #28 | | 1,705,200 | 84.28% | Worminators | 487 | 904&nbsp&nbsp/ 174 / 3 | 160 | 78 | 61 | HT | Report |
| #29 | | 1,673,243 | 92.99% | Antares- | 317 | 1036&nbsp&nbsp/ 77 / 2 | 216 | 40 | 27 | HT | Report |
| #30 | | 1,593,925 | 86.22% | Babypowder13 | 366 | 929&nbsp&nbsp/ 165 / 4 | 183 | 68 | 44 | HT | Report |
| #31 | | 1,551,027 | 91.11% | Badcat | 299 | 1008&nbsp&nbsp/ 96 / 3 | 217 | 36 | 35 | HT | Report |
| #32 | | 1,459,232 | 89.00% | [ Cal ] | 300 | 979&nbsp&nbsp/ 108 / 8 | 198 | 53 | 47 | HT | Report |
| #33 | | 1,414,904 | 92.76% | Kasztann | 245 | 1029&nbsp&nbsp/ 88 / 6 | 224 | 33 | 19 | HT | Report |
| #34 | | 1,398,585 | 88.60% | Kabu | 312 | 979&nbsp&nbsp/ 98 / 1 | 192 | 48 | 64 | HT | Report |
| #35 | | 1,375,192 | 90.12% | Kyoushouryuu | 307 | 996&nbsp&nbsp/ 99 / 1 | 199 | 55 | 46 | HT | Report |
| #36 | | 1,374,912 | 76.33% | Sakke | 159 | 792&nbsp&nbsp/ 227 / 24 | 141 | 75 | 99 | None | Report |
| #37 | | 1,365,505 | 92.37% | DarkGodZereff | 394 | 1040&nbsp&nbsp/ 42 / 5 | 213 | 25 | 55 | HT | Report |
| #38 | | 1,348,817 | 91.94% | shader504 | 286 | 1023&nbsp&nbsp/ 81 / 0 | 208 | 43 | 38 | HT | Report |
| #39 | | 1,256,629 | 90.86% | Informous | 217 | 1009&nbsp&nbsp/ 82 / 8 | 222 | 27 | 43 | HT | Report |
| #40 | | 1,256,155 | 83.11% | Davidozzo | 364 | 900&nbsp&nbsp/ 140 / 15 | 180 | 53 | 87 | HT | Report |
| #41 | | 1,136,120 | 85.83% | ChiSuki | 231 | 917&nbsp&nbsp/ 189 / 1 | 176 | 78 | 35 | HT | Report |
| #42 | | 1,130,490 | 90.41% | zuchima | 195 | 1009&nbsp&nbsp/ 70 / 1 | 208 | 41 | 62 | HT | Report |
| #43 | | 1,117,610 | 86.68% | Kami 101 | 275 | 934&nbsp&nbsp/ 167 / 1 | 175 | 78 | 40 | HT | Report |
| #44 | | 1,046,931 | 90.13% | Peekamoo | 205 | 993&nbsp&nbsp/ 106 / 6 | 197 | 53 | 37 | HT | Report |
| #45 | | 966,374 | 87.33% | Stithos | 163 | 960&nbsp&nbsp/ 110 / 4 | 187 | 49 | 68 | HT | Report |
| #46 | | 942,068 | 85.89% | StaroaX | 225 | 933&nbsp&nbsp/ 143 / 1 | 177 | 62 | 65 | HT | Report |
| #47 | | 940,715 | 84.56% | Juubaku | 239 | 909&nbsp&nbsp/ 169 / 2 | 176 | 61 | 62 | HT | Report |
| #48 | | 935,745 | 85.74% | Jean-Michel Jr | 219 | 937&nbsp&nbsp/ 125 / 3 | 172 | 57 | 77 | HT | Report |
| #49 | | 891,736 | 89.65% | Weber | 239 | 989&nbsp&nbsp/ 103 / 3 | 203 | 51 | 47 | NF,HT | Report |
| #50 | | 882,716 | 73.28% | Mapper | 160 | 753&nbsp&nbsp/ 241 / 21 | 132 | 78 | 127 | NF | Report |