Artist:
Reol
Circle Size:

Approach Rate:

Title:
+Danshi
HP Drain:

Star Difficulty:

(6.20)
Creator:
Chaoslitz
Accuracy:

Length:
3:34 (3:24 drain)
Source:
Genre:
Unspecified (Other)
BPM:
180
Tags:
ギガ giga p giga-p okiku vocaloid
User Rating:
Success Rate:
Points of Failure:


(graph is accumulative, based on % at fail/retry)

9.4% (3666 of 38991 plays)

Submitted:
Loved:
Apr 6, 2015
Feb 14, 2017
Rating Spread:

Favourited 81 times in total

Users that love this map: -kevincela-, 09kami, Frey, -TakoYaki-, Mr-Simple, kudeyes, Pein, - G I D Z -, Brian_fink, Chaos, XVoIR, Skylish, Yuii-, YamiHikari, DamnSweetCookie, Squigly, Kencho, [Ryuichi], Poised, grel and many more!
Options:
This Beatmap's Thread
This map is in a LOVED state.
As such, it will not award any pp and leaderboards may be reset by the beatmap creator.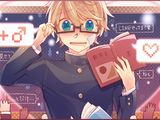 れをる - +♂
1. Play the map
2. Go to the editor
3. Select All! (Ctrl+A)

「 ピ-ピ-ピ-ピースで飛ばします Re:say→一心自制心
ノってくてっテクの波 したいたい盛り
なんかなんかなんかなんか ドキっとしちゃう
君の君の君の君の ふぁっきん! 」


Chaotic

by me


_
OskaRRRitoS is in the lead! ()
Score
26,173,452 (99.42%)
Max Combo
1189
300 / 100 / 50
905 / 8 / 0
Misses
0
Geki (Elite Beat!)
172
Katu (Beat!)
5
Mods
None
Top 50 Scoreboard
| | Rank | Score | Accuracy | Player | Max Combo | 300 / 100 / 50 | Geki | Katu | Misses | Mods | |
| --- | --- | --- | --- | --- | --- | --- | --- | --- | --- | --- | --- |
| #1 | | 26,173,452 | 99.42% | OskaRRRitoS | 1189 | 905&nbsp&nbsp/ 8 / 0 | 172 | 5 | 0 | None | Report |
| #2 | | 25,123,358 | 97.72% | Loli_Silica | 1174 | 882&nbsp&nbsp/ 30 / 1 | 159 | 17 | 0 | None | Report |
| #3 | | 16,134,391 | 99.16% | Rucker | 834 | 903&nbsp&nbsp/ 7 / 0 | 174 | 2 | 3 | HD | Report |
| #4 | | 15,670,422 | 98.65% | Fataliis | 912 | 896&nbsp&nbsp/ 14 / 0 | 164 | 10 | 3 | None | Report |
| #5 | | 15,134,008 | 96.50% | spookali | 894 | 874&nbsp&nbsp/ 21 / 0 | 154 | 13 | 18 | None | Report |
| #6 | | 11,771,521 | 98.76% | WubWoofWolf | 575 | 900&nbsp&nbsp/ 5 / 0 | 173 | 2 | 8 | HD | Report |
| #7 | | 11,044,912 | 98.69% | Jameslike | 571 | 897&nbsp&nbsp/ 12 / 0 | 170 | 5 | 4 | None | Report |
| #8 | | 10,900,757 | 99.09% | -GN | 517 | 902&nbsp&nbsp/ 8 / 0 | 170 | 5 | 3 | HD | Report |
| #9 | | 10,770,856 | 97.96% | Koalazy | 560 | 889&nbsp&nbsp/ 16 / 0 | 166 | 8 | 8 | None | Report |
| #10 | | 10,572,702 | 96.68% | Shiawase | 705 | 872&nbsp&nbsp/ 31 / 2 | 158 | 11 | 8 | None | Report |
| #11 | | 10,169,682 | 96.99% | Linkle | 685 | 877&nbsp&nbsp/ 24 / 3 | 166 | 6 | 9 | None | Report |
| #12 | | 10,166,148 | 97.85% | Lexion | 514 | 891&nbsp&nbsp/ 7 / 0 | 169 | 5 | 15 | HD | Report |
| #13 | | 9,889,492 | 97.30% | Zed_Shion | 657 | 882&nbsp&nbsp/ 19 / 0 | 162 | 11 | 12 | None | Report |
| #14 | | 9,888,730 | 98.47% | Seouless | 500 | 894&nbsp&nbsp/ 15 / 0 | 166 | 7 | 4 | HD | Report |
| #15 | | 9,743,854 | 98.08% | HappyStick | 606 | 889&nbsp&nbsp/ 19 / 1 | 165 | 8 | 4 | None | Report |
| #16 | | 9,258,527 | 98.39% | Malolat | 480 | 896&nbsp&nbsp/ 7 / 0 | 166 | 7 | 10 | HD | Report |
| #17 | | 8,924,044 | 97.26% | melloe | 614 | 881&nbsp&nbsp/ 20 / 2 | 163 | 8 | 10 | None | Report |
| #18 | | 8,855,426 | 98.72% | - e - v - b- | 573 | 898&nbsp&nbsp/ 10 / 0 | 171 | 3 | 5 | None | Report |
| #19 | | 8,582,532 | 98.10% | -Trigger | 595 | 892&nbsp&nbsp/ 11 / 0 | 163 | 7 | 10 | None | Report |
| #20 | | 8,482,396 | 98.28% | Crystal | 499 | 891&nbsp&nbsp/ 19 / 0 | 164 | 10 | 3 | None | Report |
| #21 | | 8,476,656 | 98.01% | dioguitar44 | 497 | 889&nbsp&nbsp/ 17 / 1 | 162 | 11 | 6 | None | Report |
| #22 | | 8,450,952 | 97.81% | Doomsday | 557 | 887&nbsp&nbsp/ 18 / 0 | 163 | 12 | 8 | None | Report |
| #23 | | 8,434,892 | 98.39% | Yakisoba_Pan | 513 | 897&nbsp&nbsp/ 4 / 0 | 170 | 3 | 12 | None | Report |
| #24 | | 8,426,939 | 98.06% | Voltaeyx | 571 | 892&nbsp&nbsp/ 10 / 0 | 165 | 8 | 11 | HD | Report |
| #25 | | 7,955,899 | 94.56% | MusHi | 496 | 842&nbsp&nbsp/ 63 / 2 | 143 | 27 | 6 | HD | Report |
| #26 | | 7,938,892 | 97.88% | CocoaLion | 498 | 889&nbsp&nbsp/ 14 / 0 | 164 | 9 | 10 | None | Report |
| #27 | | 7,817,674 | 96.79% | Sadness | 499 | 874&nbsp&nbsp/ 29 / 0 | 158 | 13 | 10 | HD | Report |
| #28 | | 7,754,694 | 97.70% | DigiDrake | 498 | 889&nbsp&nbsp/ 9 / 0 | 163 | 9 | 15 | None | Report |
| #29 | | 7,713,260 | 97.06% | Jordan | 557 | 879&nbsp&nbsp/ 21 / 1 | 158 | 10 | 12 | None | Report |
| #30 | | 7,541,755 | 97.55% | sk0 | 498 | 888&nbsp&nbsp/ 8 / 0 | 167 | 5 | 17 | HD | Report |
| #31 | | 7,387,562 | 98.17% | Lazer | 497 | 893&nbsp&nbsp/ 10 / 0 | 165 | 8 | 10 | None | Report |
| #32 | | 7,386,012 | 97.12% | Latrio | 539 | 879&nbsp&nbsp/ 23 / 0 | 157 | 13 | 11 | None | Report |
| #33 | | 7,214,948 | 96.64% | Carretto | 498 | 871&nbsp&nbsp/ 34 / 0 | 150 | 22 | 8 | None | Report |
| #34 | | 7,204,772 | 97.74% | ZephyrProxy | 496 | 887&nbsp&nbsp/ 16 / 0 | 161 | 11 | 10 | None | Report |
| #35 | | 7,107,644 | 98.06% | Dinkles | 498 | 891&nbsp&nbsp/ 13 / 0 | 165 | 8 | 9 | None | Report |
| #36 | | 6,936,484 | 97.01% | - kakku- | 493 | 876&nbsp&nbsp/ 28 / 2 | 156 | 16 | 7 | None | Report |
| #37 | | 6,934,710 | 97.74% | Noobsicle | 498 | 888&nbsp&nbsp/ 13 / 0 | 165 | 6 | 12 | None | Report |
| #38 | | 6,908,459 | 95.16% | WillCookie | 457 | 858&nbsp&nbsp/ 31 / 3 | 153 | 12 | 21 | HD | Report |
| #39 | | 6,871,870 | 96.46% | Garch | 513 | 873&nbsp&nbsp/ 23 / 0 | 157 | 13 | 17 | None | Report |
| #40 | | 6,870,208 | 97.90% | Rusio | 503 | 889&nbsp&nbsp/ 14 / 1 | 165 | 6 | 9 | None | Report |
| #41 | | 6,869,294 | 97.19% | S-e r v a l y | 498 | 880&nbsp&nbsp/ 22 / 0 | 159 | 11 | 11 | HD | Report |
| #42 | | 6,806,958 | 97.55% | Spark-desu | 485 | 883&nbsp&nbsp/ 23 / 0 | 160 | 12 | 7 | None | Report |
| #43 | | 6,791,594 | 98.19% | yellowy246 | 413 | 892&nbsp&nbsp/ 13 / 1 | 165 | 8 | 7 | HD | Report |
| #44 | | 6,754,892 | 95.82% | Raqcess | 513 | 862&nbsp&nbsp/ 38 / 1 | 146 | 22 | 12 | None | Report |
| #45 | | 6,743,658 | 97.92% | Vaxei | 440 | 888&nbsp&nbsp/ 18 / 0 | 163 | 10 | 7 | None | Report |
| #46 | | 6,686,362 | 96.68% | 5EX | 459 | 873&nbsp&nbsp/ 29 / 0 | 158 | 13 | 11 | None | Report |
| #47 | | 6,676,921 | 97.01% | deyo | 471 | 878&nbsp&nbsp/ 23 / 0 | 159 | 11 | 12 | HD | Report |
| #48 | | 6,599,856 | 97.44% | Teppichreini | 485 | 882&nbsp&nbsp/ 23 / 0 | 157 | 14 | 8 | None | Report |
| #49 | | 6,593,482 | 97.12% | waywern2012 | 497 | 881&nbsp&nbsp/ 16 / 2 | 160 | 7 | 14 | None | Report |
| #50 | | 6,588,332 | 97.77% | Haynoru | 499 | 889&nbsp&nbsp/ 11 / 0 | 163 | 8 | 13 | HD | Report |