Beatmap Listing » Kobaryo - Kumo No Kireme [feat. kourin.]
Artist:
Kobaryo
Key Amount:

Approach Rate:

Title:
Kumo No Kireme [feat. kourin.]
HP Drain:

Star Difficulty:

(6.22)
Creator:
Quick Draw
Accuracy:

Length:
3:14 (3:12 drain)
Source:
Chaotic Solutions
Genre:
Unspecified (Other)
BPM:
256
Tags:
psycho filth records chaotic solutions speedcore
User Rating:
Success Rate:
Points of Failure:


(graph is accumulative, based on % at fail/retry)

25.3% (216 of 855 plays)

Submitted:
Loved:
Jan 27, 2015
Feb 11, 2018
Rating Spread:

Favourited 194 times in total

Users that love this map: xwidghet, Awang411, Koratl, alexDaleITA, DoNotMess, NessieSP, SilverChariotR, Spartan-, shinigami chan, Kernaus, Mathisca, Nyarlahothep, Syaro-, munth, Encore, Mac Mac, stankill, xMxTnkx, dometb, Silver Kingdom and many more!
Options:
Modding / Discussion
This map is in a LOVED state.
As such, it will not award any pp and leaderboards may be reset by the beatmap creator.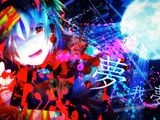 NEW DIFFICULTY ADDED - PLEASE RE-DOWNLOAD (if you don't have 5 diffs)
Wow this beatmap is loved! I am glad everybody is still enjoying the map! Thanks for playing!
- After talking with BAT's, an additional difficulty was required before it was rankable.
- "SC" difficulty is now "SHD" difficulty.
- A new 5 star difficulty has been introduced which is now the "SC" difficulty.
So many thanks to tornspirit for hitsounding the map! Woo!
Lothus is in the lead! ()
Score
997,711 (100.00%)
Max Combo
3093
MAX / 300 / 200
2556 / 202 / 0
100 / 50 / Misses
0 / 0 / 0
Mods
None
Top 50 Scoreboard
Rank
Score
Accuracy
Player
Max Combo
MAX
300
200
100
50
Miss
Mods
#1
997,711
100.00%
Lothus
3093
2556
202
0
0
0
0
None
Report
#2
997,471
99.98%
wonder5193
3090
2564
192
2
0
0
0
None
Report
#3
997,078
99.98%
jakads
3091
2529
227
2
0
0
0
None
Report
#4
995,663
99.96%
DawnX
3090
2420
335
3
0
0
0
None
Report
#5
994,972
99.93%
Estonians
3091
2401
351
6
0
0
0
None
Report
#6
993,804
99.89%
Koneko-
3088
2366
383
9
0
0
0
None
Report
#7
988,326
99.79%
LovelySerenade
2899
2293
450
14
0
0
1
None
Report
#8
987,248
99.78%
SleepyDarkrai
2278
2204
538
15
0
0
1
None
Report
#9
986,924
99.56%
[Crz]Fumi
3088
2222
500
36
0
0
0
None
Report
#10
985,897
99.72%
HIKANARI
2819
2166
573
16
1
1
1
None
Report
#11
983,160
99.69%
SnowScent
2034
2372
364
20
0
0
2
None
Report
#12
977,322
99.29%
Neuro-
1969
2000
703
53
0
1
1
None
Report
#13
977,256
99.42%
YoShiZoRi
1435
2009
705
41
2
0
1
None
Report
#14
974,462
99.29%
Flames99Fuse
1519
2123
583
47
3
0
2
None
Report
#15
973,290
99.34%
Genarou
2033
2140
570
44
1
0
3
None
Report
#16
973,274
99.07%
P1gh
3093
1764
917
77
0
0
0
None
Report
#17
971,956
99.21%
LostCool
1955
2111
588
56
0
0
3
None
Report
#18
970,735
99.32%
_Mytros_
2033
2200
512
38
6
0
2
None
Report
#19
969,404
99.42%
riunosk
1323
2210
512
29
2
0
5
None
Report
#20
968,215
99.24%
Nansu
1797
1996
716
32
10
2
2
None
Report
#21
964,468
98.95%
Civilization
1254
2160
536
44
11
0
7
None
Report
#22
964,416
99.05%
Quick Draw
2017
2206
482
65
1
0
4
None
Report
#23
964,156
98.77%
Panshow
1973
2166
520
49
15
3
5
None
Report
#24
961,853
98.94%
BossPlays_02
2217
1944
736
72
2
0
4
None
Report
#25
957,159
99.08%
Toyohime-
1513
2202
493
55
3
0
5
None
Report
#26
956,192
98.69%
decomposition
1727
1971
704
65
10
2
6
None
Report
#27
955,998
98.78%
Kites
1166
2101
575
69
7
0
6
None
Report
#28
954,697
98.86%
SharpKunG1412
1807
1972
709
64
9
0
4
None
Report
#29
954,418
98.72%
tmdcks120
1957
1815
847
88
6
0
2
None
Report
#30
951,432
98.82%
Dez
1160
2022
658
64
8
0
6
None
Report
#31
950,832
98.92%
DemonWaves
873
2150
543
49
8
0
8
None
Report
#32
949,641
98.55%
Rokkie2
1108
1947
711
86
7
2
5
None
Report
#33
949,367
98.80%
DenkyuSM
1148
2139
538
68
6
3
4
None
Report
#34
947,866
98.40%
zyglrox
1224
1935
729
66
13
10
5
None
Report
#35
947,805
98.45%
Suu is my waifu
1020
1902
758
79
6
3
10
None
Report
#36
947,742
98.48%
Trixta
1163
2178
500
46
22
0
12
None
Report
#37
946,292
98.59%
Cryolien
2282
1932
722
95
4
2
3
None
Report
#38
945,929
98.37%
Spartan-
874
1984
682
62
14
6
10
None
Report
#39
944,951
98.33%
shuniki
1166
1965
685
86
13
2
7
None
Report
#40
943,553
98.43%
pikechu
1056
1979
689
58
21
6
5
None
Report
#41
943,394
98.44%
Yetified
1162
2030
627
81
12
0
8
None
Report
#42
942,789
98.48%
xiao_se
2032
1867
778
103
6
2
2
None
Report
#43
941,713
97.97%
juankristal
1162
2058
577
89
21
4
9
None
Report
#44
940,491
98.24%
extramen
1093
1811
820
113
9
1
4
None
Report
#45
940,217
98.31%
Zuhac
1805
1946
710
75
15
2
10
None
Report
#46
939,342
98.25%
IGO_NewB
1376
1911
734
90
14
0
9
None
Report
#47
938,981
98.16%
zKanzakiAria
1764
1834
793
114
12
2
3
None
Report
#48
938,355
98.66%
Jesen
725
1935
745
57
8
3
10
None
Report
#49
938,324
98.63%
BloowXv2
875
1884
784
75
6
2
7
None
Report
#50
934,275
98.45%
makenzolol
1058
1989
684
54
17
4
10
None
Report