Artist:
Scognito
Circle Size:

Approach Rate:

Title:
Spelunker
HP Drain:

Star Difficulty:

(4.63)
Creator:
Ekoro
Accuracy:

Length:
0:37 (0:37 drain)
Source:
Syobon Action
Genre:
Unspecified (Other)
BPM:
151
Tags:
User Rating:
Success Rate:
Points of Failure:


(graph is accumulative, based on % at fail/retry)

37.0% (5233 of 14156 plays)

Submitted:
Loved:
Dec 29, 2014
Apr 1, 2017
Rating Spread:

Favourited 155 times in total

Users that love this map: AllieBork, -RyeoA, Shizuku-, shigurin, KnottyGeek, Nelsia, FGSky, capeseverywhere, -Genesis, DykkyLieS, CypCypCyprian, ghm12, RyuSena, Dcyte, Shiguri, Pants, Toy, Ewt396, Pappy, jaakoppi and many more!
Options:
This Beatmap's Thread
This map is in a LOVED state.
As such, it will not award any pp and leaderboards may be reset by the beatmap creator.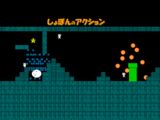 DON'T PLAY THE OTHER DIFF

shigurin is in the lead! ()
Score
675,098 (95.08%)
Max Combo
179
300 / 100 / 50
113 / 9 / 0
Misses
0
Geki (Elite Beat!)
107
Katu (Beat!)
9
Mods
HD,FL
Top 50 Scoreboard
| | Rank | Score | Accuracy | Player | Max Combo | 300 / 100 / 50 | Geki | Katu | Misses | Mods | |
| --- | --- | --- | --- | --- | --- | --- | --- | --- | --- | --- | --- |
| #1 | | 675,098 | 95.08% | shigurin | 179 | 113&nbsp&nbsp/ 9 / 0 | 107 | 9 | 0 | HD,FL | Report |
| #2 | | 664,084 | 100.00% | Mafham | 187 | 122&nbsp&nbsp/ 0 / 0 | 116 | 0 | 0 | HD | Report |
| #3 | | 590,268 | 96.72% | -GN | 181 | 116&nbsp&nbsp/ 6 / 0 | 110 | 6 | 0 | None | Report |
| #4 | | 570,240 | 91.26% | FujiwaraNoMokou | 174 | 106&nbsp&nbsp/ 16 / 0 | 100 | 16 | 0 | HD | Report |
| #5 | | 534,018 | 91.80% | 69Memes69 | 172 | 107&nbsp&nbsp/ 15 / 0 | 101 | 15 | 0 | None | Report |
| #6 | | 522,662 | 90.71% | nr_pm | 170 | 105&nbsp&nbsp/ 17 / 0 | 99 | 17 | 0 | None | Report |
| #7 | | 517,056 | 90.16% | VanillaSandvich | 169 | 104&nbsp&nbsp/ 18 / 0 | 98 | 18 | 0 | None | Report |
| #8 | | 513,898 | 89.48% | Maxe191 | 169 | 103&nbsp&nbsp/ 18 / 1 | 97 | 18 | 0 | SD | Report |
| #9 | | 493,588 | 89.34% | OskaRRRitoS | 166 | 103&nbsp&nbsp/ 18 / 0 | 97 | 18 | 1 | None | Report |
| #10 | | 455,904 | 83.88% | SinaMasina | 161 | 93&nbsp&nbsp/ 27 / 2 | 87 | 27 | 0 | None | Report |
| #11 | | 308,399 | 90.71% | Gokateigo | 170 | 105&nbsp&nbsp/ 17 / 0 | 99 | 17 | 0 | EZ,FL | Report |
| #12 | | 261,372 | 92.62% | Finend | 97 | 109&nbsp&nbsp/ 11 / 2 | 103 | 11 | 0 | None | Report |
| #13 | | 259,188 | 87.16% | Rtyzen | 108 | 100&nbsp&nbsp/ 18 / 2 | 95 | 17 | 2 | FL | Report |
| #14 | | 230,946 | 77.87% | misom150 | 115 | 86&nbsp&nbsp/ 25 / 4 | 81 | 24 | 7 | FL | Report |
| #15 | | 224,743 | 81.01% | Emilia | 94 | 94&nbsp&nbsp/ 14 / 1 | 90 | 14 | 13 | HD | Report |
| #16 | | 222,790 | 89.21% | 96013M88 | 96 | 105&nbsp&nbsp/ 10 / 3 | 100 | 10 | 4 | None | Report |
| #17 | | 216,087 | 86.61% | MineSweeper | 97 | 99&nbsp&nbsp/ 20 / 0 | 94 | 19 | 3 | SO | Report |
| #18 | | 212,802 | 86.20% | amanatu2 | 106 | 99&nbsp&nbsp/ 18 / 1 | 93 | 18 | 4 | None | Report |
| #19 | | 205,821 | 84.02% | PsoGnar | 95 | 96&nbsp&nbsp/ 18 / 3 | 92 | 17 | 5 | FL | Report |
| #20 | | 198,041 | 72.40% | Yugu | 98 | 82&nbsp&nbsp/ 17 / 4 | 76 | 17 | 19 | HD,FL | Report |
| #21 | | 173,276 | 96.58% | Ekoro | 98 | 116&nbsp&nbsp/ 5 / 1 | 110 | 5 | 0 | EZ | Report |
| #22 | | 166,176 | 73.91% | beef wellington | 97 | 84&nbsp&nbsp/ 16 / 5 | 81 | 15 | 17 | HD,SO | Report |
| #23 | | 161,637 | 65.98% | superCreper | 93 | 69&nbsp&nbsp/ 32 / 5 | 66 | 31 | 16 | HD | Report |
| #24 | | 160,504 | 65.71% | prt5862 | 98 | 67&nbsp&nbsp/ 38 / 3 | 61 | 38 | 14 | None | Report |
| #25 | | 160,406 | 80.19% | SeanLienardo | 62 | 88&nbsp&nbsp/ 29 / 1 | 85 | 26 | 4 | None | Report |
| #26 | | 158,644 | 72.68% | mrzomb | 90 | 82&nbsp&nbsp/ 18 / 4 | 78 | 18 | 18 | None | Report |
| #27 | | 158,133 | 66.67% | yayiamhappy | 90 | 74&nbsp&nbsp/ 21 / 2 | 69 | 20 | 25 | HD | Report |
| #28 | | 155,658 | 73.63% | Chipongo | 86 | 83&nbsp&nbsp/ 19 / 3 | 80 | 18 | 17 | FL | Report |
| #29 | | 150,832 | 90.98% | Lambroz | 110 | 106&nbsp&nbsp/ 14 / 2 | 101 | 13 | 0 | EZ | Report |
| #30 | | 148,467 | 73.63% | EX1T SHOW | 89 | 82&nbsp&nbsp/ 20 / 7 | 78 | 19 | 13 | SO | Report |
| #31 | | 145,208 | 88.39% | LyanPayj | 98 | 105&nbsp&nbsp/ 8 / 1 | 102 | 7 | 8 | EZ,HD | Report |
| #32 | | 139,224 | 67.76% | MrNiceness | 90 | 76&nbsp&nbsp/ 17 / 6 | 73 | 17 | 23 | SO | Report |
| #33 | | 121,318 | 83.33% | FGSky | 95 | 97&nbsp&nbsp/ 13 / 2 | 94 | 12 | 10 | EZ | Report |
| #34 | | 117,644 | 63.39% | Kondou-Shinichi | 80 | 67&nbsp&nbsp/ 28 / 6 | 64 | 27 | 21 | None | Report |
| #35 | | 105,722 | 58.47% | Ammar101010 | 73 | 63&nbsp&nbsp/ 21 / 8 | 61 | 20 | 30 | None | Report |
| #36 | | 102,954 | 59.56% | Ohixema | 73 | 62&nbsp&nbsp/ 30 / 4 | 59 | 30 | 26 | None | Report |
| #37 | | 102,175 | 64.34% | - Squishi | 75 | 66&nbsp&nbsp/ 33 / 9 | 65 | 32 | 14 | SO | Report |
| #38 | | 97,952 | 72.13% | -RyeoA | 98 | 83&nbsp&nbsp/ 14 / 2 | 81 | 14 | 23 | EZ,SO | Report |
| #39 | | 93,228 | 61.34% | Weryy | 90 | 70&nbsp&nbsp/ 12 / 5 | 68 | 12 | 35 | EZ,FL | Report |
| #40 | | 90,704 | 63.66% | Luma | 93 | 70&nbsp&nbsp/ 19 / 8 | 68 | 19 | 25 | EZ | Report |
| #41 | | 88,122 | 63.80% | bartek22830 | 63 | 72&nbsp&nbsp/ 16 / 3 | 68 | 14 | 31 | None | Report |
| #42 | | 84,757 | 74.59% | TheRealFrodo | 47 | 81&nbsp&nbsp/ 28 / 4 | 76 | 28 | 9 | HD,HR | Report |
| #43 | | 76,936 | 53.55% | -Akito | 89 | 57&nbsp&nbsp/ 22 / 6 | 54 | 22 | 37 | NF | Report |
| #44 | | 76,556 | 64.48% | gandalph | 84 | 73&nbsp&nbsp/ 15 / 4 | 69 | 15 | 30 | EZ,SO | Report |
| #45 | | 76,054 | 58.33% | Lombardia | 91 | 63&nbsp&nbsp/ 23 / 3 | 60 | 23 | 33 | EZ | Report |
| #46 | | 75,810 | 62.16% | HouTaRou32 | 82 | 70&nbsp&nbsp/ 17 / 1 | 65 | 16 | 34 | EZ | Report |
| #47 | | 75,396 | 52.32% | SpicabuP | 61 | 55&nbsp&nbsp/ 24 / 5 | 53 | 22 | 38 | None | Report |
| #48 | | 69,244 | 66.80% | Miguel | 79 | 77&nbsp&nbsp/ 11 / 5 | 74 | 11 | 29 | EZ,SO | Report |
| #49 | | 65,377 | 61.61% | BeHappy_PT | 77 | 68&nbsp&nbsp/ 19 / 5 | 66 | 19 | 30 | EZ,SO | Report |
| #50 | | 63,131 | 89.75% | thregium | 97 | 106&nbsp&nbsp/ 9 / 3 | 102 | 9 | 4 | EZ,HT | Report |