Artist:
Hatsune Miku
Circle Size:

Approach Rate:

Title:
Still Alive
HP Drain:

Star Difficulty:

(2.96)
Creator:
James
Accuracy:

Length:
2:55 (2:48 drain)
Source:
Genre:
Novelty (Japanese)
BPM:
120.003
Tags:
vocaloid portal glados valve cover
User Rating:
Success Rate:
Points of Failure:


(graph is accumulative, based on % at fail/retry)

13.7% (15951 of 116498 plays)

Submitted:
Ranked:
Jul 22, 2008
Jul 23, 2008
Rating Spread:

Favourited 101 times in total

Users that love this map: Cat Jane, kideddie1501, melimkimo, YukuZetsuji, Kamey, lovelie_cute, Lameguy, adam5396, DarkInferno, Kibatu, bmstar, 100060061, bao2012, itachingan, StayLegit, a12345678a11, th3d3ad, maskboy94, Grimmjow-06, RunDevilRun and many more!
Options:
Modding / Discussion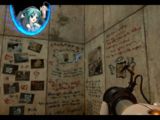 Japanese Vocals. Dont worry I hate Miku's english vocals as much as you do.
Credits to neo@lex for the bg image. Thanks.
Credits to the one who made this song. Whoever you are, thank you.
Toy is in the lead! ()
Score
7,118,882 (100.00%)
Max Combo
552
300 / 100 / 50
355 / 0 / 0
Misses
0
Geki (Elite Beat!)
58
Katu (Beat!)
0
Mods
HD,DT
Top 50 Scoreboard
| | Rank | Score | Accuracy | Player | Max Combo | 300 / 100 / 50 | Geki | Katu | Misses | Mods | |
| --- | --- | --- | --- | --- | --- | --- | --- | --- | --- | --- | --- |
| #1 | | 7,118,882 | 100.00% | Toy | 552 | 355&nbsp&nbsp/ 0 / 0 | 58 | 0 | 0 | HD,DT | Report |
| #2 | | 7,115,382 | 100.00% | WubWoofWolf | 552 | 355&nbsp&nbsp/ 0 / 0 | 58 | 0 | 0 | HD,DT | Report |
| #3 | | 7,103,756 | 99.81% | xasuma | 552 | 354&nbsp&nbsp/ 1 / 0 | 57 | 1 | 0 | HD,DT | Report |
| #4 | | 7,062,563 | 99.44% | SiLviA | 552 | 352&nbsp&nbsp/ 3 / 0 | 56 | 2 | 0 | HD,DT | Report |
| #5 | | 7,012,077 | 99.06% | Sarasa | 552 | 350&nbsp&nbsp/ 5 / 0 | 53 | 5 | 0 | HD,DT | Report |
| #6 | | 6,990,505 | 98.50% | J0sh | 552 | 347&nbsp&nbsp/ 8 / 0 | 54 | 4 | 0 | HD,DT | Report |
| #7 | | 6,988,378 | 98.12% | WillCookie | 552 | 345&nbsp&nbsp/ 10 / 0 | 50 | 8 | 0 | HD,DT | Report |
| #8 | | 6,983,526 | 97.75% | AlphaX | 552 | 343&nbsp&nbsp/ 12 / 0 | 49 | 9 | 0 | HD,DT | Report |
| #9 | | 6,981,122 | 98.12% | Brigitte | 552 | 345&nbsp&nbsp/ 10 / 0 | 49 | 9 | 0 | HD,DT | Report |
| #10 | | 6,964,853 | 98.31% | Karrbon | 552 | 346&nbsp&nbsp/ 9 / 0 | 54 | 4 | 0 | HD,DT | Report |
| #11 | | 6,959,028 | 98.69% | Muuki | 552 | 348&nbsp&nbsp/ 7 / 0 | 52 | 6 | 0 | HD,DT | Report |
| #12 | | 6,915,586 | 98.12% | JuZu | 552 | 345&nbsp&nbsp/ 10 / 0 | 50 | 8 | 0 | HD,DT | Report |
| #13 | | 6,890,755 | 97.37% | playa | 552 | 341&nbsp&nbsp/ 14 / 0 | 49 | 9 | 0 | HD,NC | Report |
| #14 | | 6,851,511 | 97.51% | Elinia | 552 | 342&nbsp&nbsp/ 12 / 1 | 48 | 9 | 0 | HD,DT | Report |
| #15 | | 6,802,979 | 97.28% | Kaoru | 552 | 342&nbsp&nbsp/ 7 / 6 | 49 | 6 | 0 | HD,DT | Report |
| #16 | | 6,796,084 | 96.95% | hard to freeze | 552 | 339&nbsp&nbsp/ 15 / 1 | 47 | 10 | 0 | HD,DT | Report |
| #17 | | 6,794,249 | 96.53% | yorsk | 552 | 337&nbsp&nbsp/ 16 / 2 | 45 | 12 | 0 | HD,DT | Report |
| #18 | | 6,776,840 | 97.28% | Silruera | 552 | 341&nbsp&nbsp/ 12 / 2 | 45 | 11 | 0 | HD,DT | Report |
| #19 | | 6,771,553 | 96.24% | sayonara-bye | 552 | 335&nbsp&nbsp/ 20 / 0 | 45 | 13 | 0 | HD,DT | Report |
| #20 | | 6,764,873 | 95.45% | 5231_Kinoko | 552 | 332&nbsp&nbsp/ 18 / 5 | 41 | 13 | 0 | HD,DT | Report |
| #21 | | 6,751,007 | 95.77% | tit | 552 | 334&nbsp&nbsp/ 15 / 6 | 44 | 10 | 0 | HD,DT | Report |
| #22 | | 6,737,759 | 95.49% | jehlp | 552 | 331&nbsp&nbsp/ 24 / 0 | 45 | 13 | 0 | HD,DT | Report |
| #23 | | 6,733,190 | 96.06% | Midasmens | 552 | 334&nbsp&nbsp/ 21 / 0 | 48 | 10 | 0 | HD,DT | Report |
| #24 | | 6,706,810 | 94.32% | Jtcantwell | 551 | 326&nbsp&nbsp/ 24 / 5 | 42 | 14 | 0 | HD,DT | Report |
| #25 | | 6,703,421 | 95.40% | GinPk | 552 | 331&nbsp&nbsp/ 22 / 2 | 44 | 12 | 0 | HD,DT | Report |
| #26 | | 6,669,838 | 94.84% | TopSp1n | 552 | 328&nbsp&nbsp/ 25 / 2 | 41 | 15 | 0 | HD,DT | Report |
| #27 | | 6,667,743 | 95.40% | K i R i N O | 551 | 331&nbsp&nbsp/ 22 / 2 | 43 | 14 | 0 | HD,DT | Report |
| #28 | | 6,654,649 | 99.25% | Minu | 552 | 351&nbsp&nbsp/ 4 / 0 | 55 | 3 | 0 | DT | Report |
| #29 | | 6,653,124 | 98.87% | KAKALOTE | 552 | 349&nbsp&nbsp/ 6 / 0 | 52 | 6 | 0 | DT | Report |
| #30 | | 6,641,752 | 99.06% | Salvage | 552 | 350&nbsp&nbsp/ 5 / 0 | 54 | 4 | 0 | DT | Report |
| #31 | | 6,632,840 | 99.06% | Lunchaniru | 552 | 350&nbsp&nbsp/ 5 / 0 | 54 | 4 | 0 | DT | Report |
| #32 | | 6,620,489 | 98.50% | BinGOSU3 | 552 | 347&nbsp&nbsp/ 8 / 0 | 51 | 7 | 0 | DT | Report |
| #33 | | 6,613,134 | 99.06% | Shockwave000 | 552 | 350&nbsp&nbsp/ 5 / 0 | 53 | 5 | 0 | DT | Report |
| #34 | | 6,602,495 | 98.87% | GGBY | 552 | 349&nbsp&nbsp/ 6 / 0 | 53 | 5 | 0 | DT | Report |
| #35 | | 6,596,218 | 98.87% | QvQ | 552 | 349&nbsp&nbsp/ 6 / 0 | 53 | 5 | 0 | FL | Report |
| #36 | | 6,596,125 | 95.26% | ueshu | 552 | 330&nbsp&nbsp/ 24 / 1 | 42 | 15 | 0 | HD,DT | Report |
| #37 | | 6,593,361 | 98.87% | Flute | 552 | 349&nbsp&nbsp/ 6 / 0 | 55 | 3 | 0 | DT | Report |
| #38 | | 6,586,392 | 97.93% | Reisea | 552 | 344&nbsp&nbsp/ 11 / 0 | 49 | 9 | 0 | DT | Report |
| #39 | | 6,584,470 | 97.75% | Macius2002PL | 552 | 343&nbsp&nbsp/ 12 / 0 | 50 | 8 | 0 | DT | Report |
| #40 | | 6,581,876 | 98.50% | Overweening | 552 | 347&nbsp&nbsp/ 8 / 0 | 51 | 7 | 0 | DT | Report |
| #41 | | 6,579,069 | 97.56% | Civil oath | 552 | 342&nbsp&nbsp/ 13 / 0 | 49 | 9 | 0 | DT | Report |
| #42 | | 6,573,049 | 98.64% | Kobato_Tina | 552 | 348&nbsp&nbsp/ 6 / 1 | 53 | 4 | 0 | DT | Report |
| #43 | | 6,566,005 | 97.00% | Hime | 552 | 339&nbsp&nbsp/ 16 / 0 | 47 | 11 | 0 | DT | Report |
| #44 | | 6,552,098 | 98.31% | MikiSayaka | 552 | 346&nbsp&nbsp/ 9 / 0 | 51 | 7 | 0 | DT | Report |
| #45 | | 6,542,378 | 97.93% | KOI_JAPAN | 552 | 344&nbsp&nbsp/ 11 / 0 | 49 | 9 | 0 | DT | Report |
| #46 | | 6,540,226 | 98.31% | ktoswazny | 552 | 346&nbsp&nbsp/ 9 / 0 | 53 | 5 | 0 | DT | Report |
| #47 | | 6,528,439 | 97.32% | Glazbom | 552 | 341&nbsp&nbsp/ 13 / 1 | 47 | 10 | 0 | DT | Report |
| #48 | | 6,517,510 | 97.70% | F e n g | 552 | 343&nbsp&nbsp/ 11 / 1 | 51 | 6 | 0 | DT | Report |
| #49 | | 6,517,238 | 96.81% | Kamina | 552 | 338&nbsp&nbsp/ 17 / 0 | 44 | 14 | 0 | DT | Report |
| #50 | | 6,513,258 | 97.56% | Husky | 552 | 342&nbsp&nbsp/ 13 / 0 | 49 | 9 | 0 | NC | Report |