Artist:
MuryokuP
Circle Size:

Approach Rate:

Title:
Frozen World
HP Drain:

Star Difficulty:

(5.33)
Creator:
captin1
Accuracy:

Length:
3:54 (3:06 drain)
Source:
Genre:
Electronic (Instrumental)
BPM:
140
Tags:
resonance
User Rating:
Success Rate:
Points of Failure:


(graph is accumulative, based on % at fail/retry)

15.0% (549 of 3654 plays)

Submitted:
Loved:
Jun 22, 2014
Jan 9, 2018
Rating Spread:

Favourited 123 times in total

Users that love this map: My Angel Kaoura, Celesty, woqx, Eldirlol, [-obee58-], www, nooblet, Teppichreini, Marcello, SuperYANYAN, Tyser, [ Konrad ], Telten, KingTaTo, Maozis, Miharu, LaZyAzN, Definitely_Not, Cagurantpesky, Taamusin and many more!
Options:
Modding / Discussion
This map is in a LOVED state.
As such, it will not award any pp and leaderboards may be reset by the beatmap creator.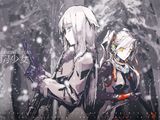 hmm
WubWoofWolf is in the lead! ()
Score
31,950,500 (99.67%)
Max Combo
1447
300 / 100 / 50
811 / 4 / 0
Misses
0
Geki (Elite Beat!)
109
Katu (Beat!)
4
Mods
HD,HR
Top 50 Scoreboard
| | Rank | Score | Accuracy | Player | Max Combo | 300 / 100 / 50 | Geki | Katu | Misses | Mods | |
| --- | --- | --- | --- | --- | --- | --- | --- | --- | --- | --- | --- |
| #1 | | 31,950,500 | 99.67% | WubWoofWolf | 1447 | 811&nbsp&nbsp/ 4 / 0 | 109 | 4 | 0 | HD,HR | Report |
| #2 | | 30,179,952 | 99.84% | Orbi | 1447 | 813&nbsp&nbsp/ 2 / 0 | 111 | 2 | 0 | HD | Report |
| #3 | | 29,084,046 | 99.59% | Azer | 1424 | 810&nbsp&nbsp/ 5 / 0 | 108 | 5 | 0 | HD | Report |
| #4 | | 25,032,586 | 97.22% | Prophet | 1375 | 782&nbsp&nbsp/ 31 / 0 | 86 | 25 | 2 | None | Report |
| #5 | | 25,010,816 | 99.30% | HappyStick | 1363 | 808&nbsp&nbsp/ 4 / 0 | 109 | 2 | 3 | None | Report |
| #6 | | 21,888,006 | 99.67% | 404 AimNotFound | 1260 | 811&nbsp&nbsp/ 4 / 0 | 109 | 4 | 0 | None | Report |
| #7 | | 21,463,796 | 96.85% | Kyozakii | 1230 | 779&nbsp&nbsp/ 31 / 0 | 85 | 26 | 5 | HD | Report |
| #8 | | 21,062,828 | 99.14% | Nussegge | 1244 | 806&nbsp&nbsp/ 6 / 0 | 105 | 6 | 3 | None | Report |
| #9 | | 20,832,702 | 98.45% | Bredzeus | 1239 | 796&nbsp&nbsp/ 19 / 0 | 95 | 18 | 0 | None | Report |
| #10 | | 19,764,174 | 98.85% | AmaiHachimitsu | 1197 | 802&nbsp&nbsp/ 11 / 0 | 103 | 8 | 2 | None | Report |
| #11 | | 19,697,644 | 98.36% | CSGA-DarkArchon | 1201 | 795&nbsp&nbsp/ 20 / 0 | 99 | 14 | 0 | None | Report |
| #12 | | 19,113,829 | 96.50% | Topoi | 1130 | 774&nbsp&nbsp/ 37 / 1 | 88 | 21 | 3 | HD,HR | Report |
| #13 | | 18,999,228 | 97.48% | flansl | 1187 | 786&nbsp&nbsp/ 25 / 1 | 94 | 15 | 3 | None | Report |
| #14 | | 18,878,442 | 99.47% | Noname0 | 1171 | 809&nbsp&nbsp/ 5 / 0 | 108 | 4 | 1 | None | Report |
| #15 | | 18,755,276 | 98.57% | Flufflee | 1177 | 799&nbsp&nbsp/ 13 / 0 | 102 | 8 | 3 | None | Report |
| #16 | | 18,746,071 | 98.81% | Maxe191 | 1142 | 801&nbsp&nbsp/ 13 / 0 | 102 | 10 | 1 | HD | Report |
| #17 | | 18,090,820 | 98.94% | Noomn | 1151 | 803&nbsp&nbsp/ 10 / 0 | 105 | 6 | 2 | None | Report |
| #18 | | 17,611,882 | 97.18% | Hiromu | 1148 | 784&nbsp&nbsp/ 24 / 0 | 90 | 17 | 7 | None | Report |
| #19 | | 17,576,810 | 99.26% | Commy | 1138 | 806&nbsp&nbsp/ 9 / 0 | 106 | 7 | 0 | None | Report |
| #20 | | 17,529,654 | 99.10% | Turbo_BBA | 1136 | 806&nbsp&nbsp/ 5 / 0 | 107 | 3 | 4 | None | Report |
| #21 | | 17,522,438 | 99.06% | SadnessWillSear | 1125 | 804&nbsp&nbsp/ 10 / 0 | 103 | 9 | 1 | None | Report |
| #22 | | 17,294,700 | 97.91% | tomatoh4wk | 1136 | 792&nbsp&nbsp/ 18 / 0 | 96 | 14 | 5 | None | Report |
| #23 | | 17,275,058 | 96.65% | rockleejkooo | 1136 | 779&nbsp&nbsp/ 26 / 0 | 88 | 17 | 10 | None | Report |
| #24 | | 17,096,680 | 97.71% | -Anastacia- | 1128 | 790&nbsp&nbsp/ 19 / 0 | 96 | 12 | 6 | None | Report |
| #25 | | 17,081,058 | 97.61% | HDJump | 1128 | 787&nbsp&nbsp/ 25 / 1 | 97 | 13 | 2 | None | Report |
| #26 | | 16,587,692 | 99.18% | Skystar | 1043 | 805&nbsp&nbsp/ 10 / 0 | 103 | 10 | 0 | HD | Report |
| #27 | | 16,493,806 | 95.07% | Krinkles | 1123 | 759&nbsp&nbsp/ 47 / 1 | 77 | 29 | 8 | None | Report |
| #28 | | 16,333,780 | 99.80% | OPJames | 1023 | 813&nbsp&nbsp/ 1 / 0 | 111 | 1 | 1 | HD | Report |
| #29 | | 16,213,545 | 96.56% | _Degenerate | 1035 | 775&nbsp&nbsp/ 36 / 0 | 80 | 29 | 4 | HD,HR | Report |
| #30 | | 16,199,050 | 98.08% | [ Splash ] | 1088 | 794&nbsp&nbsp/ 16 / 0 | 99 | 9 | 5 | None | Report |
| #31 | | 16,136,148 | 98.20% | zoisite- | 1086 | 794&nbsp&nbsp/ 19 / 0 | 97 | 14 | 2 | None | Report |
| #32 | | 16,031,568 | 96.16% | OzzyOzborne | 1086 | 775&nbsp&nbsp/ 26 / 0 | 91 | 15 | 14 | None | Report |
| #33 | | 15,968,932 | 99.26% | Gomo Pslvarh | 1073 | 806&nbsp&nbsp/ 9 / 0 | 104 | 9 | 0 | None | Report |
| #34 | | 15,715,990 | 97.83% | TopSp1n | 1074 | 792&nbsp&nbsp/ 16 / 0 | 95 | 14 | 7 | None | Report |
| #35 | | 15,515,436 | 97.44% | Muuki | 1056 | 786&nbsp&nbsp/ 24 / 1 | 92 | 18 | 4 | None | Report |
| #36 | | 15,494,310 | 96.36% | RusherPGPL | 1073 | 774&nbsp&nbsp/ 34 / 0 | 83 | 25 | 7 | None | Report |
| #37 | | 15,286,244 | 99.06% | Maiaz | 1043 | 804&nbsp&nbsp/ 10 / 0 | 103 | 9 | 1 | None | Report |
| #38 | | 15,222,324 | 97.55% | Haynoru | 1032 | 786&nbsp&nbsp/ 27 / 0 | 90 | 21 | 2 | None | Report |
| #39 | | 15,166,290 | 98.49% | Shokobear | 1042 | 797&nbsp&nbsp/ 17 / 0 | 98 | 14 | 1 | None | Report |
| #40 | | 15,125,876 | 98.16% | Zuness | 1040 | 795&nbsp&nbsp/ 15 / 0 | 97 | 12 | 5 | None | Report |
| #41 | | 14,471,656 | 97.48% | Wucki | 979 | 786&nbsp&nbsp/ 25 / 1 | 89 | 20 | 3 | HD,HR | Report |
| #42 | | 14,452,835 | 94.07% | [ XSpec ] | 1015 | 751&nbsp&nbsp/ 47 / 0 | 80 | 21 | 17 | HD | Report |
| #43 | | 14,383,272 | 98.00% | SavleR | 1026 | 791&nbsp&nbsp/ 23 / 0 | 95 | 17 | 1 | None | Report |
| #44 | | 13,828,158 | 97.34% | DeathAdderz | 1000 | 784&nbsp&nbsp/ 28 / 0 | 94 | 16 | 3 | None | Report |
| #45 | | 13,496,888 | 97.79% | Mousiini | 989 | 789&nbsp&nbsp/ 24 / 0 | 92 | 19 | 2 | None | Report |
| #46 | | 13,474,920 | 99.39% | Lirufication | 934 | 808&nbsp&nbsp/ 6 / 0 | 106 | 6 | 1 | None | Report |
| #47 | | 13,378,920 | 96.63% | andreifurlan | 980 | 777&nbsp&nbsp/ 31 / 1 | 90 | 19 | 6 | None | Report |
| #48 | | 12,719,326 | 98.00% | Aika S | 952 | 794&nbsp&nbsp/ 14 / 0 | 98 | 11 | 7 | None | Report |
| #49 | | 12,531,950 | 96.97% | Electrovoid | 942 | 781&nbsp&nbsp/ 28 / 0 | 88 | 22 | 6 | None | Report |
| #50 | | 12,407,220 | 98.20% | JaeSu | 935 | 794&nbsp&nbsp/ 19 / 0 | 98 | 13 | 2 | None | Report |