Beatmap Listing » HujuniseikouyuuP - Too young to beer.
Artist:
HujuniseikouyuuP
Circle Size:

Approach Rate:

Title:
Too young to beer.
HP Drain:

Star Difficulty:

(5.43)
Creator:
Broccoly
Accuracy:

Length:
3:39 (3:33 drain)
Source:
Nico Nico Douga
Genre:
Unspecified (Other)
BPM:
300
Tags:
vocaloid hatsune miku fujiniseikouyuup nanahoshi orchestra nanahoshikangengakudan
User Rating:
Success Rate:
Points of Failure:


(graph is accumulative, based on % at fail/retry)

13.5% (2898 of 21483 plays)

Submitted:
Loved:
Dec 22, 2013
Dec 6, 2017
Rating Spread:

Favourited 134 times in total

Users that love this map: Shadowgenisis, RAMPAGE88, Kaoru, RuiKanae, Manivela, - Marco -, -AngelicLayer-, MonstersEverywhere, Luna-, Espeon, Kayl, monstratorfull, Daucus, SiBai-, TrickMirror, jeydude, beary605, Isiorath, S o h, Raidex and many more!
Options:
Modding / Discussion
This map is in a LOVED state.
As such, it will not award any pp and leaderboards may be reset by the beatmap creator.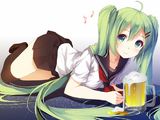 -
-
a toast to val
eat me
im sexayy
Rucker is in the lead! ()
Score
42,326,240 (100.00%)
Max Combo
1685
300 / 100 / 50
980 / 0 / 0
Misses
0
Geki (Elite Beat!)
142
Katu (Beat!)
0
Mods
HD
Top 50 Scoreboard
| | Rank | Score | Accuracy | Player | Max Combo | 300 / 100 / 50 | Geki | Katu | Misses | Mods | |
| --- | --- | --- | --- | --- | --- | --- | --- | --- | --- | --- | --- |
| #1 | | 42,326,240 | 100.00% | Rucker | 1685 | 980&nbsp&nbsp/ 0 / 0 | 142 | 0 | 0 | HD | Report |
| #2 | | 41,936,939 | 99.25% | ReaL motion | 1684 | 969&nbsp&nbsp/ 11 / 0 | 132 | 10 | 0 | HR | Report |
| #3 | | 41,577,691 | 98.64% | SIMONETRAPANI | 1679 | 960&nbsp&nbsp/ 20 / 0 | 123 | 19 | 0 | HD | Report |
| #4 | | 39,947,252 | 100.00% | 404 AimNotFound | 1685 | 980&nbsp&nbsp/ 0 / 0 | 142 | 0 | 0 | None | Report |
| #5 | | 39,907,916 | 99.93% | Okinotori | 1685 | 979&nbsp&nbsp/ 1 / 0 | 141 | 1 | 0 | None | Report |
| #6 | | 39,869,036 | 99.86% | Spare | 1685 | 978&nbsp&nbsp/ 2 / 0 | 140 | 2 | 0 | None | Report |
| #7 | | 39,828,634 | 99.73% | AAA | 1684 | 976&nbsp&nbsp/ 4 / 0 | 138 | 4 | 0 | None | Report |
| #8 | | 39,788,766 | 99.73% | HappyStick | 1684 | 976&nbsp&nbsp/ 4 / 0 | 139 | 3 | 0 | None | Report |
| #9 | | 39,770,006 | 99.73% | Red_Pixel | 1684 | 976&nbsp&nbsp/ 4 / 0 | 138 | 4 | 0 | None | Report |
| #10 | | 39,717,846 | 99.59% | Wynner | 1682 | 974&nbsp&nbsp/ 6 / 0 | 136 | 6 | 0 | None | Report |
| #11 | | 39,674,592 | 99.52% | Doomsday | 1683 | 973&nbsp&nbsp/ 7 / 0 | 135 | 7 | 0 | None | Report |
| #12 | | 39,627,518 | 99.46% | Legestrophe | 1684 | 972&nbsp&nbsp/ 8 / 0 | 136 | 6 | 0 | None | Report |
| #13 | | 39,558,776 | 99.39% | peng | 1679 | 971&nbsp&nbsp/ 9 / 0 | 133 | 9 | 0 | None | Report |
| #14 | | 39,518,350 | 99.25% | Freezd | 1684 | 969&nbsp&nbsp/ 11 / 0 | 133 | 9 | 0 | None | Report |
| #15 | | 39,506,446 | 99.29% | Kibble | 1681 | 970&nbsp&nbsp/ 9 / 0 | 132 | 9 | 1 | None | Report |
| #16 | | 39,274,166 | 98.64% | Blue-Orb | 1678 | 960&nbsp&nbsp/ 20 / 0 | 126 | 16 | 0 | None | Report |
| #17 | | 38,909,532 | 98.35% | L1NKED | 1680 | 956&nbsp&nbsp/ 23 / 1 | 125 | 16 | 0 | None | Report |
| #18 | | 38,604,493 | 98.61% | SoraRoxas01 | 1625 | 960&nbsp&nbsp/ 19 / 0 | 124 | 17 | 1 | HR | Report |
| #19 | | 37,995,712 | 97.76% | 872316468 | 1662 | 947&nbsp&nbsp/ 33 / 0 | 117 | 25 | 0 | None | Report |
| #20 | | 36,980,432 | 98.33% | waste of oxygen | 1643 | 956&nbsp&nbsp/ 23 / 0 | 127 | 14 | 1 | None | Report |
| #21 | | 36,848,904 | 98.54% | Ok xd | 1636 | 960&nbsp&nbsp/ 17 / 0 | 130 | 11 | 3 | None | Report |
| #22 | | 36,837,284 | 97.76% | benki | 1639 | 948&nbsp&nbsp/ 30 / 0 | 120 | 20 | 2 | None | Report |
| #23 | | 36,701,704 | 97.86% | chokma | 1634 | 951&nbsp&nbsp/ 24 / 0 | 120 | 21 | 5 | None | Report |
| #24 | | 36,584,880 | 97.31% | onyaga | 1633 | 941&nbsp&nbsp/ 38 / 0 | 118 | 23 | 1 | None | Report |
| #25 | | 36,501,152 | 99.06% | Tetla | 1625 | 967&nbsp&nbsp/ 11 / 1 | 132 | 8 | 1 | None | Report |
| #26 | | 36,222,248 | 97.99% | Sonoda-Umi | 1621 | 953&nbsp&nbsp/ 22 / 0 | 125 | 15 | 5 | None | Report |
| #27 | | 36,155,756 | 96.67% | Prophet | 1626 | 931&nbsp&nbsp/ 49 / 0 | 107 | 35 | 0 | None | Report |
| #28 | | 36,150,490 | 97.41% | callmebatya | 1632 | 942&nbsp&nbsp/ 38 / 0 | 108 | 34 | 0 | None | Report |
| #29 | | 36,104,251 | 99.18% | Identical | 1570 | 968&nbsp&nbsp/ 12 / 0 | 131 | 11 | 0 | HD | Report |
| #30 | | 35,603,360 | 97.35% | Lolzep | 1609 | 942&nbsp&nbsp/ 36 / 0 | 113 | 27 | 2 | None | Report |
| #31 | | 33,265,732 | 98.59% | Yolshka | 1562 | 960&nbsp&nbsp/ 18 / 1 | 126 | 14 | 1 | None | Report |
| #32 | | 31,094,952 | 99.23% | Roricchi | 1498 | 969&nbsp&nbsp/ 10 / 1 | 133 | 8 | 0 | None | Report |
| #33 | | 30,994,902 | 99.42% | Anze | 1490 | 972&nbsp&nbsp/ 7 / 0 | 135 | 6 | 1 | None | Report |
| #34 | | 30,685,916 | 97.89% | Fenikzz | 1504 | 950&nbsp&nbsp/ 28 / 0 | 121 | 19 | 2 | None | Report |
| #35 | | 30,628,434 | 98.91% | Shiina Noriko | 1439 | 964&nbsp&nbsp/ 16 / 0 | 127 | 15 | 0 | HD | Report |
| #36 | | 30,261,736 | 98.21% | _Kix | 1482 | 954&nbsp&nbsp/ 25 / 1 | 125 | 16 | 0 | None | Report |
| #37 | | 29,872,064 | 97.31% | Spark-desu | 1485 | 941&nbsp&nbsp/ 37 / 2 | 111 | 29 | 0 | None | Report |
| #38 | | 29,321,847 | 99.42% | -Trigger | 1405 | 972&nbsp&nbsp/ 7 / 0 | 135 | 6 | 1 | HD | Report |
| #39 | | 26,980,322 | 97.82% | Blobby3000 | 1409 | 950&nbsp&nbsp/ 26 / 0 | 121 | 19 | 4 | None | Report |
| #40 | | 26,419,274 | 99.35% | Ruchika | 1357 | 971&nbsp&nbsp/ 8 / 0 | 135 | 6 | 1 | None | Report |
| #41 | | 26,061,182 | 99.10% | Kosmonautas | 1321 | 967&nbsp&nbsp/ 12 / 1 | 131 | 10 | 0 | HD | Report |
| #42 | | 25,990,606 | 98.72% | Koltay | 1274 | 962&nbsp&nbsp/ 15 / 3 | 131 | 8 | 0 | HD | Report |
| #43 | | 25,291,898 | 97.87% | Nitroz | 1274 | 949&nbsp&nbsp/ 30 / 1 | 119 | 22 | 0 | HD | Report |
| #44 | | 24,943,238 | 95.92% | QbaDoo | 1252 | 922&nbsp&nbsp/ 54 / 0 | 102 | 37 | 4 | HD,HR | Report |
| #45 | | 24,693,585 | 98.91% | fripSide | 1256 | 964&nbsp&nbsp/ 16 / 0 | 129 | 13 | 0 | HD | Report |
| #46 | | 24,465,414 | 99.05% | Spork Lover | 1257 | 967&nbsp&nbsp/ 11 / 0 | 134 | 7 | 2 | HD | Report |
| #47 | | 24,455,191 | 99.12% | OPJames | 1257 | 967&nbsp&nbsp/ 13 / 0 | 132 | 10 | 0 | HD | Report |
| #48 | | 24,317,162 | 98.06% | yotampoco | 1246 | 954&nbsp&nbsp/ 21 / 0 | 125 | 13 | 5 | HD | Report |
| #49 | | 24,271,090 | 99.03% | Zenoha | 1259 | 966&nbsp&nbsp/ 13 / 1 | 131 | 10 | 0 | None | Report |
| #50 | | 24,236,102 | 99.15% | Sadness | 1259 | 968&nbsp&nbsp/ 10 / 2 | 134 | 7 | 0 | None | Report |