Artist:
BABYMETAL
Circle Size:

Approach Rate:

Title:
MEGITSUNE
HP Drain:

Star Difficulty:

(5.51)
Creator:
Onisakura
Accuracy:

Length:
4:04 (4:03 drain)
Source:
Genre:
Unspecified (Other)
BPM:
142
Tags:
jpop moshiri bluoxy judydanny alpacacokelat
User Rating:
Success Rate:
Points of Failure:


(graph is accumulative, based on % at fail/retry)

6.7% (378 of 5625 plays)

Submitted:
Loved:
Aug 11, 2013
Jan 2, 2018
Rating Spread:

Favourited 476 times in total

Users that love this map: Filipino Chump, nagisa_644, Apache-A, -Chronopolis-, Kurenai_Akari, Gaja, Sasazy, BluOxy, Adamqs, tuguita_25, Capricornio, Airi, SanyaRu, Yosero, Dren, [ renyan ], natsukoOwO, Spyke-, Slow, ze3x and many more!
Options:
Modding / Discussion
This map is in a LOVED state.
As such, it will not award any pp and leaderboards may be reset by the beatmap creator.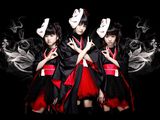 Zenoha is in the lead! ()
Score
36,952,024 (98.90%)
Max Combo
1481
300 / 100 / 50
1029 / 16 / 1
Misses
0
Geki (Elite Beat!)
225
Katu (Beat!)
14
Mods
None
Top 50 Scoreboard
| | Rank | Score | Accuracy | Player | Max Combo | 300 / 100 / 50 | Geki | Katu | Misses | Mods | |
| --- | --- | --- | --- | --- | --- | --- | --- | --- | --- | --- | --- |
| #1 | | 36,952,024 | 98.90% | Zenoha | 1481 | 1029&nbsp&nbsp/ 16 / 1 | 225 | 14 | 0 | None | Report |
| #2 | | 36,288,460 | 95.71% | Prophet | 1496 | 979&nbsp&nbsp/ 66 / 1 | 191 | 48 | 0 | None | Report |
| #3 | | 35,905,068 | 98.63% | Zaq Lev | 1452 | 1027&nbsp&nbsp/ 14 / 0 | 226 | 14 | 5 | None | Report |
| #4 | | 32,048,514 | 96.43% | Topoi | 1306 | 990&nbsp&nbsp/ 56 / 0 | 198 | 42 | 0 | HD,HR | Report |
| #5 | | 29,831,992 | 99.04% | Nitroz | 1329 | 1032&nbsp&nbsp/ 12 / 0 | 229 | 9 | 2 | None | Report |
| #6 | | 26,973,712 | 98.15% | fartownik | 1259 | 1021&nbsp&nbsp/ 17 / 0 | 226 | 11 | 8 | None | Report |
| #7 | | 26,896,182 | 97.71% | gasanww | 1257 | 1012&nbsp&nbsp/ 30 / 0 | 217 | 21 | 4 | None | Report |
| #8 | | 26,559,562 | 97.02% | Skyo | 1254 | 1003&nbsp&nbsp/ 35 / 1 | 212 | 22 | 7 | None | Report |
| #9 | | 24,708,050 | 97.48% | MINEMINE | 1155 | 1008&nbsp&nbsp/ 35 / 0 | 209 | 29 | 3 | None | Report |
| #10 | | 22,085,752 | 99.22% | Enon | 1030 | 1034&nbsp&nbsp/ 11 / 1 | 230 | 9 | 0 | None | Report |
| #11 | | 19,987,524 | 98.47% | 404 AimNotFound | 1066 | 1025&nbsp&nbsp/ 15 / 0 | 226 | 11 | 6 | None | Report |
| #12 | | 18,057,652 | 92.65% | My Aim Slow | 1051 | 937&nbsp&nbsp/ 93 / 7 | 170 | 58 | 9 | None | Report |
| #13 | | 17,860,738 | 95.25% | RatinA0 | 972 | 975&nbsp&nbsp/ 63 / 2 | 190 | 45 | 6 | HR | Report |
| #14 | | 16,157,069 | 97.28% | Musty | 856 | 1008&nbsp&nbsp/ 27 / 3 | 218 | 14 | 8 | HD | Report |
| #15 | | 15,999,396 | 97.13% | Maxe191 | 866 | 1004&nbsp&nbsp/ 35 / 2 | 210 | 25 | 5 | HD | Report |
| #16 | | 15,965,222 | 95.79% | gpdl | 877 | 984&nbsp&nbsp/ 52 / 4 | 200 | 35 | 6 | HD,HR | Report |
| #17 | | 14,965,134 | 98.82% | Misti | 852 | 1029&nbsp&nbsp/ 13 / 2 | 227 | 9 | 2 | None | Report |
| #18 | | 14,836,874 | 97.99% | Karthy | 821 | 1017&nbsp&nbsp/ 24 / 0 | 220 | 18 | 5 | None | Report |
| #19 | | 14,506,282 | 98.33% | Maus | 716 | 1021&nbsp&nbsp/ 22 / 1 | 223 | 14 | 2 | None | Report |
| #20 | | 14,430,964 | 98.69% | Markden | 684 | 1027&nbsp&nbsp/ 16 / 0 | 225 | 13 | 3 | None | Report |
| #21 | | 14,355,164 | 95.60% | Mio- | 872 | 981&nbsp&nbsp/ 57 / 0 | 199 | 36 | 8 | None | Report |
| #22 | | 14,334,830 | 87.24% | Septembre | 860 | 849&nbsp&nbsp/ 188 / 5 | 130 | 104 | 4 | None | Report |
| #23 | | 13,740,010 | 99.01% | SanteriP | 682 | 1031&nbsp&nbsp/ 14 / 0 | 228 | 11 | 1 | None | Report |
| #24 | | 12,772,000 | 97.79% | fripSide | 673 | 1013&nbsp&nbsp/ 29 / 1 | 210 | 26 | 3 | HD | Report |
| #25 | | 12,075,374 | 95.24% | cufox | 736 | 973&nbsp&nbsp/ 68 / 3 | 193 | 43 | 2 | None | Report |
| #26 | | 11,591,956 | 93.04% | Paran- | 742 | 942&nbsp&nbsp/ 90 / 7 | 184 | 46 | 7 | None | Report |
| #27 | | 11,406,914 | 96.32% | SKaiBlue | 738 | 993&nbsp&nbsp/ 43 / 1 | 201 | 34 | 9 | None | Report |
| #28 | | 11,243,408 | 97.64% | SoloTek | 785 | 1014&nbsp&nbsp/ 22 / 0 | 214 | 19 | 10 | None | Report |
| #29 | | 10,954,280 | 97.13% | VicoTeen | 570 | 1004&nbsp&nbsp/ 35 / 2 | 212 | 23 | 5 | None | Report |
| #30 | | 10,900,096 | 97.48% | _NotSoFast_ | 636 | 1009&nbsp&nbsp/ 32 / 0 | 212 | 25 | 5 | None | Report |
| #31 | | 10,497,056 | 98.44% | Legestrophe | 595 | 1024&nbsp&nbsp/ 17 / 0 | 220 | 16 | 5 | None | Report |
| #32 | | 9,668,852 | 96.81% | Cappu | 686 | 1004&nbsp&nbsp/ 26 / 0 | 212 | 21 | 16 | HD | Report |
| #33 | | 9,603,064 | 97.58% | juliancala | 569 | 1010&nbsp&nbsp/ 32 / 0 | 214 | 22 | 4 | None | Report |
| #34 | | 9,592,178 | 97.90% | My Angel Yoshi | 715 | 1014&nbsp&nbsp/ 30 / 0 | 213 | 25 | 2 | None | Report |
| #35 | | 9,495,826 | 97.55% | Sadness | 681 | 1009&nbsp&nbsp/ 34 / 0 | 215 | 22 | 3 | None | Report |
| #36 | | 9,446,513 | 97.02% | Luris | 545 | 1004&nbsp&nbsp/ 32 / 1 | 211 | 23 | 9 | HD | Report |
| #37 | | 9,287,550 | 89.01% | PapayaLord | 661 | 878&nbsp&nbsp/ 157 / 4 | 150 | 83 | 7 | None | Report |
| #38 | | 9,109,093 | 94.42% | WubWoofWolf | 565 | 963&nbsp&nbsp/ 73 / 2 | 192 | 42 | 8 | HD,HR | Report |
| #39 | | 8,857,362 | 95.09% | Davidozzo | 614 | 978&nbsp&nbsp/ 49 / 2 | 194 | 38 | 17 | None | Report |
| #40 | | 8,838,636 | 93.71% | TasoM | 682 | 956&nbsp&nbsp/ 70 / 5 | 178 | 49 | 15 | None | Report |
| #41 | | 8,762,202 | 94.58% | Rabb | 487 | 965&nbsp&nbsp/ 73 / 0 | 186 | 48 | 8 | None | Report |
| #42 | | 8,700,654 | 96.78% | Weed | 477 | 999&nbsp&nbsp/ 40 / 0 | 208 | 28 | 7 | None | Report |
| #43 | | 8,636,202 | 90.34% | Rimuru | 675 | 902&nbsp&nbsp/ 127 / 4 | 155 | 74 | 13 | None | Report |
| #44 | | 8,582,084 | 93.12% | shader504 | 644 | 950&nbsp&nbsp/ 71 / 2 | 181 | 46 | 23 | None | Report |
| #45 | | 8,472,804 | 90.63% | G Sabelette | 564 | 908&nbsp&nbsp/ 116 / 8 | 155 | 72 | 14 | HD | Report |
| #46 | | 8,310,828 | 94.26% | Coyri | 625 | 970&nbsp&nbsp/ 47 / 2 | 194 | 34 | 27 | None | Report |
| #47 | | 8,256,880 | 96.32% | Wakson | 484 | 994&nbsp&nbsp/ 40 / 1 | 207 | 26 | 11 | HR | Report |
| #48 | | 8,012,944 | 95.78% | Ex6TenZ | 513 | 988&nbsp&nbsp/ 40 / 3 | 203 | 27 | 15 | None | Report |
| #49 | | 7,935,150 | 96.49% | - e - v - b- | 572 | 999&nbsp&nbsp/ 30 / 2 | 206 | 23 | 15 | None | Report |
| #50 | | 7,930,456 | 98.69% | emu1337 | 383 | 1027&nbsp&nbsp/ 16 / 0 | 227 | 11 | 3 | None | Report |