Artist:
Queen
Circle Size:

Approach Rate:

Title:
Don't Stop Me Now
HP Drain:

Star Difficulty:

(2.69)
Creator:
m980
Accuracy:

Length:
3:03 (1:54 drain)
Source:
Genre:
Rock (English)
BPM:
155
Tags:
phoenix wright elite beat agents gyakuten saiban eba psuedoauthentic dsmn
User Rating:
Success Rate:
Points of Failure:


(graph is accumulative, based on % at fail/retry)

18.8% (120708 of 643566 plays)

Submitted:
Ranked:
Feb 21, 2009
Aug 23, 2009
Rating Spread:

Favourited 1497 times in total

Users that love this map: peppy, Behonkiss, ZZT the Fifth, Starrodkirby86, Echo, Kharl, RemmyX25, Xenochria, nardii, Dark-NESS, LuigiHann, SafeWord, gyt, smudo, MonkeyWarlock, awp, Gunzil, Mogsworth, 0bj3c7i0n, LordMoonstone and many more!
Options:
Modding / Discussion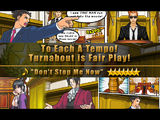 An effort to create an awesome psuedo-authentic map. A fun map to play :).
A few interesting facts:
This map took around 6 months for the team to finish.
This storyboard is over 1300 lines long. All of it was written by hand.
Around 5 new storyboarding/osu features were implemented to make this SB the best it could be.
This map/storyboard was inspired by this
http://www.idletheme.com/objection/view ... hp?sid=101
A crossover story between Phoenix Wright and Elite Beat Agents.
Read it to understand the whole story.
Thanks to (In Alphabetical Order)
Avie Kokyre - Original Art
awp, Rolled - Timing Help
Court-Records.net - Sprite Library
Luigihann - Dialog, Sprite Edits, SB Director, Coloring.
m980 - Beatmap, Storyboard, Sprite Extraction
mattyu007 - Recording this map and posting it onto Youtube.
MaxwellDemon - Sprite Edits
MetalMario201 - Hitsound Design
peppy - For osu, and implementing all those features.
Pyrasaur - Story
Queen - Music
Sinistro - SB (SFX)
Elite Beat Agents was created by iNiS.
Ace Attorney Series was created by Capcom.
kevin3333g is in the lead! ()
Score
433,008 (100.00%)
Max Combo
279
300 / 100 / 50
279 / 0 / 0
Misses
0
Geki (Elite Beat!)
0
Katu (Beat!)
0
Mods
HR
Top 50 Scoreboard
| | Rank | Score | Accuracy | Player | Max Combo | 300 / 100 / 50 | Geki | Katu | Misses | Mods | |
| --- | --- | --- | --- | --- | --- | --- | --- | --- | --- | --- | --- |
| #1 | | 433,008 | 100.00% | kevin3333g | 279 | 279&nbsp&nbsp/ 0 / 0 | 0 | 0 | 0 | HR | Report |
| #2 | | 432,438 | 99.82% | KDS | 279 | 278&nbsp&nbsp/ 1 / 0 | 0 | 0 | 0 | HR | Report |
| #3 | | 432,410 | 99.46% | Das | 279 | 276&nbsp&nbsp/ 3 / 0 | 7 | 0 | 0 | DT | Report |
| #4 | | 431,298 | 99.82% | AnFace | 279 | 278&nbsp&nbsp/ 1 / 0 | 0 | 0 | 0 | HR | Report |
| #5 | | 429,978 | 99.64% | youngdow | 279 | 277&nbsp&nbsp/ 2 / 0 | 0 | 0 | 0 | HD,SD | Report |
| #6 | | 425,136 | 98.21% | Naryuga | 279 | 269&nbsp&nbsp/ 10 / 0 | 0 | 0 | 0 | HD | Report |
| #7 | | 424,614 | 98.03% | Tenshi | 279 | 268&nbsp&nbsp/ 11 / 0 | 0 | 0 | 0 | HD,SD | Report |
| #8 | | 422,982 | 97.85% | HangaMaster | 279 | 267&nbsp&nbsp/ 12 / 0 | 0 | 0 | 0 | HD | Report |
| #9 | | 420,360 | 100.00% | kanopu | 279 | 279&nbsp&nbsp/ 0 / 0 | 0 | 0 | 0 | SD | Report |
| #10 | | 420,360 | 100.00% | ljqandylee | 279 | 279&nbsp&nbsp/ 0 / 0 | 0 | 0 | 0 | None | Report |
| #11 | | 420,360 | 100.00% | asgardv | 279 | 279&nbsp&nbsp/ 0 / 0 | 0 | 0 | 0 | PF | Report |
| #12 | | 420,360 | 100.00% | Saikoro | 279 | 279&nbsp&nbsp/ 0 / 0 | 0 | 0 | 0 | None | Report |
| #13 | | 419,810 | 99.82% | OzzyOzrock | 279 | 278&nbsp&nbsp/ 1 / 0 | 0 | 0 | 0 | None | Report |
| #14 | | 419,300 | 99.64% | charly kempachi | 279 | 277&nbsp&nbsp/ 2 / 0 | 0 | 0 | 0 | None | Report |
| #15 | | 419,160 | 100.00% | Player- | 279 | 279&nbsp&nbsp/ 0 / 0 | 35 | 0 | 0 | SD | Report |
| #16 | | 418,260 | 100.00% | thomas1195 | 279 | 279&nbsp&nbsp/ 0 / 0 | 0 | 0 | 0 | None | Report |
| #17 | | 417,768 | 96.59% | sanalika1142 | 279 | 260&nbsp&nbsp/ 19 / 0 | 0 | 0 | 0 | HD | Report |
| #18 | | 417,650 | 99.28% | ABBA | 279 | 275&nbsp&nbsp/ 4 / 0 | 0 | 0 | 0 | None | Report |
| #19 | | 417,650 | 99.10% | Nardoxyribonucleic | 279 | 274&nbsp&nbsp/ 5 / 0 | 0 | 0 | 0 | SD | Report |
| #20 | | 417,560 | 99.46% | Nashmun | 279 | 276&nbsp&nbsp/ 3 / 0 | 0 | 0 | 0 | None | Report |
| #21 | | 416,480 | 99.10% | SweetMangoGrill | 279 | 274&nbsp&nbsp/ 5 / 0 | 0 | 0 | 0 | None | Report |
| #22 | | 416,080 | 99.28% | ShanaTan | 279 | 275&nbsp&nbsp/ 4 / 0 | 0 | 0 | 0 | None | Report |
| #23 | | 415,644 | 98.03% | Locher | 279 | 268&nbsp&nbsp/ 11 / 0 | 0 | 0 | 0 | HD | Report |
| #24 | | 415,170 | 98.57% | wmfchris | 279 | 271&nbsp&nbsp/ 8 / 0 | 0 | 0 | 0 | None | Report |
| #25 | | 415,020 | 98.21% | Gustav0eiji | 279 | 269&nbsp&nbsp/ 10 / 0 | 0 | 0 | 0 | None | Report |
| #26 | | 414,840 | 98.39% | Shino | 279 | 270&nbsp&nbsp/ 9 / 0 | 0 | 0 | 0 | None | Report |
| #27 | | 414,490 | 98.39% | lancernezu | 279 | 270&nbsp&nbsp/ 9 / 0 | 0 | 0 | 0 | None | Report |
| #28 | | 414,390 | 98.21% | Mew104 | 279 | 269&nbsp&nbsp/ 10 / 0 | 0 | 0 | 0 | None | Report |
| #29 | | 414,380 | 98.57% | Skeuddy | 279 | 271&nbsp&nbsp/ 8 / 0 | 0 | 0 | 0 | None | Report |
| #30 | | 414,282 | 96.06% | Lightning Wyvern | 279 | 257&nbsp&nbsp/ 22 / 0 | 0 | 0 | 0 | HR | Report |
| #31 | | 414,160 | 98.39% | matthewhln | 279 | 270&nbsp&nbsp/ 9 / 0 | 0 | 0 | 0 | None | Report |
| #32 | | 413,840 | 98.75% | xWillx | 279 | 272&nbsp&nbsp/ 7 / 0 | 0 | 0 | 0 | None | Report |
| #33 | | 413,740 | 98.21% | hs5412 | 279 | 269&nbsp&nbsp/ 10 / 0 | 0 | 0 | 0 | None | Report |
| #34 | | 413,540 | 98.57% | tiwter123 | 279 | 271&nbsp&nbsp/ 8 / 0 | 0 | 0 | 0 | None | Report |
| #35 | | 413,490 | 98.03% | CrushKH | 279 | 268&nbsp&nbsp/ 11 / 0 | 41 | 0 | 0 | None | Report |
| #36 | | 413,260 | 98.39% | Hark | 279 | 270&nbsp&nbsp/ 9 / 0 | 0 | 0 | 0 | None | Report |
| #37 | | 412,330 | 98.03% | camelhollywood | 279 | 268&nbsp&nbsp/ 11 / 0 | 0 | 0 | 0 | None | Report |
| #38 | | 411,890 | 98.21% | mancuso_JM_ | 279 | 269&nbsp&nbsp/ 10 / 0 | 43 | 1 | 0 | None | Report |
| #39 | | 411,760 | 97.67% | Weyland | 279 | 266&nbsp&nbsp/ 13 / 0 | 0 | 0 | 0 | None | Report |
| #40 | | 411,170 | 97.85% | rezi888 | 279 | 267&nbsp&nbsp/ 12 / 0 | 0 | 0 | 0 | None | Report |
| #41 | | 410,940 | 98.03% | RatedNC17 | 279 | 268&nbsp&nbsp/ 11 / 0 | 0 | 0 | 0 | None | Report |
| #42 | | 410,530 | 98.39% | alieokiro | 279 | 270&nbsp&nbsp/ 9 / 0 | 0 | 0 | 0 | None | Report |
| #43 | | 410,430 | 97.31% | Ch1ka | 279 | 264&nbsp&nbsp/ 15 / 0 | 0 | 0 | 0 | None | Report |
| #44 | | 410,180 | 97.85% | tsukisenkai | 279 | 267&nbsp&nbsp/ 12 / 0 | 0 | 0 | 0 | None | Report |
| #45 | | 409,824 | 93.73% | Cute Bunny | 279 | 244&nbsp&nbsp/ 35 / 0 | 0 | 0 | 0 | HD | Report |
| #46 | | 409,780 | 97.31% | L e X | 279 | 264&nbsp&nbsp/ 15 / 0 | 0 | 0 | 0 | SD | Report |
| #47 | | 409,600 | 98.03% | KanaRin | 279 | 268&nbsp&nbsp/ 11 / 0 | 0 | 0 | 0 | None | Report |
| #48 | | 409,540 | 98.03% | Hidan | 279 | 268&nbsp&nbsp/ 11 / 0 | 0 | 0 | 0 | SD | Report |
| #49 | | 409,420 | 96.77% | DarkDunskin | 279 | 261&nbsp&nbsp/ 18 / 0 | 0 | 0 | 0 | None | Report |
| #50 | | 409,130 | 99.10% | justwe0916 | 279 | 274&nbsp&nbsp/ 5 / 0 | 0 | 0 | 0 | None | Report |