Beatmap Listing » Outer - Bullshit!! Hard problem!!
Artist:
Outer
Circle Size:

Approach Rate:

Title:
Bullshit!! Hard problem!!
HP Drain:

Star Difficulty:

(4.49)
Creator:
Aenna
Accuracy:

Length:
1:45 (1:36 drain)
Source:
Nekonade Distortion
Genre:
Video Game (Japanese)
BPM:
210
Tags:
whitesoft kotoko
User Rating:
Success Rate:
Points of Failure:


(graph is accumulative, based on % at fail/retry)

12.5% (21733 of 174478 plays)

Submitted:
Ranked:
Feb 26, 2011
Oct 22, 2011
Rating Spread:

Favourited 62 times in total

Users that love this map: mokku3, Remilia_Scarlet, twallen2813380, Nanakase Gizumo, Secchan Minji, rudelikku0, 65 Roco, Muffy, lololololita, Asagiri Mai, Kitsuneko, Twinklesky, EpicFailure, Cupidx3, aster_tk, NAG, coash1328, reboooot, CanadianPlease, Shiva and many more!
Options:
Modding / Discussion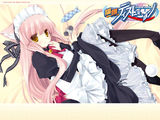 #20
もんごる..[1]
Anze is in the lead! ()
Score
7,869,957 (96.00%)
Max Combo
574
300 / 100 / 50
373 / 20 / 3
Misses
0
Geki (Elite Beat!)
72
Katu (Beat!)
7
Mods
HD,DT
Top 50 Scoreboard
| | Rank | Score | Accuracy | Player | Max Combo | 300 / 100 / 50 | Geki | Katu | Misses | Mods | |
| --- | --- | --- | --- | --- | --- | --- | --- | --- | --- | --- | --- |
| #1 | | 7,869,957 | 96.00% | Anze | 574 | 373&nbsp&nbsp/ 20 / 3 | 72 | 7 | 0 | HD,DT | Report |
| #2 | | 7,730,085 | 95.20% | Marie Rose | 574 | 368&nbsp&nbsp/ 27 / 0 | 68 | 13 | 1 | HD,DT | Report |
| #3 | | 7,700,669 | 100.00% | SaRyuKB | 576 | 396&nbsp&nbsp/ 0 / 0 | 82 | 0 | 0 | HD,HR,PF | Report |
| #4 | | 7,699,569 | 100.00% | MiLu | 576 | 396&nbsp&nbsp/ 0 / 0 | 82 | 0 | 0 | HD,HR,SD | Report |
| #5 | | 7,697,369 | 100.00% | doctorindark | 576 | 396&nbsp&nbsp/ 0 / 0 | 82 | 0 | 0 | HD,HR | Report |
| #6 | | 7,697,369 | 100.00% | Recia | 576 | 396&nbsp&nbsp/ 0 / 0 | 82 | 0 | 0 | HD,HR | Report |
| #7 | | 7,697,369 | 100.00% | Toy | 576 | 396&nbsp&nbsp/ 0 / 0 | 82 | 0 | 0 | HD,HR | Report |
| #8 | | 7,696,269 | 100.00% | -cr1mmy- | 576 | 396&nbsp&nbsp/ 0 / 0 | 82 | 0 | 0 | HD,HR | Report |
| #9 | | 7,696,269 | 100.00% | Worne | 576 | 396&nbsp&nbsp/ 0 / 0 | 82 | 0 | 0 | HD,HR | Report |
| #10 | | 7,689,147 | 99.83% | WHITE COMB | 576 | 395&nbsp&nbsp/ 1 / 0 | 81 | 1 | 0 | HD,HR | Report |
| #11 | | 7,688,342 | 99.66% | Drew | 576 | 394&nbsp&nbsp/ 2 / 0 | 80 | 2 | 0 | HD,HR | Report |
| #12 | | 7,687,440 | 99.83% | Yuh | 576 | 395&nbsp&nbsp/ 1 / 0 | 81 | 1 | 0 | HD,HR | Report |
| #13 | | 7,685,349 | 99.83% | Ohrami | 576 | 395&nbsp&nbsp/ 1 / 0 | 81 | 1 | 0 | HD,HR | Report |
| #14 | | 7,685,301 | 99.83% | Darksonic | 576 | 395&nbsp&nbsp/ 1 / 0 | 81 | 1 | 0 | HD,HR | Report |
| #15 | | 7,685,211 | 99.83% | AngeLDarkness | 576 | 395&nbsp&nbsp/ 1 / 0 | 81 | 1 | 0 | HD,HR | Report |
| #16 | | 7,684,403 | 99.83% | Gokuri | 576 | 395&nbsp&nbsp/ 1 / 0 | 81 | 1 | 0 | HD,HR | Report |
| #17 | | 7,683,686 | 99.83% | Fione | 576 | 395&nbsp&nbsp/ 1 / 0 | 81 | 1 | 0 | HD,HR | Report |
| #18 | | 7,681,304 | 99.83% | Fenrir | 576 | 395&nbsp&nbsp/ 1 / 0 | 81 | 1 | 0 | HD,HR | Report |
| #19 | | 7,676,949 | 99.83% | putigame | 576 | 395&nbsp&nbsp/ 1 / 0 | 81 | 1 | 0 | HD,HR | Report |
| #20 | | 7,674,811 | 99.83% | Rucker | 576 | 395&nbsp&nbsp/ 1 / 0 | 81 | 1 | 0 | HD,HR | Report |
| #21 | | 7,674,385 | 99.66% | Totoki | 576 | 394&nbsp&nbsp/ 2 / 0 | 80 | 2 | 0 | HD,HR | Report |
| #22 | | 7,674,117 | 99.66% | fumis | 576 | 394&nbsp&nbsp/ 2 / 0 | 80 | 2 | 0 | HD,HR | Report |
| #23 | | 7,670,816 | 99.66% | Mercurius | 576 | 394&nbsp&nbsp/ 2 / 0 | 80 | 2 | 0 | HD,HR | Report |
| #24 | | 7,667,804 | 99.49% | Delis | 576 | 393&nbsp&nbsp/ 3 / 0 | 79 | 3 | 0 | HD,HR | Report |
| #25 | | 7,666,207 | 99.66% | Spare | 576 | 394&nbsp&nbsp/ 2 / 0 | 80 | 2 | 0 | HD,HR | Report |
| #26 | | 7,664,149 | 99.16% | Gyuunyu | 576 | 391&nbsp&nbsp/ 5 / 0 | 78 | 4 | 0 | HD,HR | Report |
| #27 | | 7,661,563 | 98.99% | Sonoda Umi | 576 | 390&nbsp&nbsp/ 6 / 0 | 77 | 5 | 0 | HD,HR | Report |
| #28 | | 7,659,672 | 99.49% | Rzzzzz | 576 | 393&nbsp&nbsp/ 3 / 0 | 79 | 3 | 0 | HD,HR | Report |
| #29 | | 7,656,365 | 99.49% | Patty | 576 | 393&nbsp&nbsp/ 3 / 0 | 79 | 3 | 0 | HD,HR | Report |
| #30 | | 7,656,138 | 99.66% | murasaki_sk | 576 | 394&nbsp&nbsp/ 2 / 0 | 80 | 2 | 0 | HD,HR | Report |
| #31 | | 7,655,180 | 99.16% | L u R i | 576 | 391&nbsp&nbsp/ 5 / 0 | 78 | 4 | 0 | HD,HR | Report |
| #32 | | 7,654,362 | 99.49% | HAUHAU | 576 | 393&nbsp&nbsp/ 3 / 0 | 80 | 2 | 0 | HD,HR | Report |
| #33 | | 7,653,625 | 99.49% | Silynn | 576 | 393&nbsp&nbsp/ 3 / 0 | 79 | 3 | 0 | HD,HR | Report |
| #34 | | 7,651,452 | 98.82% | YuLi | 576 | 389&nbsp&nbsp/ 7 / 0 | 76 | 6 | 0 | HD,HR | Report |
| #35 | | 7,651,197 | 99.66% | haruurara222 | 576 | 394&nbsp&nbsp/ 2 / 0 | 80 | 2 | 0 | HD,HR | Report |
| #36 | | 7,649,895 | 99.49% | Small K | 576 | 393&nbsp&nbsp/ 3 / 0 | 79 | 3 | 0 | HD,HR | Report |
| #37 | | 7,649,272 | 99.33% | cc5838p | 576 | 392&nbsp&nbsp/ 4 / 0 | 79 | 3 | 0 | HD,HR | Report |
| #38 | | 7,645,672 | 99.49% | EnEMy | 576 | 393&nbsp&nbsp/ 3 / 0 | 79 | 3 | 0 | HD,HR | Report |
| #39 | | 7,641,800 | 99.49% | Dungeon | 576 | 393&nbsp&nbsp/ 3 / 0 | 80 | 2 | 0 | HD,HR | Report |
| #40 | | 7,641,297 | 98.99% | HopaOoo | 576 | 390&nbsp&nbsp/ 6 / 0 | 79 | 3 | 0 | HD,HR | Report |
| #41 | | 7,640,727 | 99.33% | Noec | 576 | 392&nbsp&nbsp/ 4 / 0 | 78 | 4 | 0 | HD,HR | Report |
| #42 | | 7,638,275 | 99.33% | Kairi | 576 | 392&nbsp&nbsp/ 4 / 0 | 80 | 2 | 0 | HD,HR | Report |
| #43 | | 7,637,199 | 99.33% | Supi | 576 | 392&nbsp&nbsp/ 4 / 0 | 79 | 3 | 0 | HD,HR | Report |
| #44 | | 7,636,704 | 99.33% | Broodich | 576 | 392&nbsp&nbsp/ 4 / 0 | 78 | 4 | 0 | HD,HR | Report |
| #45 | | 7,636,165 | 99.16% | Kikkyow | 576 | 391&nbsp&nbsp/ 5 / 0 | 78 | 4 | 0 | HD,HR | Report |
| #46 | | 7,631,431 | 98.99% | dsvd | 576 | 390&nbsp&nbsp/ 6 / 0 | 76 | 6 | 0 | HD,HR | Report |
| #47 | | 7,630,350 | 99.16% | Yuleiyu | 576 | 391&nbsp&nbsp/ 5 / 0 | 77 | 5 | 0 | HD,HR | Report |
| #48 | | 7,630,166 | 99.33% | punikidesu- | 576 | 392&nbsp&nbsp/ 4 / 0 | 78 | 4 | 0 | HD,HR | Report |
| #49 | | 7,628,459 | 99.33% | Number | 576 | 392&nbsp&nbsp/ 4 / 0 | 78 | 4 | 0 | HD,HR | Report |
| #50 | | 7,627,557 | 99.33% | InabaTewi | 576 | 392&nbsp&nbsp/ 4 / 0 | 78 | 4 | 0 | HD,HR | Report |