Artist:
HTT
Circle Size:

Approach Rate:

Title:
NO, Thank You!
HP Drain:

Star Difficulty:

(4.61)
Creator:
CDFA
Accuracy:

Length:
4:01 (3:39 drain)
Source:
K-ON!!
Genre:
Anime (Japanese)
BPM:
181
Tags:
emdyion ari-chan rukarioman pieguy1372 derekku fartownik mafiamaster sterrum natsumerin doomsday wmfchris
User Rating:
Success Rate:
Points of Failure:


(graph is accumulative, based on % at fail/retry)

19.0% (30631 of 160906 plays)

Submitted:
Ranked:
Aug 22, 2010
Nov 24, 2010
Rating Spread:

Favourited 83 times in total

Users that love this map: Narutofoe, alzneo, sitemii, s102385, benodiebijt, 8wy149245, Claudia, not yet, a0900190, lovepmka, Thorberix, s22801409, kionochan, EmPao, tims1111, -Tarek-, ememan, k_duki, ReikiShugo, PoinT_ZerO and many more!
Options:
Modding / Discussion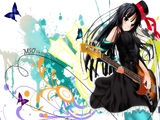 Well I guess this is going for approval.
IF YOU DOWNLOADED BEFORE SEPTEMBER 18, 2010, 7:39 PST, PLEASE RE-DOWNLOAD.
Thank Beuchi-chan for the sexy storyboard >ww<
Yeah, collab for No, Thank You!. I sincerely think this song is sexy :D~
DO96CH is in the lead! ()
Score
25,128,820 (99.49%)
Max Combo
1185
300 / 100 / 50
774 / 6 / 0
Misses
0
Geki (Elite Beat!)
141
Katu (Beat!)
4
Mods
HD,HR
Top 50 Scoreboard
| | Rank | Score | Accuracy | Player | Max Combo | 300 / 100 / 50 | Geki | Katu | Misses | Mods | |
| --- | --- | --- | --- | --- | --- | --- | --- | --- | --- | --- | --- |
| #1 | | 25,128,820 | 99.49% | DO96CH | 1185 | 774&nbsp&nbsp/ 6 / 0 | 141 | 4 | 0 | HD,HR | Report |
| #2 | | 24,711,863 | 97.69% | Small K | 1185 | 753&nbsp&nbsp/ 27 / 0 | 123 | 22 | 0 | HD,HR | Report |
| #3 | | 24,658,664 | 97.54% | xasuma | 1184 | 752&nbsp&nbsp/ 25 / 3 | 126 | 18 | 0 | HD,HR | Report |
| #4 | | 24,650,864 | 98.12% | Sonoda Umi | 1185 | 758&nbsp&nbsp/ 22 / 0 | 127 | 18 | 0 | HD,HR | Report |
| #5 | | 24,631,935 | 97.44% | Sora | 1185 | 750&nbsp&nbsp/ 30 / 0 | 124 | 21 | 0 | HD,HR | Report |
| #6 | | 24,600,580 | 97.65% | YuaKKuma | 1185 | 753&nbsp&nbsp/ 25 / 2 | 126 | 18 | 0 | HD,HR | Report |
| #7 | | 24,509,336 | 97.52% | Ignite | 1185 | 751&nbsp&nbsp/ 29 / 0 | 127 | 18 | 0 | DT | Report |
| #8 | | 24,477,453 | 97.44% | putigame | 1185 | 750&nbsp&nbsp/ 30 / 0 | 125 | 20 | 0 | HD,HR | Report |
| #9 | | 24,426,730 | 97.52% | Pring | 1185 | 751&nbsp&nbsp/ 29 / 0 | 124 | 21 | 0 | DT | Report |
| #10 | | 24,418,275 | 96.41% | shAe1eck | 1185 | 738&nbsp&nbsp/ 42 / 0 | 111 | 34 | 0 | HD,HR | Report |
| #11 | | 24,349,714 | 96.45% | clannad_kyou | 1185 | 739&nbsp&nbsp/ 39 / 2 | 118 | 26 | 0 | HD,HR | Report |
| #12 | | 24,273,701 | 96.24% | Puccho | 1185 | 736&nbsp&nbsp/ 44 / 0 | 121 | 24 | 0 | HD,HR | Report |
| #13 | | 24,241,310 | 96.39% | -Seena- | 1184 | 738&nbsp&nbsp/ 41 / 1 | 117 | 27 | 0 | HD,HR | Report |
| #14 | | 24,239,951 | 96.92% | K-Bernkastel | 1185 | 744&nbsp&nbsp/ 36 / 0 | 126 | 19 | 0 | HD,HR | Report |
| #15 | | 24,231,407 | 96.18% | Arieruco | 1185 | 736&nbsp&nbsp/ 41 / 3 | 118 | 26 | 0 | HD,HR | Report |
| #16 | | 24,130,970 | 96.03% | Rk0 | 1185 | 734&nbsp&nbsp/ 44 / 2 | 118 | 26 | 0 | HD,HR | Report |
| #17 | | 24,083,205 | 96.47% | Mythol | 1185 | 739&nbsp&nbsp/ 40 / 1 | 126 | 18 | 0 | HD,HR | Report |
| #18 | | 24,074,842 | 95.53% | Kurakining | 1185 | 728&nbsp&nbsp/ 51 / 1 | 115 | 29 | 0 | HD,HR | Report |
| #19 | | 24,065,624 | 95.83% | fumis | 1185 | 732&nbsp&nbsp/ 45 / 3 | 116 | 27 | 0 | HD,HR | Report |
| #20 | | 23,974,351 | 95.90% | Snowball | 1185 | 732&nbsp&nbsp/ 48 / 0 | 118 | 27 | 0 | HD,HR | Report |
| #21 | | 23,690,565 | 99.32% | CXu | 1185 | 772&nbsp&nbsp/ 8 / 0 | 138 | 7 | 0 | HD | Report |
| #22 | | 23,683,968 | 99.40% | Windham | 1185 | 773&nbsp&nbsp/ 7 / 0 | 139 | 6 | 0 | HD | Report |
| #23 | | 23,653,682 | 98.97% | Homura- | 1185 | 768&nbsp&nbsp/ 12 / 0 | 133 | 12 | 0 | HD | Report |
| #24 | | 23,508,596 | 98.89% | roromi- | 1185 | 767&nbsp&nbsp/ 13 / 0 | 137 | 8 | 0 | HD | Report |
| #25 | | 23,468,058 | 98.55% | Rucker | 1185 | 763&nbsp&nbsp/ 17 / 0 | 133 | 12 | 0 | HR | Report |
| #26 | | 23,422,942 | 98.59% | nruu | 1185 | 764&nbsp&nbsp/ 14 / 2 | 136 | 8 | 0 | HD | Report |
| #27 | | 23,339,194 | 97.78% | Flute | 1185 | 754&nbsp&nbsp/ 26 / 0 | 125 | 20 | 0 | HR | Report |
| #28 | | 23,331,153 | 98.55% | little Agile | 1185 | 763&nbsp&nbsp/ 17 / 0 | 136 | 9 | 0 | HD | Report |
| #29 | | 23,313,525 | 98.29% | wobeinimacao | 1185 | 760&nbsp&nbsp/ 20 / 0 | 132 | 13 | 0 | HR | Report |
| #30 | | 23,309,763 | 98.03% | Sheba | 1185 | 757&nbsp&nbsp/ 23 / 0 | 126 | 19 | 0 | HR | Report |
| #31 | | 23,262,691 | 97.78% | Karoful | 1185 | 754&nbsp&nbsp/ 26 / 0 | 127 | 18 | 0 | HR | Report |
| #32 | | 23,188,915 | 98.01% | SapphireGhost | 1185 | 757&nbsp&nbsp/ 22 / 1 | 129 | 15 | 0 | HD | Report |
| #33 | | 23,165,358 | 97.69% | Happy New Year | 1185 | 753&nbsp&nbsp/ 27 / 0 | 127 | 18 | 0 | HD | Report |
| #34 | | 23,124,747 | 97.52% | BlueFlame | 1185 | 751&nbsp&nbsp/ 29 / 0 | 123 | 22 | 0 | HR | Report |
| #35 | | 23,009,110 | 96.92% | bnu | 1185 | 744&nbsp&nbsp/ 36 / 0 | 122 | 23 | 0 | HR | Report |
| #36 | | 23,006,096 | 97.24% | Nayuki_Daisuki | 1185 | 749&nbsp&nbsp/ 26 / 5 | 129 | 15 | 0 | HD | Report |
| #37 | | 22,970,833 | 96.97% | Luke Lack Luck | 1184 | 745&nbsp&nbsp/ 33 / 2 | 118 | 25 | 0 | HR | Report |
| #38 | | 22,905,446 | 97.07% | YodaSnipe | 1185 | 746&nbsp&nbsp/ 33 / 1 | 126 | 18 | 0 | HD | Report |
| #39 | | 22,900,824 | 96.67% | Colored | 1185 | 741&nbsp&nbsp/ 39 / 0 | 122 | 23 | 0 | HR | Report |
| #40 | | 22,828,057 | 92.37% | ilpflaume | 1185 | 691&nbsp&nbsp/ 88 / 1 | 101 | 43 | 0 | HD,HR | Report |
| #41 | | 22,818,723 | 96.73% | GGBY | 1184 | 742&nbsp&nbsp/ 37 / 1 | 118 | 26 | 0 | HR | Report |
| #42 | | 22,798,726 | 96.24% | HKR | 1185 | 736&nbsp&nbsp/ 44 / 0 | 117 | 28 | 0 | HR | Report |
| #43 | | 22,675,639 | 95.30% | i am super blue cat | 1185 | 725&nbsp&nbsp/ 55 / 0 | 107 | 38 | 0 | HR | Report |
| #44 | | 22,624,806 | 94.85% | shaneoyo | 1185 | 720&nbsp&nbsp/ 59 / 1 | 110 | 34 | 0 | HR | Report |
| #45 | | 22,539,356 | 100.00% | PEPOTTI | 1185 | 780&nbsp&nbsp/ 0 / 0 | 145 | 0 | 0 | None | Report |
| #46 | | 22,533,556 | 100.00% | Rizzo | 1185 | 780&nbsp&nbsp/ 0 / 0 | 145 | 0 | 0 | None | Report |
| #47 | | 22,508,792 | 99.91% | mugio3 | 1185 | 779&nbsp&nbsp/ 1 / 0 | 144 | 1 | 0 | None | Report |
| #48 | | 22,501,208 | 99.91% | matsunami | 1185 | 779&nbsp&nbsp/ 1 / 0 | 144 | 1 | 0 | None | Report |
| #49 | | 22,482,404 | 99.57% | WubWoofWolf | 1185 | 775&nbsp&nbsp/ 5 / 0 | 140 | 5 | 0 | None | Report |
| #50 | | 22,469,736 | 99.83% | Doomsday | 1185 | 778&nbsp&nbsp/ 2 / 0 | 143 | 2 | 0 | None | Report |