Artist:
Shoji Meguro
Circle Size:

Approach Rate:

Title:
Never More
HP Drain:

Star Difficulty:

(2.28)
Creator:
Teta
Accuracy:

Length:
5:57 (5:52 drain)
Source:
Shin Megami Tensei: Persona 4
Genre:
Video Game (Japanese)
BPM:
93
Tags:
megaten atlus lepidopodus Shihoko Hirata
User Rating:
Success Rate:
Points of Failure:


(graph is accumulative, based on % at fail/retry)

17.4% (21593 of 123769 plays)

Submitted:
Ranked:
Aug 19, 2010
Mar 16, 2011
Rating Spread:

Favourited 143 times in total

Users that love this map: Narutofoe, Faby, razR, Dotho, Eucalypt, TsukiAnimeGirl, Kosen, kfcgvgv123, Do Re Mi, arkmos, _Chie_, dragonix135, Crok425, wangrujia, Misspeld, Azathrax, skyhot004, Soulchan, ZERODUST, shinred0702 and many more!
Options:
Modding / Discussion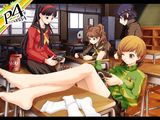 It took me 4 hours to map this, Fuuko said my mapping is fast, but it isn't.
Thanks to Beuchi Onee-Sama for storyboarding it, i really appreciate it.
Added Lepidon's Taiko diff.
Orz.
ShadowSoul is in the lead! ()
Score
26,468,005 (99.05%)
Max Combo
1013
300 / 100 / 50
692 / 10 / 0
Misses
0
Geki (Elite Beat!)
65
Katu (Beat!)
9
Mods
DT,FL
Top 50 Scoreboard
| | Rank | Score | Accuracy | Player | Max Combo | 300 / 100 / 50 | Geki | Katu | Misses | Mods | |
| --- | --- | --- | --- | --- | --- | --- | --- | --- | --- | --- | --- |
| #1 | | 26,468,005 | 99.05% | ShadowSoul | 1013 | 692&nbsp&nbsp/ 10 / 0 | 65 | 9 | 0 | DT,FL | Report |
| #2 | | 25,240,883 | 99.72% | AmberMelancholy | 1013 | 699&nbsp&nbsp/ 3 / 0 | 71 | 3 | 0 | HD,NC | Report |
| #3 | | 25,198,213 | 99.62% | Doyak | 1013 | 698&nbsp&nbsp/ 4 / 0 | 70 | 4 | 0 | HD,NC | Report |
| #4 | | 25,192,090 | 99.43% | Andrea | 1013 | 696&nbsp&nbsp/ 6 / 0 | 69 | 5 | 0 | HD,NC | Report |
| #5 | | 25,191,376 | 99.34% | Lally | 1013 | 695&nbsp&nbsp/ 7 / 0 | 67 | 7 | 0 | HD,NC | Report |
| #6 | | 25,191,057 | 99.62% | Vendemmia | 1013 | 698&nbsp&nbsp/ 4 / 0 | 70 | 4 | 0 | HD,DT | Report |
| #7 | | 25,166,043 | 99.43% | Kaoru | 1013 | 696&nbsp&nbsp/ 6 / 0 | 69 | 5 | 0 | HD,DT | Report |
| #8 | | 25,150,287 | 99.53% | WubWoofWolf | 1013 | 697&nbsp&nbsp/ 5 / 0 | 70 | 4 | 0 | HD,DT | Report |
| #9 | | 25,149,122 | 99.53% | Sure | 1013 | 697&nbsp&nbsp/ 5 / 0 | 69 | 5 | 0 | HD,DT | Report |
| #10 | | 25,142,953 | 99.15% | _NotSoFast_ | 1013 | 693&nbsp&nbsp/ 9 / 0 | 67 | 7 | 0 | HD,NC | Report |
| #11 | | 25,082,490 | 98.86% | Ash Cat | 1013 | 690&nbsp&nbsp/ 12 / 0 | 64 | 10 | 0 | HD,DT | Report |
| #12 | | 25,077,400 | 99.05% | Dark_Ai | 1013 | 692&nbsp&nbsp/ 10 / 0 | 65 | 9 | 0 | HD,NC | Report |
| #13 | | 25,053,262 | 98.86% | geckogates | 1013 | 690&nbsp&nbsp/ 12 / 0 | 64 | 10 | 0 | HD,DT | Report |
| #14 | | 25,008,823 | 98.96% | wairo | 1013 | 691&nbsp&nbsp/ 11 / 0 | 64 | 10 | 0 | HD,DT | Report |
| #15 | | 24,979,323 | 98.48% | dVz | 1013 | 686&nbsp&nbsp/ 16 / 0 | 62 | 12 | 0 | HD,NC | Report |
| #16 | | 24,945,733 | 98.39% | Id_Beat | 1013 | 685&nbsp&nbsp/ 17 / 0 | 60 | 14 | 0 | HD,DT,SD | Report |
| #17 | | 24,937,243 | 97.70% | silverL | 1013 | 678&nbsp&nbsp/ 23 / 1 | 58 | 15 | 0 | HD,DT | Report |
| #18 | | 24,924,392 | 98.48% | Guminis | 1013 | 686&nbsp&nbsp/ 16 / 0 | 61 | 13 | 0 | HD,DT | Report |
| #19 | | 24,923,388 | 98.29% | Mira-san | 1013 | 684&nbsp&nbsp/ 18 / 0 | 61 | 13 | 0 | HD,DT | Report |
| #20 | | 24,895,990 | 97.98% | LaoBxiao6 | 1013 | 681&nbsp&nbsp/ 20 / 1 | 62 | 11 | 0 | HD,DT | Report |
| #21 | | 24,882,823 | 98.67% | xyxxyxxy | 1013 | 688&nbsp&nbsp/ 14 / 0 | 63 | 11 | 0 | HD,DT | Report |
| #22 | | 24,860,292 | 97.86% | xasuma | 1013 | 680&nbsp&nbsp/ 20 / 2 | 57 | 16 | 0 | HD,DT | Report |
| #23 | | 24,852,790 | 97.72% | TheWantedOne | 1013 | 678&nbsp&nbsp/ 24 / 0 | 57 | 17 | 0 | HD,NC | Report |
| #24 | | 24,829,964 | 97.44% | MMzz | 1013 | 675&nbsp&nbsp/ 27 / 0 | 54 | 20 | 0 | HD,DT | Report |
| #25 | | 24,825,584 | 98.27% | skanoline | 1013 | 684&nbsp&nbsp/ 17 / 1 | 60 | 13 | 0 | HD,DT | Report |
| #26 | | 24,810,806 | 98.29% | Toy | 1013 | 684&nbsp&nbsp/ 18 / 0 | 64 | 10 | 0 | HD,DT | Report |
| #27 | | 24,809,479 | 98.01% | Noe | 1013 | 681&nbsp&nbsp/ 21 / 0 | 59 | 15 | 0 | HD,FL,SD | Report |
| #28 | | 24,751,137 | 96.68% | MineSweeper | 1013 | 667&nbsp&nbsp/ 35 / 0 | 54 | 20 | 0 | HD,DT | Report |
| #29 | | 24,740,056 | 97.06% | GesamtKunstWerk | 1013 | 671&nbsp&nbsp/ 31 / 0 | 55 | 19 | 0 | HD,DT | Report |
| #30 | | 24,738,244 | 98.01% | Gon | 1013 | 681&nbsp&nbsp/ 21 / 0 | 56 | 18 | 0 | HD,DT | Report |
| #31 | | 24,734,200 | 97.13% | Incera | 1013 | 672&nbsp&nbsp/ 29 / 1 | 53 | 20 | 0 | HD,DT | Report |
| #32 | | 24,713,137 | 97.13% | xiao6 | 1013 | 672&nbsp&nbsp/ 29 / 1 | 50 | 23 | 0 | HD,DT | Report |
| #33 | | 24,702,641 | 96.96% | Pemlory | 1013 | 670&nbsp&nbsp/ 32 / 0 | 50 | 24 | 0 | HD,NC | Report |
| #34 | | 24,692,500 | 97.89% | Shockwave000 | 1013 | 680&nbsp&nbsp/ 21 / 1 | 57 | 16 | 0 | HD,DT | Report |
| #35 | | 24,684,006 | 96.72% | ToKoooi | 1013 | 668&nbsp&nbsp/ 32 / 2 | 51 | 21 | 0 | HD,DT | Report |
| #36 | | 24,676,003 | 96.30% | gudetamaJP | 1013 | 663&nbsp&nbsp/ 39 / 0 | 51 | 23 | 0 | HD,DT | Report |
| #37 | | 24,662,118 | 97.34% | schlafen | 1013 | 674&nbsp&nbsp/ 28 / 0 | 55 | 19 | 0 | HD,DT | Report |
| #38 | | 24,642,886 | 97.06% | 5231_Kinoko | 1012 | 671&nbsp&nbsp/ 31 / 0 | 55 | 19 | 0 | HD,DT | Report |
| #39 | | 24,641,543 | 96.39% | naruto73 | 1013 | 664&nbsp&nbsp/ 38 / 0 | 49 | 25 | 0 | HD,DT | Report |
| #40 | | 24,629,838 | 97.06% | rockleejkooo | 1013 | 671&nbsp&nbsp/ 31 / 0 | 52 | 22 | 0 | HD,DT | Report |
| #41 | | 24,627,171 | 96.15% | degatz | 1013 | 662&nbsp&nbsp/ 38 / 2 | 52 | 20 | 0 | HD,DT | Report |
| #42 | | 24,626,063 | 97.32% | FrancisRave | 1013 | 674&nbsp&nbsp/ 27 / 1 | 53 | 20 | 0 | HD,NC | Report |
| #43 | | 24,569,194 | 96.58% | kzbar | 1013 | 666&nbsp&nbsp/ 36 / 0 | 47 | 27 | 0 | HD,DT | Report |
| #44 | | 24,565,053 | 96.30% | duchze | 1013 | 663&nbsp&nbsp/ 39 / 0 | 47 | 27 | 0 | HD,DT | Report |
| #45 | | 24,563,359 | 97.41% | Shimotsuki | 1013 | 675&nbsp&nbsp/ 26 / 1 | 56 | 17 | 0 | HD,DT | Report |
| #46 | | 24,561,101 | 96.94% | Waite_Ramit | 1013 | 670&nbsp&nbsp/ 31 / 1 | 52 | 21 | 0 | HD,DT | Report |
| #47 | | 24,550,649 | 97.06% | PainSinger | 1013 | 671&nbsp&nbsp/ 31 / 0 | 48 | 26 | 0 | HD,DT | Report |
| #48 | | 24,535,680 | 96.94% | Miroku | 1013 | 670&nbsp&nbsp/ 31 / 1 | 52 | 21 | 0 | HD,DT | Report |
| #49 | | 24,509,253 | 95.96% | froon | 1013 | 660&nbsp&nbsp/ 40 / 2 | 46 | 26 | 0 | HD,DT | Report |
| #50 | | 24,508,699 | 96.49% | googlego | 1013 | 665&nbsp&nbsp/ 37 / 0 | 49 | 25 | 0 | HD,DT | Report |