Beatmap Listing » Tianshi - Kimi Ijou, Boku Miman
Artist:
Tianshi
Circle Size:

Approach Rate:

Title:
Kimi Ijou, Boku Miman
HP Drain:

Star Difficulty:

(3.33)
Creator:
Colin Hou
Accuracy:

Length:
3:34 (3:09 drain)
Source:
Genre:
Novelty (Japanese)
BPM:
140
Tags:
hatsune miku deco*27 angelhoney AHO
User Rating:
Success Rate:
Points of Failure:


(graph is accumulative, based on % at fail/retry)

22.5% (67837 of 300921 plays)

Submitted:
Ranked:
May 3, 2010
May 29, 2010
Rating Spread:

Favourited 251 times in total

Users that love this map: TKHS, haruhiteamsos, Anizard, arforice, tasli, sunnysharon, wolfdrak, ko12144, arsrun, lxy, Number 2 Pencil, MONOHA, MikuHatsune02, kodomonoyume, chihiro_yaya, TTTTTTTTTTTT, tim84593221, aabc271, andre_champion, abcde1234qaz and many more!
Options:
Modding / Discussion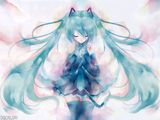 5th map :3 Finally all elements finished!
Hatsune Miku song by a Chinese singer, Tianshi (member of dm123)
Actually it's just a birthday present that she recorded for her friend.
#10/5/05 Dang~Dang~Dang~
[AngelHoney]
uploaded XD
#10/5/08 Orz [Normal] is finished and renamed to
[Not Hard]
.
#10/5/15 Finally got
[Normal]
done.
#10/5/22
[Easy]
done and some simple SB added. Maybe I'll add lyrics soon?
#10/5/24 Lyrics added. Then
REDOWNLOAD
is necessary.
#10/5/26 [Not Hard] is now
[Hard]
grab the latest.osu or rename it with your notepad.
Bikko is in the lead! ()
Score
12,461,319 (98.17%)
Max Combo
823
300 / 100 / 50
495 / 14 / 0
Misses
0
Geki (Elite Beat!)
84
Katu (Beat!)
9
Mods
HD,HR,FL
Top 50 Scoreboard
| | Rank | Score | Accuracy | Player | Max Combo | 300 / 100 / 50 | Geki | Katu | Misses | Mods | |
| --- | --- | --- | --- | --- | --- | --- | --- | --- | --- | --- | --- |
| #1 | | 12,461,319 | 98.17% | Bikko | 823 | 495&nbsp&nbsp/ 14 / 0 | 84 | 9 | 0 | HD,HR,FL | Report |
| #2 | | 12,023,645 | 100.00% | Recia | 823 | 509&nbsp&nbsp/ 0 / 0 | 93 | 0 | 0 | HD,DT | Report |
| #3 | | 12,021,545 | 100.00% | Darksonic | 823 | 509&nbsp&nbsp/ 0 / 0 | 93 | 0 | 0 | HD,DT | Report |
| #4 | | 12,019,245 | 100.00% | WubWoofWolf | 823 | 509&nbsp&nbsp/ 0 / 0 | 93 | 0 | 0 | HD,DT | Report |
| #5 | | 12,015,845 | 100.00% | CheEZ | 823 | 509&nbsp&nbsp/ 0 / 0 | 93 | 0 | 0 | HD,DT | Report |
| #6 | | 12,007,853 | 99.87% | [KOR]Hakase | 823 | 508&nbsp&nbsp/ 1 / 0 | 92 | 1 | 0 | HD,DT | Report |
| #7 | | 12,000,416 | 99.74% | Sinch | 823 | 507&nbsp&nbsp/ 2 / 0 | 91 | 2 | 0 | HD,DT | Report |
| #8 | | 11,983,537 | 99.87% | Scarlet Sisters | 823 | 508&nbsp&nbsp/ 1 / 0 | 92 | 1 | 0 | HD,DT | Report |
| #9 | | 11,976,810 | 99.61% | oppaiman | 823 | 506&nbsp&nbsp/ 3 / 0 | 90 | 3 | 0 | HD,DT | Report |
| #10 | | 11,973,146 | 99.61% | Sungmo | 823 | 506&nbsp&nbsp/ 3 / 0 | 91 | 2 | 0 | HD,DT | Report |
| #11 | | 11,968,683 | 99.74% | fs000 | 823 | 507&nbsp&nbsp/ 2 / 0 | 91 | 2 | 0 | HD,DT | Report |
| #12 | | 11,967,894 | 99.35% | outarow-green | 823 | 504&nbsp&nbsp/ 5 / 0 | 90 | 3 | 0 | HD,DT | Report |
| #13 | | 11,967,831 | 99.48% | Icsia | 823 | 505&nbsp&nbsp/ 4 / 0 | 89 | 4 | 0 | HD,DT | Report |
| #14 | | 11,966,231 | 99.61% | Abri | 822 | 506&nbsp&nbsp/ 3 / 0 | 90 | 3 | 0 | HD,DT | Report |
| #15 | | 11,960,017 | 99.61% | Windham | 822 | 506&nbsp&nbsp/ 3 / 0 | 90 | 3 | 0 | HD,DT | Report |
| #16 | | 11,959,850 | 99.35% | lorenzo50000 | 823 | 504&nbsp&nbsp/ 5 / 0 | 89 | 4 | 0 | HD,DT | Report |
| #17 | | 11,957,075 | 99.74% | HAUHAU | 823 | 507&nbsp&nbsp/ 2 / 0 | 91 | 2 | 0 | HD,DT | Report |
| #18 | | 11,956,738 | 99.08% | baundo | 822 | 502&nbsp&nbsp/ 7 / 0 | 88 | 5 | 0 | HD,DT | Report |
| #19 | | 11,954,373 | 99.74% | takeki3gou | 823 | 507&nbsp&nbsp/ 2 / 0 | 91 | 2 | 0 | HD,DT | Report |
| #20 | | 11,949,806 | 99.61% | azuraer | 823 | 506&nbsp&nbsp/ 3 / 0 | 90 | 3 | 0 | HD,DT | Report |
| #21 | | 11,946,370 | 99.35% | gudetamaJP | 823 | 504&nbsp&nbsp/ 5 / 0 | 88 | 5 | 0 | HD,DT | Report |
| #22 | | 11,939,912 | 99.48% | Takei Hisa | 822 | 505&nbsp&nbsp/ 4 / 0 | 89 | 4 | 0 | HD,DT | Report |
| #23 | | 11,937,091 | 99.48% | Suzutsuki- | 822 | 505&nbsp&nbsp/ 4 / 0 | 89 | 4 | 0 | HD,DT | Report |
| #24 | | 11,933,159 | 99.44% | SapphireGhost | 823 | 505&nbsp&nbsp/ 3 / 1 | 89 | 3 | 0 | HD,NC,SD | Report |
| #25 | | 11,929,333 | 99.48% | LeafyS | 823 | 505&nbsp&nbsp/ 4 / 0 | 89 | 4 | 0 | HD,DT | Report |
| #26 | | 11,928,443 | 99.21% | yurippelove | 823 | 503&nbsp&nbsp/ 6 / 0 | 87 | 6 | 0 | HD,DT | Report |
| #27 | | 11,926,429 | 98.56% | LiB | 823 | 498&nbsp&nbsp/ 11 / 0 | 86 | 7 | 0 | HD,DT | Report |
| #28 | | 11,924,935 | 99.35% | Shirone | 822 | 504&nbsp&nbsp/ 5 / 0 | 88 | 5 | 0 | HD,DT | Report |
| #29 | | 11,923,409 | 98.43% | Teriyaki | 823 | 497&nbsp&nbsp/ 12 / 0 | 86 | 7 | 0 | HD,DT | Report |
| #30 | | 11,919,648 | 98.82% | SwENeMbO | 823 | 500&nbsp&nbsp/ 9 / 0 | 85 | 8 | 0 | HD,DT | Report |
| #31 | | 11,917,087 | 99.21% | iPad | 822 | 503&nbsp&nbsp/ 6 / 0 | 88 | 5 | 0 | HD,DT | Report |
| #32 | | 11,913,119 | 99.48% | AkaSUN | 822 | 505&nbsp&nbsp/ 4 / 0 | 89 | 4 | 0 | HD,DT | Report |
| #33 | | 11,911,504 | 99.48% | [ Beatrice ] | 822 | 505&nbsp&nbsp/ 4 / 0 | 89 | 4 | 0 | HD,DT | Report |
| #34 | | 11,911,492 | 98.95% | Saya-Eternal | 823 | 501&nbsp&nbsp/ 8 / 0 | 87 | 6 | 0 | HD,DT | Report |
| #35 | | 11,910,817 | 99.08% | SiLviA | 822 | 502&nbsp&nbsp/ 7 / 0 | 87 | 6 | 0 | HD,DT | Report |
| #36 | | 11,909,427 | 98.66% | who4274 | 823 | 499&nbsp&nbsp/ 9 / 1 | 85 | 7 | 0 | HD,DT | Report |
| #37 | | 11,909,207 | 99.35% | TrickMirror | 822 | 504&nbsp&nbsp/ 5 / 0 | 89 | 4 | 0 | HD,DT | Report |
| #38 | | 11,896,947 | 99.35% | Rorry | 822 | 504&nbsp&nbsp/ 5 / 0 | 88 | 5 | 0 | HD,DT | Report |
| #39 | | 11,892,848 | 99.35% | 5231_Kinoko | 822 | 504&nbsp&nbsp/ 5 / 0 | 88 | 5 | 0 | HD,DT | Report |
| #40 | | 11,888,541 | 98.76% | teamplayer51 | 822 | 500&nbsp&nbsp/ 7 / 2 | 85 | 7 | 0 | HD,DT | Report |
| #41 | | 11,887,176 | 98.92% | Kappe_mk | 822 | 501&nbsp&nbsp/ 7 / 1 | 86 | 6 | 0 | HD,DT | Report |
| #42 | | 11,886,439 | 98.53% | _rosary | 823 | 498&nbsp&nbsp/ 10 / 1 | 84 | 8 | 0 | HD,DT | Report |
| #43 | | 11,883,932 | 99.35% | Senbonzakura | 822 | 504&nbsp&nbsp/ 5 / 0 | 88 | 5 | 0 | HD,DT | Report |
| #44 | | 11,882,082 | 99.21% | hzGfa | 822 | 503&nbsp&nbsp/ 6 / 0 | 89 | 4 | 0 | HD,DT | Report |
| #45 | | 11,881,473 | 98.69% | Futaba aoi | 823 | 499&nbsp&nbsp/ 10 / 0 | 84 | 9 | 0 | HD,DT | Report |
| #46 | | 11,879,139 | 99.21% | Syrte | 822 | 503&nbsp&nbsp/ 6 / 0 | 89 | 4 | 0 | HD,DT | Report |
| #47 | | 11,877,032 | 98.95% | e r i n e | 822 | 501&nbsp&nbsp/ 8 / 0 | 86 | 7 | 0 | HD,DT | Report |
| #48 | | 11,871,539 | 99.08% | CheshireBreak | 820 | 502&nbsp&nbsp/ 7 / 0 | 86 | 7 | 0 | HD,DT | Report |
| #49 | | 11,867,698 | 99.21% | Delis | 822 | 503&nbsp&nbsp/ 6 / 0 | 88 | 5 | 0 | HD,DT | Report |
| #50 | | 11,861,074 | 98.56% | YuaKKuma | 822 | 498&nbsp&nbsp/ 11 / 0 | 84 | 9 | 0 | HD,DT | Report |