Artist:
Blossom
Circle Size:

Approach Rate:

Title:
Boomerang
HP Drain:

Star Difficulty:

(4.83)
Creator:
Hitoshirenu Shourai
Accuracy:

Length:
1:43 (1:32 drain)
Source:
Genre:
Electronic (English)
BPM:
191
Tags:
stepmania techno boomerang ddr
User Rating:
Success Rate:
Points of Failure:


(graph is accumulative, based on % at fail/retry)

9.8% (3848 of 39085 plays)

Submitted:
Ranked:
May 31, 2009
Nov 1, 2009
Rating Spread:

Favourited 20 times in total

Users that love this map: Aster_old, franci, Rodgers, Burner_old, YoshiMy, Mayu, Capo94, Tour sound, rockqxzu, xiaomeng, krispangor15, rRuby Rose, maikas, ReFaller, nix_rosa, swedishg33k, colepull, The_Shadowghost, DanielMagical, proxgamer123
Options:
Modding / Discussion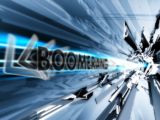 From StepMania. Didn't know if there was an actual artist name, as I couldn't FIND one. So, I kept the artist as blank, and set the source as StepMania. So rawr. RAWR I saw. RAWRRRR!!!
Edit: Difficulty settings adjusted.
Edit: Revive'd with a new difficulty (Insane). Enjoy, peons!
Edit: Small fix. Very small. Now I have to make an easier difficulty. =(
Edit: Normal mode added. Took a lot of effort to drop it to 4 stars. =(
Edit: Ungrave'd after 3 months. Forgot to upload Mogsy fixes. Uploaded now, though.
Edit: Set a preview point.
Edit: Custom colors.
Edit: Lowered drain on Hard/Insane.
Edit: JJJ fixes.
EDIT:
NEW MP3 AND BACKGROUND. REDOWNLOAD NOW.
Edit: mrtn fix.
TCN is in the lead! ()
Score
8,985,281 (99.64%)
Max Combo
583
300 / 100 / 50
560 / 3 / 0
Misses
0
Geki (Elite Beat!)
75
Katu (Beat!)
3
Mods
HD,HR
Top 50 Scoreboard
| | Rank | Score | Accuracy | Player | Max Combo | 300 / 100 / 50 | Geki | Katu | Misses | Mods | |
| --- | --- | --- | --- | --- | --- | --- | --- | --- | --- | --- | --- |
| #1 | | 8,985,281 | 99.64% | TCN | 583 | 560&nbsp&nbsp/ 3 / 0 | 75 | 3 | 0 | HD,HR | Report |
| #2 | | 8,976,470 | 99.53% | fartownik | 583 | 559&nbsp&nbsp/ 4 / 0 | 74 | 4 | 0 | HD,HR | Report |
| #3 | | 8,943,208 | 98.46% | stackerjoe | 583 | 550&nbsp&nbsp/ 13 / 0 | 71 | 7 | 0 | HD,HR | Report |
| #4 | | 8,939,792 | 97.72% | WubWoofWolf | 583 | 544&nbsp&nbsp/ 18 / 1 | 67 | 10 | 0 | HD,HR | Report |
| #5 | | 8,925,229 | 99.17% | mugio3 | 583 | 556&nbsp&nbsp/ 7 / 0 | 73 | 5 | 0 | HD,HR | Report |
| #6 | | 8,826,459 | 97.75% | Sheba | 583 | 544&nbsp&nbsp/ 19 / 0 | 64 | 14 | 0 | HD,HR | Report |
| #7 | | 8,817,798 | 98.70% | ratstar | 582 | 552&nbsp&nbsp/ 11 / 0 | 72 | 6 | 0 | FL | Report |
| #8 | | 8,805,317 | 97.63% | Rucker | 583 | 543&nbsp&nbsp/ 20 / 0 | 63 | 15 | 0 | HD,HR | Report |
| #9 | | 8,705,944 | 95.15% | Brook | 583 | 522&nbsp&nbsp/ 41 / 0 | 57 | 21 | 0 | HD,HR | Report |
| #10 | | 8,632,296 | 96.57% | Haynoru | 583 | 534&nbsp&nbsp/ 29 / 0 | 64 | 14 | 0 | HD,HR | Report |
| #11 | | 8,625,984 | 93.96% | Spicker | 583 | 512&nbsp&nbsp/ 51 / 0 | 52 | 26 | 0 | HD,HR | Report |
| #12 | | 8,506,135 | 99.88% | Oiso | 583 | 562&nbsp&nbsp/ 1 / 0 | 77 | 1 | 0 | HD | Report |
| #13 | | 8,446,520 | 99.41% | Doomsday | 583 | 558&nbsp&nbsp/ 5 / 0 | 74 | 4 | 0 | HD | Report |
| #14 | | 8,440,713 | 99.29% | TTTL | 583 | 557&nbsp&nbsp/ 6 / 0 | 73 | 5 | 0 | HD | Report |
| #15 | | 8,430,374 | 98.34% | pyon | 583 | 549&nbsp&nbsp/ 14 / 0 | 68 | 10 | 0 | HR | Report |
| #16 | | 8,388,616 | 93.64% | bubbagumperson | 583 | 510&nbsp&nbsp/ 50 / 3 | 55 | 21 | 0 | HD,HR | Report |
| #17 | | 8,270,225 | 97.28% | -P0INT- | 583 | 540&nbsp&nbsp/ 23 / 0 | 64 | 14 | 0 | HR | Report |
| #18 | | 8,253,095 | 97.63% | Serena | 583 | 543&nbsp&nbsp/ 20 / 0 | 63 | 15 | 0 | HR | Report |
| #19 | | 8,180,889 | 96.92% | _index | 583 | 537&nbsp&nbsp/ 26 / 0 | 59 | 19 | 0 | HR | Report |
| #20 | | 8,129,530 | 96.45% | Coron | 583 | 533&nbsp&nbsp/ 30 / 0 | 59 | 19 | 0 | HR | Report |
| #21 | | 8,109,128 | 95.94% | Flute | 583 | 529&nbsp&nbsp/ 33 / 1 | 57 | 20 | 0 | HR | Report |
| #22 | | 8,087,215 | 94.43% | Ziggo | 583 | 516&nbsp&nbsp/ 47 / 0 | 55 | 23 | 0 | HR | Report |
| #23 | | 8,070,737 | 94.38% | shamisenko | 583 | 516&nbsp&nbsp/ 45 / 2 | 54 | 23 | 0 | HR | Report |
| #24 | | 8,052,468 | 100.00% | yakidango | 583 | 563&nbsp&nbsp/ 0 / 0 | 78 | 0 | 0 | None | Report |
| #25 | | 8,049,168 | 100.00% | Rizzo | 583 | 563&nbsp&nbsp/ 0 / 0 | 78 | 0 | 0 | None | Report |
| #26 | | 8,041,689 | 94.91% | Fuyu | 583 | 520&nbsp&nbsp/ 43 / 0 | 58 | 20 | 0 | HR | Report |
| #27 | | 8,035,052 | 99.88% | takeki3gou | 583 | 562&nbsp&nbsp/ 1 / 0 | 77 | 1 | 0 | None | Report |
| #28 | | 8,033,384 | 99.88% | Restia | 583 | 562&nbsp&nbsp/ 1 / 0 | 77 | 1 | 0 | None | Report |
| #29 | | 8,032,392 | 99.88% | Rigeru | 583 | 562&nbsp&nbsp/ 1 / 0 | 77 | 1 | 0 | None | Report |
| #30 | | 8,019,876 | 99.64% | LemonWater | 583 | 560&nbsp&nbsp/ 3 / 0 | 76 | 2 | 0 | None | Report |
| #31 | | 8,019,274 | 93.40% | Potatorz | 583 | 508&nbsp&nbsp/ 52 / 3 | 48 | 28 | 0 | HR | Report |
| #32 | | 8,009,584 | 99.64% | ShaggoN | 583 | 560&nbsp&nbsp/ 3 / 0 | 76 | 2 | 0 | None | Report |
| #33 | | 8,008,100 | 99.64% | snoverpk | 583 | 560&nbsp&nbsp/ 3 / 0 | 75 | 3 | 0 | None | Report |
| #34 | | 8,007,956 | 99.53% | Sinch | 583 | 559&nbsp&nbsp/ 4 / 0 | 75 | 3 | 0 | None | Report |
| #35 | | 8,004,008 | 99.64% | Elder3 | 583 | 560&nbsp&nbsp/ 3 / 0 | 75 | 3 | 0 | None | Report |
| #36 | | 7,975,768 | 99.17% | Moyaso | 583 | 556&nbsp&nbsp/ 7 / 0 | 72 | 6 | 0 | None | Report |
| #37 | | 7,961,088 | 97.99% | Viola | 583 | 546&nbsp&nbsp/ 17 / 0 | 71 | 7 | 0 | None | Report |
| #38 | | 7,955,208 | 98.82% | rockleejkooo | 583 | 553&nbsp&nbsp/ 10 / 0 | 72 | 6 | 0 | None | Report |
| #39 | | 7,950,220 | 98.70% | Heatherfield | 583 | 552&nbsp&nbsp/ 11 / 0 | 70 | 8 | 0 | None | Report |
| #40 | | 7,943,688 | 98.93% | OK_oreGENKI | 583 | 554&nbsp&nbsp/ 9 / 0 | 73 | 5 | 0 | None | Report |
| #41 | | 7,933,708 | 98.52% | MeRcYyy | 583 | 551&nbsp&nbsp/ 10 / 2 | 70 | 7 | 0 | None | Report |
| #42 | | 7,924,910 | 98.85% | rustbell | 583 | 554&nbsp&nbsp/ 6 / 3 | 73 | 3 | 0 | None | Report |
| #43 | | 7,923,116 | 98.22% | MillhioreF | 583 | 548&nbsp&nbsp/ 15 / 0 | 69 | 9 | 0 | None | Report |
| #44 | | 7,922,994 | 97.37% | Farewell | 583 | 541&nbsp&nbsp/ 21 / 1 | 69 | 8 | 0 | None | Report |
| #45 | | 7,920,672 | 98.99% | Krom1 | 583 | 555&nbsp&nbsp/ 6 / 2 | 75 | 2 | 0 | None | Report |
| #46 | | 7,913,130 | 97.96% | Happyjon | 583 | 546&nbsp&nbsp/ 16 / 1 | 71 | 6 | 0 | None | Report |
| #47 | | 7,891,936 | 98.34% | Apricot | 583 | 549&nbsp&nbsp/ 14 / 0 | 72 | 6 | 0 | None | Report |
| #48 | | 7,861,341 | 90.70% | Kuon | 583 | 485&nbsp&nbsp/ 76 / 2 | 40 | 36 | 0 | HR | Report |
| #49 | | 7,856,942 | 98.08% | Rorry | 583 | 547&nbsp&nbsp/ 15 / 1 | 67 | 10 | 0 | None | Report |
| #50 | | 7,853,336 | 96.51% | Kubu | 583 | 534&nbsp&nbsp/ 27 / 2 | 62 | 15 | 0 | None | Report |