Artist:
IOSYS
Circle Size:

Approach Rate:

Title:
Usatei
HP Drain:

Star Difficulty:

(4.86)
Creator:
Card N'FoRcE
Accuracy:

Length:
1:43 (0:41 drain)
Source:
Genre:
Video Game (Japanese)
BPM:
190
Tags:
Touhou Project
User Rating:
Success Rate:
Points of Failure:


(graph is accumulative, based on % at fail/retry)

28.1% (87061 of 309353 plays)

Submitted:
Ranked:
Nov 21, 2008
Feb 27, 2009
Rating Spread:

Favourited 71 times in total

Users that love this map: stu5405, dtnc21, [DaYan], Mistina, SuzumiyaKyon, Moyashi, CofieldBrown, AbyssStryker, Erico, Beren, SheerApollo, JonnyThatJonny, gurke728, Random_Player, ninonune, themagila, pimpG, RatedNC17, satapon148, Refon_S and many more!
Options:
Modding / Discussion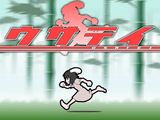 - Please move to Pending D: -
(read description)
OK. This is my 10th map and I wanted to do something special :D
I'm aiming for an approval for this one, because it's REALLY hard.
Maybe i played to many reikin's maps XD
Well, it's a IOSYS song and has 380 BPM (XD), and please, if you can, download with video: it's worth it.
It's up to you to try and pass it :)
And remember: "Halftime kills hard maps!" (Life drain is not cruel: you know you can pass it :P )
Enjoy
EDIT: done some fixes and added hitsounds. Feel free to check now :D
EDIT (12/1/2008): added Translation!!! (thanks to Masato) Please re-download to get it :)
EDIT: have to update in Beatmap Help cause of new BSS settings (
EDIT (12/23/2008): added backbround, in case someone has no video.
EDIT:(2/23/2009): storyboarded spinners, full re-download required :P
EDIT:(25/2/2009): added score-percent and score-dot thanks to DJpop. [guess what? need a full download XD]
Yay for hand made storyboard XD
BinJip is in the lead! ()
Score
1,693,948 (100.00%)
Max Combo
314
300 / 100 / 50
180 / 0 / 0
Misses
0
Geki (Elite Beat!)
34
Katu (Beat!)
0
Mods
HD,FL
Top 50 Scoreboard
| | Rank | Score | Accuracy | Player | Max Combo | 300 / 100 / 50 | Geki | Katu | Misses | Mods | |
| --- | --- | --- | --- | --- | --- | --- | --- | --- | --- | --- | --- |
| #1 | | 1,693,948 | 100.00% | BinJip | 314 | 180&nbsp&nbsp/ 0 / 0 | 34 | 0 | 0 | HD,FL | Report |
| #2 | | 1,684,744 | 99.63% | Masana | 314 | 179&nbsp&nbsp/ 1 / 0 | 33 | 1 | 0 | HD,FL | Report |
| #3 | | 1,679,329 | 98.89% | azuraer | 314 | 177&nbsp&nbsp/ 3 / 0 | 33 | 1 | 0 | HD,FL | Report |
| #4 | | 1,662,179 | 97.22% | SiLviZ | 314 | 173&nbsp&nbsp/ 5 / 2 | 30 | 3 | 0 | HD,FL | Report |
| #5 | | 1,647,943 | 98.43% | Lunah | 313 | 176&nbsp&nbsp/ 3 / 1 | 31 | 2 | 0 | HD,FL | Report |
| #6 | | 1,601,400 | 100.00% | ShaggoN | 314 | 180&nbsp&nbsp/ 0 / 0 | 34 | 0 | 0 | FL | Report |
| #7 | | 1,601,400 | 100.00% | rustbell | 314 | 180&nbsp&nbsp/ 0 / 0 | 34 | 0 | 0 | FL | Report |
| #8 | | 1,601,400 | 100.00% | Remilia-Scarlet | 314 | 180&nbsp&nbsp/ 0 / 0 | 34 | 0 | 0 | FL | Report |
| #9 | | 1,601,400 | 100.00% | ExGon | 314 | 180&nbsp&nbsp/ 0 / 0 | 34 | 0 | 0 | FL | Report |
| #10 | | 1,601,400 | 100.00% | _index | 314 | 180&nbsp&nbsp/ 0 / 0 | 34 | 0 | 0 | FL | Report |
| #11 | | 1,590,592 | 99.63% | Rorry | 314 | 179&nbsp&nbsp/ 1 / 0 | 33 | 1 | 0 | FL | Report |
| #12 | | 1,573,218 | 98.52% | Mismagius | 314 | 176&nbsp&nbsp/ 4 / 0 | 32 | 2 | 0 | FL | Report |
| #13 | | 1,572,066 | 97.78% | hvick225 | 314 | 174&nbsp&nbsp/ 6 / 0 | 31 | 3 | 0 | FL | Report |
| #14 | | 1,569,070 | 95.74% | JappyBabes | 312 | 169&nbsp&nbsp/ 10 / 0 | 30 | 3 | 1 | HD,FL | Report |
| #15 | | 1,563,775 | 98.52% | reg | 314 | 176&nbsp&nbsp/ 4 / 0 | 33 | 1 | 0 | HD,HR | Report |
| #16 | | 1,560,597 | 97.78% | [Chiyo] | 314 | 174&nbsp&nbsp/ 6 / 0 | 30 | 4 | 0 | FL | Report |
| #17 | | 1,556,366 | 97.78% | WubWoofWolf | 314 | 174&nbsp&nbsp/ 6 / 0 | 31 | 3 | 0 | FL | Report |
| #18 | | 1,548,613 | 98.15% | Doomsday | 314 | 175&nbsp&nbsp/ 5 / 0 | 30 | 4 | 0 | FL | Report |
| #19 | | 1,529,252 | 97.41% | KanbeKotori | 314 | 173&nbsp&nbsp/ 7 / 0 | 32 | 2 | 0 | FL | Report |
| #20 | | 1,525,053 | 96.67% | [DaYan] | 314 | 171&nbsp&nbsp/ 9 / 0 | 30 | 4 | 0 | FL | Report |
| #21 | | 1,518,758 | 100.00% | Henry- | 314 | 180&nbsp&nbsp/ 0 / 0 | 34 | 0 | 0 | HD | Report |
| #22 | | 1,518,758 | 100.00% | Toy | 314 | 180&nbsp&nbsp/ 0 / 0 | 34 | 0 | 0 | HD | Report |
| #23 | | 1,518,758 | 100.00% | _---_ | 314 | 180&nbsp&nbsp/ 0 / 0 | 34 | 0 | 0 | HD | Report |
| #24 | | 1,510,184 | 99.26% | TheShadowOfDark | 314 | 178&nbsp&nbsp/ 2 / 0 | 33 | 1 | 0 | HD | Report |
| #25 | | 1,507,168 | 98.89% | little Agile | 314 | 177&nbsp&nbsp/ 3 / 0 | 32 | 2 | 0 | HD | Report |
| #26 | | 1,502,906 | 99.26% | Stgk | 314 | 178&nbsp&nbsp/ 2 / 0 | 33 | 1 | 0 | HD | Report |
| #27 | | 1,499,872 | 99.26% | pyrowar56 | 314 | 178&nbsp&nbsp/ 2 / 0 | 33 | 1 | 0 | HD | Report |
| #28 | | 1,496,324 | 97.78% | -Trigger | 314 | 174&nbsp&nbsp/ 6 / 0 | 32 | 2 | 0 | HD | Report |
| #29 | | 1,493,092 | 94.81% | tit | 313 | 166&nbsp&nbsp/ 14 / 0 | 27 | 7 | 0 | FL | Report |
| #30 | | 1,491,572 | 98.15% | SapphireGhost | 314 | 175&nbsp&nbsp/ 5 / 0 | 32 | 2 | 0 | HD | Report |
| #31 | | 1,491,298 | 98.52% | SunglassesEmoji | 314 | 176&nbsp&nbsp/ 4 / 0 | 32 | 2 | 0 | HD | Report |
| #32 | | 1,486,886 | 93.98% | JonnyThatJonny | 314 | 164&nbsp&nbsp/ 15 / 1 | 26 | 7 | 0 | FL | Report |
| #33 | | 1,484,936 | 95.19% | Damnjelly | 314 | 167&nbsp&nbsp/ 13 / 0 | 29 | 5 | 0 | FL | Report |
| #34 | | 1,478,482 | 96.02% | rrtyui | 314 | 170&nbsp&nbsp/ 7 / 3 | 28 | 4 | 0 | HD | Report |
| #35 | | 1,471,566 | 97.41% | 0203okaT | 314 | 173&nbsp&nbsp/ 7 / 0 | 31 | 3 | 0 | HD | Report |
| #36 | | 1,470,209 | 96.76% | Okinotori | 314 | 172&nbsp&nbsp/ 5 / 3 | 31 | 2 | 0 | HD | Report |
| #37 | | 1,467,664 | 97.41% | Maxe191 | 314 | 173&nbsp&nbsp/ 7 / 0 | 30 | 4 | 0 | HD | Report |
| #38 | | 1,465,970 | 97.78% | Nicokarl | 313 | 174&nbsp&nbsp/ 6 / 0 | 29 | 5 | 0 | HD | Report |
| #39 | | 1,462,587 | 96.67% | Henkie | 313 | 171&nbsp&nbsp/ 9 / 0 | 31 | 3 | 0 | HD | Report |
| #40 | | 1,450,991 | 95.46% | Sophia | 314 | 168&nbsp&nbsp/ 11 / 1 | 30 | 3 | 0 | HD | Report |
| #41 | | 1,447,627 | 96.67% | pkhg | 314 | 171&nbsp&nbsp/ 9 / 0 | 29 | 5 | 0 | HD | Report |
| #42 | | 1,445,895 | 96.67% | kaem | 314 | 171&nbsp&nbsp/ 9 / 0 | 29 | 5 | 0 | HD,SD | Report |
| #43 | | 1,440,078 | 90.28% | -GN | 314 | 154&nbsp&nbsp/ 25 / 1 | 24 | 9 | 0 | HD,HR | Report |
| #44 | | 1,436,200 | 100.00% | Napoleona | 314 | 180&nbsp&nbsp/ 0 / 0 | 34 | 0 | 0 | None | Report |
| #45 | | 1,436,200 | 100.00% | Rucker | 314 | 180&nbsp&nbsp/ 0 / 0 | 34 | 0 | 0 | None | Report |
| #46 | | 1,436,200 | 100.00% | Jonathonta | 314 | 180&nbsp&nbsp/ 0 / 0 | 34 | 0 | 0 | None | Report |
| #47 | | 1,436,200 | 100.00% | Sangni | 314 | 180&nbsp&nbsp/ 0 / 0 | 34 | 0 | 0 | None | Report |
| #48 | | 1,436,200 | 100.00% | fabriciorby | 314 | 180&nbsp&nbsp/ 0 / 0 | 34 | 0 | 0 | None | Report |
| #49 | | 1,436,200 | 100.00% | rehashy | 314 | 180&nbsp&nbsp/ 0 / 0 | 34 | 0 | 0 | PF | Report |
| #50 | | 1,436,200 | 100.00% | Rizzo | 314 | 180&nbsp&nbsp/ 0 / 0 | 34 | 0 | 0 | None | Report |