Artist:
ryo (supercell)
Circle Size:

Approach Rate:

Title:
ODDS&ENDS
HP Drain:

Star Difficulty:

(4.76)
Creator:
Colin Hou
Accuracy:

Length:
5:28 (4:49 drain)
Source:
Genre:
Rock (Japanese)
BPM:
192
Tags:
project diva f seki kazuaki perfume sky of beginning vocaloid feat. hatsune miku
User Rating:
Success Rate:
Points of Failure:


(graph is accumulative, based on % at fail/retry)

14.9% (96934 of 649855 plays)

Submitted:
Ranked:
Sep 15, 2012
Oct 16, 2012
Rating Spread:

Favourited 1434 times in total

Users that love this map: Pkmn2, Kawasan, LntiX, FFMAY, hi6go7, Tollyx, ko12144, Azkasure, terametis, hamuri, banvi, wyuenchy, Jade, try748, Nanakase Gizumo, lionchow, ultimafouina, kanopu, karuiongaku, Kaleido Star and many more!
Options:
Modding / Discussion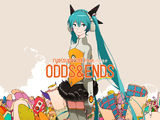 This shall be a dream, in which I met you.
何度この歌を歌ってみたとき 僕は泣いただ
p.s: disable storyboard if video on
Yaong is in the lead! ()
Score
46,141,540 (99.63%)
Max Combo
1586
300 / 100 / 50
1063 / 6 / 0
Misses
0
Geki (Elite Beat!)
234
Katu (Beat!)
5
Mods
HD,HR
Top 50 Scoreboard
| | Rank | Score | Accuracy | Player | Max Combo | 300 / 100 / 50 | Geki | Katu | Misses | Mods | |
| --- | --- | --- | --- | --- | --- | --- | --- | --- | --- | --- | --- |
| #1 | | 46,141,540 | 99.63% | Yaong | 1586 | 1063&nbsp&nbsp/ 6 / 0 | 234 | 5 | 0 | HD,HR | Report |
| #2 | | 46,050,141 | 99.56% | Gokuri | 1585 | 1062&nbsp&nbsp/ 7 / 0 | 233 | 6 | 0 | HD,HR | Report |
| #3 | | 45,956,705 | 99.19% | Recia | 1586 | 1056&nbsp&nbsp/ 13 / 0 | 228 | 11 | 0 | HD,HR | Report |
| #4 | | 45,937,637 | 99.38% | hvick810 | 1586 | 1059&nbsp&nbsp/ 10 / 0 | 229 | 10 | 0 | HD,HR | Report |
| #5 | | 45,885,931 | 99.06% | Rei24 | 1586 | 1054&nbsp&nbsp/ 15 / 0 | 225 | 14 | 0 | HD,HR | Report |
| #6 | | 45,857,640 | 99.13% | Emperorpenguin83 | 1585 | 1055&nbsp&nbsp/ 14 / 0 | 225 | 14 | 0 | HD,HR | Report |
| #7 | | 45,835,485 | 99.25% | Number | 1586 | 1057&nbsp&nbsp/ 12 / 0 | 228 | 11 | 0 | HD,HR | Report |
| #8 | | 45,779,813 | 99.13% | [ AeonLust ] | 1586 | 1055&nbsp&nbsp/ 14 / 0 | 225 | 14 | 0 | HD,HR | Report |
| #9 | | 45,768,401 | 99.06% | Ex6TenZ | 1586 | 1054&nbsp&nbsp/ 15 / 0 | 224 | 15 | 0 | HD,HR | Report |
| #10 | | 45,742,609 | 98.82% | Mikkuri | 1586 | 1050&nbsp&nbsp/ 19 / 0 | 223 | 16 | 0 | HD,HR | Report |
| #11 | | 45,704,801 | 99.19% | 4mpy | 1586 | 1056&nbsp&nbsp/ 13 / 0 | 228 | 11 | 0 | HD,HR | Report |
| #12 | | 45,675,874 | 98.57% | Guminis | 1586 | 1046&nbsp&nbsp/ 23 / 0 | 219 | 20 | 0 | HD,HR | Report |
| #13 | | 45,658,586 | 98.82% | thelewa | 1586 | 1050&nbsp&nbsp/ 19 / 0 | 224 | 15 | 0 | HD,HR | Report |
| #14 | | 45,616,051 | 98.50% | Adamqs | 1586 | 1045&nbsp&nbsp/ 24 / 0 | 218 | 21 | 0 | HD,HR | Report |
| #15 | | 45,609,684 | 98.94% | Sakura no Hana | 1586 | 1052&nbsp&nbsp/ 17 / 0 | 223 | 16 | 0 | HD,HR | Report |
| #16 | | 45,606,298 | 98.82% | Gian | 1586 | 1050&nbsp&nbsp/ 19 / 0 | 225 | 14 | 0 | HD,HR | Report |
| #17 | | 45,590,127 | 98.82% | Elscar | 1586 | 1050&nbsp&nbsp/ 19 / 0 | 222 | 17 | 0 | HD,HR | Report |
| #18 | | 45,548,287 | 98.88% | BNY963 | 1586 | 1051&nbsp&nbsp/ 18 / 0 | 224 | 15 | 0 | HD,HR | Report |
| #19 | | 45,457,978 | 98.25% | [ Elsie ] | 1586 | 1041&nbsp&nbsp/ 28 / 0 | 217 | 22 | 0 | HD,HR | Report |
| #20 | | 45,401,074 | 98.19% | kec2005 | 1585 | 1040&nbsp&nbsp/ 29 / 0 | 213 | 26 | 0 | HD,HR | Report |
| #21 | | 45,374,446 | 98.57% | beeco | 1585 | 1046&nbsp&nbsp/ 23 / 0 | 218 | 21 | 0 | HD,HR | Report |
| #22 | | 45,365,087 | 98.38% | Dexer | 1586 | 1043&nbsp&nbsp/ 26 / 0 | 219 | 20 | 0 | HD,HR | Report |
| #23 | | 45,331,639 | 98.38% | Fenrir | 1586 | 1043&nbsp&nbsp/ 26 / 0 | 217 | 22 | 0 | HD,HR | Report |
| #24 | | 45,324,248 | 98.07% | Spicker | 1586 | 1038&nbsp&nbsp/ 31 / 0 | 214 | 25 | 0 | HD,HR | Report |
| #25 | | 45,275,382 | 98.07% | Supi | 1586 | 1038&nbsp&nbsp/ 31 / 0 | 214 | 25 | 0 | HD,HR | Report |
| #26 | | 45,269,114 | 98.13% | Sinch | 1586 | 1039&nbsp&nbsp/ 30 / 0 | 217 | 22 | 0 | HD,HR | Report |
| #27 | | 45,226,447 | 98.07% | Alisson | 1585 | 1038&nbsp&nbsp/ 31 / 0 | 213 | 26 | 0 | HD,HR | Report |
| #28 | | 45,205,389 | 97.75% | HineX | 1586 | 1033&nbsp&nbsp/ 36 / 0 | 209 | 30 | 0 | HD,HR | Report |
| #29 | | 45,171,478 | 98.00% | hshs | 1586 | 1037&nbsp&nbsp/ 32 / 0 | 213 | 26 | 0 | HD,HR | Report |
| #30 | | 45,157,825 | 98.32% | Pyroboom | 1584 | 1042&nbsp&nbsp/ 27 / 0 | 216 | 23 | 0 | HD,HR | Report |
| #31 | | 45,149,832 | 97.79% | Mrotaku | 1586 | 1034&nbsp&nbsp/ 33 / 2 | 211 | 26 | 0 | HD,HR | Report |
| #32 | | 45,097,336 | 97.80% | 21_sucks | 1586 | 1034&nbsp&nbsp/ 34 / 1 | 207 | 31 | 0 | HD,HR | Report |
| #33 | | 45,083,919 | 97.94% | Myaamd | 1586 | 1036&nbsp&nbsp/ 33 / 0 | 213 | 26 | 0 | HD,HR | Report |
| #34 | | 45,044,944 | 97.68% | norbertosnt3 | 1586 | 1032&nbsp&nbsp/ 36 / 1 | 209 | 29 | 0 | HD,HR | Report |
| #35 | | 45,037,171 | 97.51% | Cyllinus | 1586 | 1029&nbsp&nbsp/ 40 / 0 | 209 | 30 | 0 | HD,HR,SD | Report |
| #36 | | 45,007,653 | 97.49% | swimi | 1586 | 1029&nbsp&nbsp/ 39 / 1 | 203 | 35 | 0 | HD,HR | Report |
| #37 | | 44,991,348 | 97.38% | [ Yozzied ] | 1585 | 1027&nbsp&nbsp/ 42 / 0 | 202 | 37 | 0 | HD,HR | Report |
| #38 | | 44,896,970 | 97.69% | Pandarix | 1583 | 1032&nbsp&nbsp/ 37 / 0 | 208 | 31 | 0 | HD,HR | Report |
| #39 | | 44,894,117 | 97.19% | Peekamoo | 1586 | 1024&nbsp&nbsp/ 45 / 0 | 207 | 32 | 0 | HD,HR | Report |
| #40 | | 44,892,238 | 97.69% | Alina Risa | 1584 | 1032&nbsp&nbsp/ 37 / 0 | 207 | 32 | 0 | HD,HR | Report |
| #41 | | 44,890,154 | 97.49% | thebandit56 | 1586 | 1029&nbsp&nbsp/ 39 / 1 | 209 | 29 | 0 | HD,HR | Report |
| #42 | | 44,864,307 | 97.69% | Arcley | 1585 | 1032&nbsp&nbsp/ 37 / 0 | 211 | 28 | 0 | HD,HR | Report |
| #43 | | 44,831,698 | 97.32% | Moly | 1584 | 1026&nbsp&nbsp/ 43 / 0 | 205 | 34 | 0 | HD,HR | Report |
| #44 | | 44,757,149 | 97.15% | aerith1025 | 1584 | 1024&nbsp&nbsp/ 42 / 3 | 205 | 33 | 0 | HD,HR | Report |
| #45 | | 44,639,572 | 97.13% | OuO | 1586 | 1023&nbsp&nbsp/ 46 / 0 | 203 | 36 | 0 | HD,HR | Report |
| #46 | | 44,632,714 | 96.63% | imagaK | 1583 | 1015&nbsp&nbsp/ 54 / 0 | 196 | 43 | 0 | HD,HR | Report |
| #47 | | 44,624,380 | 97.07% | Enon | 1586 | 1022&nbsp&nbsp/ 47 / 0 | 201 | 38 | 0 | HD,HR | Report |
| #48 | | 44,621,896 | 96.94% | Meltina | 1584 | 1020&nbsp&nbsp/ 49 / 0 | 198 | 41 | 0 | HD,HR | Report |
| #49 | | 44,575,849 | 96.32% | mukachu | 1586 | 1010&nbsp&nbsp/ 59 / 0 | 193 | 46 | 0 | HD,HR | Report |
| #50 | | 44,373,307 | 96.68% | Mythol | 1586 | 1016&nbsp&nbsp/ 52 / 1 | 207 | 31 | 0 | HD,HR | Report |