Artist:
Wotamin
Circle Size:

Approach Rate:

Title:
Rubik's Cube
HP Drain:

Star Difficulty:

(1.51)
Creator:
Kite
Accuracy:

Length:
3:47 (2:57 drain)
Source:
otetsu
Genre:
Rock (Japanese)
BPM:
280
Tags:
megpoid gumi fight69 wmfchris xcherry xakyrie
User Rating:
Success Rate:
Points of Failure:


(graph is accumulative, based on % at fail/retry)

46.4% (15745 of 33905 plays)

Submitted:
Ranked:
Dec 25, 2011
Oct 9, 2012
Rating Spread:

Favourited 285 times in total

Users that love this map: kaaz, hi6go7, Grassvalley, K o h a k u, Dylans222, ecspecc, Uname, kendo, kriers, Vendredi, Meepyy, Urogue, czak201, UnderminE, Areks, Wilellion, Lecite7, BLiZAGA, Akatsuki, Tukki and many more!
Options:
Modding / Discussion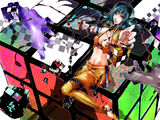 Thanks to everyone who helped in improving the mapset!
Hope you enjoy~
Original song vocals by Megpoid GUMI, this is a cover by Wotamin.
Normal mapped by Xakyrie
Hard mapped by Fight69
Taiko mapped by wmfchris
Glaceon is in the lead! ()
Score
1,714,556 (100.00%)
Max Combo
538
300 / 100 / 50
158 / 0 / 0
Misses
0
Geki (Elite Beat!)
51
Katu (Beat!)
0
Mods
HD,HR,NC,FL
Top 50 Scoreboard
| | Rank | Score | Accuracy | Player | Max Combo | 300 / 100 / 50 | Geki | Katu | Misses | Mods | |
| --- | --- | --- | --- | --- | --- | --- | --- | --- | --- | --- | --- |
| #1 | | 1,714,556 | 100.00% | Glaceon | 538 | 158&nbsp&nbsp/ 0 / 0 | 51 | 0 | 0 | HD,HR,NC,FL | Report |
| #2 | | 1,687,056 | 100.00% | Cayman | 538 | 158&nbsp&nbsp/ 0 / 0 | 51 | 0 | 0 | HD,HR,DT,FL | Report |
| #3 | | 1,683,456 | 100.00% | HonDon | 538 | 158&nbsp&nbsp/ 0 / 0 | 51 | 0 | 0 | HD,HR,DT,FL | Report |
| #4 | | 1,647,456 | 100.00% | Mutilation | 538 | 158&nbsp&nbsp/ 0 / 0 | 51 | 0 | 0 | HD,HR,DT,FL | Report |
| #5 | | 1,646,256 | 100.00% | O My Aim | 538 | 158&nbsp&nbsp/ 0 / 0 | 51 | 0 | 0 | HD,HR,DT,FL,PF | Report |
| #6 | | 1,625,569 | 99.16% | Ece | 538 | 156&nbsp&nbsp/ 2 / 0 | 49 | 2 | 0 | HD,HR,NC,FL | Report |
| #7 | | 1,612,556 | 100.00% | chakka728 | 538 | 158&nbsp&nbsp/ 0 / 0 | 51 | 0 | 0 | HD,HR,DT,FL | Report |
| #8 | | 1,596,352 | 100.00% | Soweon | 538 | 158&nbsp&nbsp/ 0 / 0 | 51 | 0 | 0 | HR,DT,FL,PF | Report |
| #9 | | 1,591,552 | 100.00% | Komunyasha | 538 | 158&nbsp&nbsp/ 0 / 0 | 51 | 0 | 0 | HR,DT,FL | Report |
| #10 | | 1,577,052 | 100.00% | QvQ | 538 | 158&nbsp&nbsp/ 0 / 0 | 51 | 0 | 0 | HR,DT,FL | Report |
| #11 | | 1,573,452 | 100.00% | Corompus | 538 | 158&nbsp&nbsp/ 0 / 0 | 51 | 0 | 0 | HR,DT,FL | Report |
| #12 | | 1,563,752 | 100.00% | Siarcno | 538 | 158&nbsp&nbsp/ 0 / 0 | 51 | 0 | 0 | HR,DT,FL | Report |
| #13 | | 1,560,508 | 98.73% | aefrogdog | 538 | 155&nbsp&nbsp/ 3 / 0 | 48 | 3 | 0 | HR,DT,FL | Report |
| #14 | | 1,556,352 | 100.00% | Shimatora | 538 | 158&nbsp&nbsp/ 0 / 0 | 51 | 0 | 0 | HR,DT,FL | Report |
| #15 | | 1,552,014 | 99.16% | kokos365 | 538 | 156&nbsp&nbsp/ 2 / 0 | 49 | 2 | 0 | HR,DT,FL | Report |
| #16 | | 1,551,940 | 99.58% | Suwako | 538 | 157&nbsp&nbsp/ 1 / 0 | 50 | 1 | 0 | HR,DT,FL | Report |
| #17 | | 1,545,246 | 99.58% | [ROCK] Bunny | 538 | 157&nbsp&nbsp/ 1 / 0 | 50 | 1 | 0 | HR,DT,FL | Report |
| #18 | | 1,540,706 | 99.16% | ThOmAstr | 538 | 156&nbsp&nbsp/ 2 / 0 | 49 | 2 | 0 | HR,DT,FL | Report |
| #19 | | 1,537,338 | 100.00% | Jatie | 538 | 158&nbsp&nbsp/ 0 / 0 | 51 | 0 | 0 | HD,HR,DT | Report |
| #20 | | 1,532,438 | 100.00% | hent2222 | 538 | 158&nbsp&nbsp/ 0 / 0 | 51 | 0 | 0 | HD,HR,DT | Report |
| #21 | | 1,530,302 | 99.16% | JinKuRa | 538 | 156&nbsp&nbsp/ 2 / 0 | 49 | 2 | 0 | HR,DT,FL | Report |
| #22 | | 1,526,008 | 99.58% | dmlal0 | 538 | 157&nbsp&nbsp/ 1 / 0 | 50 | 1 | 0 | HD,HR,DT | Report |
| #23 | | 1,525,805 | 99.58% | BossBob | 538 | 157&nbsp&nbsp/ 1 / 0 | 50 | 1 | 0 | HD,HR,NC | Report |
| #24 | | 1,523,038 | 100.00% | MiraiNikki | 538 | 158&nbsp&nbsp/ 0 / 0 | 51 | 0 | 0 | HD,HR,DT | Report |
| #25 | | 1,521,638 | 100.00% | ojosummer | 538 | 158&nbsp&nbsp/ 0 / 0 | 51 | 0 | 0 | HD,HR,DT | Report |
| #26 | | 1,519,538 | 100.00% | Enify | 538 | 158&nbsp&nbsp/ 0 / 0 | 51 | 0 | 0 | HD,HR,DT | Report |
| #27 | | 1,519,395 | 99.16% | schlafen | 538 | 156&nbsp&nbsp/ 2 / 0 | 50 | 1 | 0 | HD,HR,DT | Report |
| #28 | | 1,516,832 | 99.16% | gabrielrh | 538 | 156&nbsp&nbsp/ 2 / 0 | 49 | 2 | 0 | HD,HR,DT | Report |
| #29 | | 1,516,508 | 99.58% | Fappey | 538 | 157&nbsp&nbsp/ 1 / 0 | 50 | 1 | 0 | HD,HR,DT | Report |
| #30 | | 1,516,206 | 98.31% | Plushy Toy | 536 | 154&nbsp&nbsp/ 4 / 0 | 47 | 4 | 0 | HR,DT,FL | Report |
| #31 | | 1,515,938 | 100.00% | C Nine | 538 | 158&nbsp&nbsp/ 0 / 0 | 51 | 0 | 0 | HD,HR,NC,PF | Report |
| #32 | | 1,514,538 | 100.00% | Sevigoth | 538 | 158&nbsp&nbsp/ 0 / 0 | 51 | 0 | 0 | HD,HR,DT | Report |
| #33 | | 1,514,424 | 97.89% | TerrusIce | 538 | 153&nbsp&nbsp/ 5 / 0 | 46 | 5 | 0 | HR,DT,FL | Report |
| #34 | | 1,513,956 | 99.58% | theLoLmanITA | 538 | 157&nbsp&nbsp/ 1 / 0 | 50 | 1 | 0 | HD,HR,NC | Report |
| #35 | | 1,511,938 | 100.00% | Cytrus | 538 | 158&nbsp&nbsp/ 0 / 0 | 51 | 0 | 0 | HD,HR,DT | Report |
| #36 | | 1,511,038 | 100.00% | Gladd77 | 538 | 158&nbsp&nbsp/ 0 / 0 | 51 | 0 | 0 | HD,HR,DT | Report |
| #37 | | 1,509,838 | 100.00% | [ Subaru ] | 538 | 158&nbsp&nbsp/ 0 / 0 | 51 | 0 | 0 | HD,HR,DT | Report |
| #38 | | 1,507,558 | 99.16% | Fabulous-Happy | 538 | 156&nbsp&nbsp/ 2 / 0 | 49 | 2 | 0 | HD,HR,DT | Report |
| #39 | | 1,507,438 | 100.00% | Nikindo | 538 | 158&nbsp&nbsp/ 0 / 0 | 51 | 0 | 0 | HD,HR,DT | Report |
| #40 | | 1,507,338 | 100.00% | n3ktO | 538 | 158&nbsp&nbsp/ 0 / 0 | 51 | 0 | 0 | HD,HR,DT,SD | Report |
| #41 | | 1,507,138 | 100.00% | Ginotec | 538 | 158&nbsp&nbsp/ 0 / 0 | 51 | 0 | 0 | HD,HR,DT | Report |
| #42 | | 1,506,238 | 100.00% | agazette12 | 538 | 158&nbsp&nbsp/ 0 / 0 | 51 | 0 | 0 | HD,HR,NC,PF | Report |
| #43 | | 1,506,038 | 100.00% | alpha_rhinock | 538 | 158&nbsp&nbsp/ 0 / 0 | 51 | 0 | 0 | HD,HR,NC,PF | Report |
| #44 | | 1,505,838 | 100.00% | YMDx | 538 | 158&nbsp&nbsp/ 0 / 0 | 51 | 0 | 0 | HD,HR,DT | Report |
| #45 | | 1,504,838 | 100.00% | himarineko | 538 | 158&nbsp&nbsp/ 0 / 0 | 51 | 0 | 0 | HD,HR,NC | Report |
| #46 | | 1,504,218 | 99.58% | LazyPenguin | 538 | 157&nbsp&nbsp/ 1 / 0 | 50 | 1 | 0 | HD,HR,DT | Report |
| #47 | | 1,503,638 | 100.00% | Nya Nya Neko | 538 | 158&nbsp&nbsp/ 0 / 0 | 51 | 0 | 0 | HD,HR,DT,SD | Report |
| #48 | | 1,503,638 | 100.00% | fg2412 | 538 | 158&nbsp&nbsp/ 0 / 0 | 51 | 0 | 0 | HD,HR,DT | Report |
| #49 | | 1,503,538 | 100.00% | Chamosiala | 538 | 158&nbsp&nbsp/ 0 / 0 | 51 | 0 | 0 | HD,HR,DT | Report |
| #50 | | 1,503,538 | 100.00% | Historia | 538 | 158&nbsp&nbsp/ 0 / 0 | 51 | 0 | 0 | HD,HR,DT | Report |