Beatmap Listing » Prim - Koisuru*Uchuu Sensou!!
Artist:
Prim
Circle Size:

Approach Rate:

Title:
Koisuru*Uchuu Sensou!!
HP Drain:

Star Difficulty:

(1.31)
Creator:
-Chata-
Accuracy:

Length:
2:02 (1:57 drain)
Source:
beatmania IIDX
Genre:
Video Game (Japanese)
BPM:
200
Tags:
l.e.d morinaga_mayumi reflec beat limelight mitsu gyu-tte babababa-n eieio- iidx iidx19 lincle
User Rating:
Success Rate:
Points of Failure:


(graph is accumulative, based on % at fail/retry)

47.4% (12756 of 26908 plays)

Submitted:
Ranked:
Mar 11, 2012
May 27, 2012
Rating Spread:

Favourited 444 times in total

Users that love this map: Rezafor, Pula, Misyaguzi, hsk4500, Prim, tobaku2784, Tomoka Rin, Harp Note, JRA, kokoi, H i S a G i, akihi, PeaChick, Kaleido Star, Keredna, alieokiro, YuyuKo sama, Kurakining, Yukari_Y, M i l o t i c and many more!
Options:
Modding / Discussion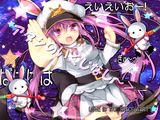 Download this beatmap in mirror
ぁぁ~初めまして!!!PRIMです!!!
今回初めてbeatmania IIDX 19 Lincle にて参加させていただいたPRIMと申します♪
ひらがなで「ぷりむ」カタカナで「プリム」です!!!
「恋する☆宇宙戦争っ!!」とはなんぞや?とPRIMなりに考えてみたのです!!!
ハテ、恋するとは!?ハテ、宇宙戦争とは!!?
答えは「コイスルウチュウセンソウ」
カタカナにしても逆さに読んでも、ぷりむには無理難題ものでした><!!!
グルグル~ハッ!
きっとこういうことね☆キラーん!!!
by L.E.D
mapset
Beginner - 100% by -Chata-
Standard - 100% by -Chata-
Hyper - 100% by -Chata-
Another - 100% by -Chata-
SB - 100% by -Chata-
(´;ω;`)
焦りは禁物~
Pinkie Pi is in the lead! ()
Score
669,858 (100.00%)
Max Combo
296
300 / 100 / 50
110 / 0 / 0
Misses
0
Geki (Elite Beat!)
50
Katu (Beat!)
0
Mods
HD,HR,DT,FL,SD
Top 50 Scoreboard
| | Rank | Score | Accuracy | Player | Max Combo | 300 / 100 / 50 | Geki | Katu | Misses | Mods | |
| --- | --- | --- | --- | --- | --- | --- | --- | --- | --- | --- | --- |
| #1 | | 669,858 | 100.00% | Pinkie Pi | 296 | 110&nbsp&nbsp/ 0 / 0 | 50 | 0 | 0 | HD,HR,DT,FL,SD | Report |
| #2 | | 668,758 | 100.00% | BeMoNcHiK | 296 | 110&nbsp&nbsp/ 0 / 0 | 50 | 0 | 0 | HD,HR,NC,FL | Report |
| #3 | | 665,458 | 100.00% | IQ166 | 296 | 110&nbsp&nbsp/ 0 / 0 | 50 | 0 | 0 | HD,HR,DT,FL | Report |
| #4 | | 659,958 | 100.00% | hent2222 | 296 | 110&nbsp&nbsp/ 0 / 0 | 50 | 0 | 0 | HD,HR,DT,FL | Report |
| #5 | | 658,858 | 100.00% | D_Sido | 296 | 110&nbsp&nbsp/ 0 / 0 | 50 | 0 | 0 | HD,HR,DT,FL | Report |
| #6 | | 654,458 | 100.00% | snowrain | 296 | 110&nbsp&nbsp/ 0 / 0 | 50 | 0 | 0 | HD,HR,DT,FL | Report |
| #7 | | 654,358 | 100.00% | rorineko | 296 | 110&nbsp&nbsp/ 0 / 0 | 50 | 0 | 0 | HD,HR,NC,FL | Report |
| #8 | | 650,958 | 100.00% | Don_KillMe | 296 | 110&nbsp&nbsp/ 0 / 0 | 50 | 0 | 0 | HD,HR,DT,FL | Report |
| #9 | | 650,420 | 99.39% | noa3 | 296 | 109&nbsp&nbsp/ 1 / 0 | 49 | 1 | 0 | HD,HR,DT,FL | Report |
| #10 | | 649,858 | 100.00% | Gomo Pslvarh | 296 | 110&nbsp&nbsp/ 0 / 0 | 50 | 0 | 0 | HD,HR,DT,FL | Report |
| #11 | | 646,658 | 100.00% | Eita | 296 | 110&nbsp&nbsp/ 0 / 0 | 50 | 0 | 0 | HD,HR,DT,FL | Report |
| #12 | | 645,458 | 100.00% | kkflandre | 296 | 110&nbsp&nbsp/ 0 / 0 | 50 | 0 | 0 | HD,HR,DT,FL | Report |
| #13 | | 641,058 | 100.00% | [SnowiEZ] | 296 | 110&nbsp&nbsp/ 0 / 0 | 50 | 0 | 0 | HD,HR,NC,FL | Report |
| #14 | | 641,058 | 100.00% | S2K | 296 | 110&nbsp&nbsp/ 0 / 0 | 50 | 0 | 0 | HD,HR,DT,FL | Report |
| #15 | | 638,858 | 100.00% | Okumura | 296 | 110&nbsp&nbsp/ 0 / 0 | 50 | 0 | 0 | HD,HR,DT,FL | Report |
| #16 | | 638,758 | 100.00% | Icsia | 296 | 110&nbsp&nbsp/ 0 / 0 | 50 | 0 | 0 | HD,HR,DT,FL | Report |
| #17 | | 636,758 | 100.00% | it3456 | 296 | 110&nbsp&nbsp/ 0 / 0 | 50 | 0 | 0 | HD,HR,DT,FL | Report |
| #18 | | 635,458 | 100.00% | funshine | 296 | 110&nbsp&nbsp/ 0 / 0 | 50 | 0 | 0 | HD,HR,DT,FL | Report |
| #19 | | 635,458 | 100.00% | Plomppa | 296 | 110&nbsp&nbsp/ 0 / 0 | 50 | 0 | 0 | HD,HR,DT,FL | Report |
| #20 | | 634,458 | 100.00% | Sorbet Rabbit | 296 | 110&nbsp&nbsp/ 0 / 0 | 50 | 0 | 0 | HD,HR,DT,FL | Report |
| #21 | | 633,258 | 100.00% | Readme | 296 | 110&nbsp&nbsp/ 0 / 0 | 50 | 0 | 0 | HD,HR,DT,FL | Report |
| #22 | | 633,258 | 100.00% | Clicks Lombardi | 296 | 110&nbsp&nbsp/ 0 / 0 | 50 | 0 | 0 | HD,HR,DT,FL | Report |
| #23 | | 632,258 | 100.00% | spring ephemera | 296 | 110&nbsp&nbsp/ 0 / 0 | 50 | 0 | 0 | HD,HR,NC,FL | Report |
| #24 | | 630,058 | 100.00% | thyoothyoo | 296 | 110&nbsp&nbsp/ 0 / 0 | 50 | 0 | 0 | HD,HR,DT,FL | Report |
| #25 | | 628,958 | 100.00% | Cris- | 296 | 110&nbsp&nbsp/ 0 / 0 | 50 | 0 | 0 | HD,HR,DT,FL | Report |
| #26 | | 628,858 | 100.00% | RoriNyanjp | 296 | 110&nbsp&nbsp/ 0 / 0 | 50 | 0 | 0 | HD,HR,DT,FL | Report |
| #27 | | 624,458 | 100.00% | - Coromo | 296 | 110&nbsp&nbsp/ 0 / 0 | 50 | 0 | 0 | HD,HR,DT,FL | Report |
| #28 | | 622,940 | 99.39% | Reinal | 296 | 109&nbsp&nbsp/ 1 / 0 | 49 | 1 | 0 | HD,HR,DT,FL,SD | Report |
| #29 | | 622,699 | 100.00% | xZanrothx | 296 | 110&nbsp&nbsp/ 0 / 0 | 50 | 0 | 0 | HR,NC,FL | Report |
| #30 | | 617,199 | 100.00% | ALTandF4 | 296 | 110&nbsp&nbsp/ 0 / 0 | 50 | 0 | 0 | HR,DT,FL | Report |
| #31 | | 616,596 | 98.79% | Reibo828 | 296 | 108&nbsp&nbsp/ 2 / 0 | 48 | 2 | 0 | HD,HR,DT,FL | Report |
| #32 | | 616,517 | 98.64% | - kururu | 296 | 108&nbsp&nbsp/ 1 / 1 | 48 | 1 | 0 | HD,HR,DT,FL | Report |
| #33 | | 616,099 | 100.00% | youkk | 296 | 110&nbsp&nbsp/ 0 / 0 | 50 | 0 | 0 | HR,NC,FL | Report |
| #34 | | 614,999 | 100.00% | Zaiant | 296 | 110&nbsp&nbsp/ 0 / 0 | 50 | 0 | 0 | HR,DT,FL | Report |
| #35 | | 612,699 | 100.00% | Ichigo93 | 296 | 110&nbsp&nbsp/ 0 / 0 | 50 | 0 | 0 | HR,DT,FL | Report |
| #36 | | 611,599 | 100.00% | Cayman | 296 | 110&nbsp&nbsp/ 0 / 0 | 50 | 0 | 0 | HR,DT,FL | Report |
| #37 | | 611,067 | 98.79% | SilverSmurfer | 295 | 108&nbsp&nbsp/ 2 / 0 | 48 | 2 | 0 | HR,DT,FL | Report |
| #38 | | 610,499 | 100.00% | 9kuro_neko6 | 296 | 110&nbsp&nbsp/ 0 / 0 | 50 | 0 | 0 | HR,DT,FL | Report |
| #39 | | 610,499 | 100.00% | Understand | 296 | 110&nbsp&nbsp/ 0 / 0 | 50 | 0 | 0 | HR,DT,FL | Report |
| #40 | | 609,499 | 100.00% | Divikus | 296 | 110&nbsp&nbsp/ 0 / 0 | 50 | 0 | 0 | HR,DT,FL | Report |
| #41 | | 607,199 | 100.00% | Kotori-Chan | 296 | 110&nbsp&nbsp/ 0 / 0 | 50 | 0 | 0 | HR,DT,FL | Report |
| #42 | | 606,099 | 100.00% | xoofoM | 296 | 110&nbsp&nbsp/ 0 / 0 | 50 | 0 | 0 | HR,DT,FL | Report |
| #43 | | 605,999 | 100.00% | ReinaTM | 296 | 110&nbsp&nbsp/ 0 / 0 | 50 | 0 | 0 | HR,DT,FL | Report |
| #44 | | 604,999 | 100.00% | Anemos | 296 | 110&nbsp&nbsp/ 0 / 0 | 50 | 0 | 0 | HR,DT,FL | Report |
| #45 | | 604,736 | 97.42% | Super_key | 295 | 106&nbsp&nbsp/ 3 / 1 | 48 | 1 | 0 | HD,HR,DT,FL | Report |
| #46 | | 603,899 | 100.00% | Activity | 296 | 110&nbsp&nbsp/ 0 / 0 | 50 | 0 | 0 | HR,DT,FL | Report |
| #47 | | 603,799 | 100.00% | Suwako | 296 | 110&nbsp&nbsp/ 0 / 0 | 50 | 0 | 0 | HR,DT,FL | Report |
| #48 | | 603,799 | 100.00% | Noya | 296 | 110&nbsp&nbsp/ 0 / 0 | 50 | 0 | 0 | HR,DT,FL | Report |
| #49 | | 602,799 | 100.00% | [ A s u K a ] | 296 | 110&nbsp&nbsp/ 0 / 0 | 50 | 0 | 0 | HR,DT,FL | Report |
| #50 | | 602,799 | 100.00% | Shimatora | 296 | 110&nbsp&nbsp/ 0 / 0 | 50 | 0 | 0 | HR,DT,FL | Report |