Artist:
MYTH & ROID
Circle Size:

Approach Rate:

Title:
JINGO JUNGLE
HP Drain:

Star Difficulty:

(1.26)
Creator:
Plaudible
Accuracy:

Length:
1:28 (1:20 drain)
Source:
幼女戦記
Genre:
Anime (Japanese)
BPM:
130
Tags:
youjo senki saga of tanya the evil opening 5th single tv size
User Rating:
Success Rate:
Points of Failure:


(graph is accumulative, based on % at fail/retry)

52.5% (36864 of 70236 plays)

Submitted:
Ranked:
Aug 14, 2017
Sep 11, 2017
Rating Spread:

Favourited 408 times in total

Users that love this map: PokuMii, chenwu, Kaykee123, KanpanRin, BlackPanther, garry19980510, 0minekin0, Kacchan, kamiknx, emu1337, alissonfpc, Nimagan, Frolie, dymm, XyrusZwei, Kurasaki Fuko, Xayler, november3030, -Fusein-, LastersPL and many more!
Options:
Modding / Discussion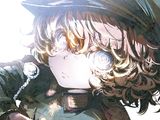 WARNING!

Fast sliders in Insane and Deus Lo Vult difficulties!
Deus Lo Vult is extremely underweighted, do not trust the Star Rating!
Thanks to Cosmolade for metadata and video!
Thanks to Sharkie for hitsound help!
Please play at least once with hitsounds - lots of work went into them. Thank you!
Fun fact - this entire set was mapped within one day
Sundae is in the lead! ()
Score
272,305 (100.00%)
Max Combo
166
300 / 100 / 50
81 / 0 / 0
Misses
0
Geki (Elite Beat!)
24
Katu (Beat!)
0
Mods
HD,HR,DT,FL
Top 50 Scoreboard
| | Rank | Score | Accuracy | Player | Max Combo | 300 / 100 / 50 | Geki | Katu | Misses | Mods | |
| --- | --- | --- | --- | --- | --- | --- | --- | --- | --- | --- | --- |
| #1 | | 272,305 | 100.00% | Sundae | 166 | 81&nbsp&nbsp/ 0 / 0 | 24 | 0 | 0 | HD,HR,DT,FL | Report |
| #2 | | 272,205 | 100.00% | [-Griffin-] | 166 | 81&nbsp&nbsp/ 0 / 0 | 24 | 0 | 0 | HD,HR,NC,FL | Report |
| #3 | | 271,105 | 100.00% | eralfehT | 166 | 81&nbsp&nbsp/ 0 / 0 | 24 | 0 | 0 | HD,HR,NC,FL | Report |
| #4 | | 271,105 | 100.00% | xZanrothx | 166 | 81&nbsp&nbsp/ 0 / 0 | 24 | 0 | 0 | HD,HR,NC,FL | Report |
| #5 | | 271,005 | 100.00% | TheShadowOfDark | 166 | 81&nbsp&nbsp/ 0 / 0 | 24 | 0 | 0 | HD,HR,DT,FL | Report |
| #6 | | 269,905 | 100.00% | hent2222 | 166 | 81&nbsp&nbsp/ 0 / 0 | 24 | 0 | 0 | HD,HR,DT,FL | Report |
| #7 | | 269,905 | 100.00% | Shinjitsu | 166 | 81&nbsp&nbsp/ 0 / 0 | 24 | 0 | 0 | HD,HR,DT,FL,PF | Report |
| #8 | | 269,905 | 100.00% | ojosummer | 166 | 81&nbsp&nbsp/ 0 / 0 | 24 | 0 | 0 | HD,HR,DT,FL | Report |
| #9 | | 269,805 | 100.00% | Milkyuun | 166 | 81&nbsp&nbsp/ 0 / 0 | 24 | 0 | 0 | HD,HR,NC,FL | Report |
| #10 | | 269,805 | 100.00% | Tomotori | 166 | 81&nbsp&nbsp/ 0 / 0 | 24 | 0 | 0 | HD,HR,DT,FL | Report |
| #11 | | 269,805 | 100.00% | Nyahrumanyah | 166 | 81&nbsp&nbsp/ 0 / 0 | 24 | 0 | 0 | HD,HR,NC,FL | Report |
| #12 | | 269,805 | 100.00% | AnibalZ | 166 | 81&nbsp&nbsp/ 0 / 0 | 24 | 0 | 0 | HD,HR,DT,FL | Report |
| #13 | | 268,705 | 100.00% | MomoHD | 166 | 81&nbsp&nbsp/ 0 / 0 | 24 | 0 | 0 | HD,HR,DT,FL | Report |
| #14 | | 268,605 | 100.00% | Kotori-Chan | 166 | 81&nbsp&nbsp/ 0 / 0 | 24 | 0 | 0 | HD,HR,DT,FL | Report |
| #15 | | 268,605 | 100.00% | Dynzyn | 166 | 81&nbsp&nbsp/ 0 / 0 | 24 | 0 | 0 | HD,HR,DT,FL | Report |
| #16 | | 268,605 | 100.00% | porosek | 166 | 81&nbsp&nbsp/ 0 / 0 | 24 | 0 | 0 | HD,HR,DT,FL | Report |
| #17 | | 268,605 | 100.00% | ReRyme | 166 | 81&nbsp&nbsp/ 0 / 0 | 24 | 0 | 0 | HD,HR,DT,FL | Report |
| #18 | | 268,605 | 100.00% | Vernien | 166 | 81&nbsp&nbsp/ 0 / 0 | 24 | 0 | 0 | HD,HR,NC,FL | Report |
| #19 | | 268,605 | 100.00% | Silentbob | 166 | 81&nbsp&nbsp/ 0 / 0 | 24 | 0 | 0 | HD,HR,DT,FL | Report |
| #20 | | 268,605 | 100.00% | lyrda | 166 | 81&nbsp&nbsp/ 0 / 0 | 24 | 0 | 0 | HD,HR,DT,FL,PF | Report |
| #21 | | 267,505 | 100.00% | [Dode] | 166 | 81&nbsp&nbsp/ 0 / 0 | 24 | 0 | 0 | HD,HR,DT,FL | Report |
| #22 | | 267,505 | 100.00% | Spagyrie | 166 | 81&nbsp&nbsp/ 0 / 0 | 24 | 0 | 0 | HD,HR,DT,FL | Report |
| #23 | | 267,505 | 100.00% | Gohgo | 166 | 81&nbsp&nbsp/ 0 / 0 | 24 | 0 | 0 | HD,HR,DT,FL | Report |
| #24 | | 267,505 | 100.00% | AkaneHikaru | 166 | 81&nbsp&nbsp/ 0 / 0 | 24 | 0 | 0 | HD,HR,DT,FL | Report |
| #25 | | 267,505 | 100.00% | plebanka | 166 | 81&nbsp&nbsp/ 0 / 0 | 24 | 0 | 0 | HD,HR,DT,FL | Report |
| #26 | | 267,505 | 100.00% | SoldatRacer | 166 | 81&nbsp&nbsp/ 0 / 0 | 24 | 0 | 0 | HD,HR,DT,FL | Report |
| #27 | | 267,505 | 100.00% | geniusa100 | 166 | 81&nbsp&nbsp/ 0 / 0 | 24 | 0 | 0 | HD,HR,DT,FL | Report |
| #28 | | 267,505 | 100.00% | Vararaup | 166 | 81&nbsp&nbsp/ 0 / 0 | 24 | 0 | 0 | HD,HR,DT,FL | Report |
| #29 | | 267,505 | 100.00% | katatakatata | 166 | 81&nbsp&nbsp/ 0 / 0 | 24 | 0 | 0 | HD,HR,DT,FL | Report |
| #30 | | 267,505 | 100.00% | 5tevenRage | 166 | 81&nbsp&nbsp/ 0 / 0 | 24 | 0 | 0 | HD,HR,DT,FL,SD | Report |
| #31 | | 267,505 | 100.00% | flycrab | 166 | 81&nbsp&nbsp/ 0 / 0 | 24 | 0 | 0 | HD,HR,NC,FL,PF | Report |
| #32 | | 267,405 | 100.00% | Troll2032 | 166 | 81&nbsp&nbsp/ 0 / 0 | 24 | 0 | 0 | HD,HR,DT,FL | Report |
| #33 | | 267,405 | 100.00% | Siarcno | 166 | 81&nbsp&nbsp/ 0 / 0 | 24 | 0 | 0 | HD,HR,DT,FL | Report |
| #34 | | 267,405 | 100.00% | Piixers | 166 | 81&nbsp&nbsp/ 0 / 0 | 24 | 0 | 0 | HD,HR,DT,FL | Report |
| #35 | | 267,405 | 100.00% | Lushioser | 166 | 81&nbsp&nbsp/ 0 / 0 | 24 | 0 | 0 | HD,HR,DT,FL | Report |
| #36 | | 267,405 | 100.00% | _SrBaka_ | 166 | 81&nbsp&nbsp/ 0 / 0 | 24 | 0 | 0 | HD,HR,DT,FL | Report |
| #37 | | 267,405 | 100.00% | Garaviel | 166 | 81&nbsp&nbsp/ 0 / 0 | 24 | 0 | 0 | HD,HR,DT,FL,SD | Report |
| #38 | | 267,405 | 100.00% | nallely calle | 166 | 81&nbsp&nbsp/ 0 / 0 | 24 | 0 | 0 | HD,HR,DT,FL,SD | Report |
| #39 | | 267,405 | 100.00% | Lucy Deer 10 | 166 | 81&nbsp&nbsp/ 0 / 0 | 24 | 0 | 0 | HD,HR,NC,FL | Report |
| #40 | | 267,405 | 100.00% | CrippleNemo | 166 | 81&nbsp&nbsp/ 0 / 0 | 24 | 0 | 0 | HD,HR,DT,FL,PF | Report |
| #41 | | 267,405 | 100.00% | anyongg | 166 | 81&nbsp&nbsp/ 0 / 0 | 24 | 0 | 0 | HD,HR,DT,FL | Report |
| #42 | | 266,305 | 100.00% | Chocolatemochix | 166 | 81&nbsp&nbsp/ 0 / 0 | 24 | 0 | 0 | HD,HR,DT,FL,PF | Report |
| #43 | | 266,305 | 100.00% | S2K | 166 | 81&nbsp&nbsp/ 0 / 0 | 24 | 0 | 0 | HD,HR,DT,FL | Report |
| #44 | | 266,305 | 100.00% | Alisson511 | 166 | 81&nbsp&nbsp/ 0 / 0 | 24 | 0 | 0 | HD,HR,DT,FL | Report |
| #45 | | 266,305 | 100.00% | UndertakerOp | 166 | 81&nbsp&nbsp/ 0 / 0 | 24 | 0 | 0 | HD,HR,DT,FL | Report |
| #46 | | 266,305 | 100.00% | Darker_Killer | 166 | 81&nbsp&nbsp/ 0 / 0 | 24 | 0 | 0 | HD,HR,DT,FL | Report |
| #47 | | 266,305 | 100.00% | Kuruminha | 166 | 81&nbsp&nbsp/ 0 / 0 | 24 | 0 | 0 | HD,HR,DT,FL | Report |
| #48 | | 266,305 | 100.00% | Macej375 | 166 | 81&nbsp&nbsp/ 0 / 0 | 24 | 0 | 0 | HD,HR,NC,FL,PF | Report |
| #49 | | 266,305 | 100.00% | [Emillia] | 166 | 81&nbsp&nbsp/ 0 / 0 | 24 | 0 | 0 | HD,HR,DT,FL,PF | Report |
| #50 | | 266,305 | 100.00% | Suwako | 166 | 81&nbsp&nbsp/ 0 / 0 | 24 | 0 | 0 | HD,HR,DT,FL | Report |