Artist:
Celldweller
Circle Size:

Approach Rate:

Title:
Weaponized
HP Drain:

Star Difficulty:

(1.35)
Creator:
Hiicantpk
Accuracy:

Length:
0:57 (0:56 drain)
Source:
Genre:
Other (Instrumental)
BPM:
100
Tags:
terraform drums vol. 01 position music gun symphony hpk crowie Klayton
User Rating:
Success Rate:
Points of Failure:


(graph is accumulative, based on % at fail/retry)

52.2% (22293 of 42741 plays)

Submitted:
Ranked:
May 22, 2017
Dec 4, 2017
Rating Spread:

Favourited 253 times in total

Users that love this map: DoucePattes, LeVuS, Drakken, psh3023, Nyukai, [Morray], uclk2234, Itsuke, Polskipony4, freshpipzz, AkemiQ, Histerix, alakir1, Neko_Marisa9, naruxiazu, Crossled, kristoffer09, Mil-kesque, NRain2, Meksem and many more!
Options:
Modding / Discussion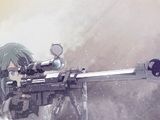 The Accuracy International AWM rifle is a variant of the British Accuracy International Arctic Warfare (AW) rifle that was the basis of a family of sniper rifles using the Arctic Warfare name. As such the design details of the AWM variant are similar to the ones found in the basic AW rifle system. Compared to the AW, the AWM has a longer bolt to accommodate dimensionally larger magnum-length cartridges such as the .300 Winchester Magnum and the .338 Lapua Magnum. The bolt head, locking ring, and extractor and magazines were also revised to work with the increased size and operating pressures of magnum rifle cartridges.
Is that a motherfucking PUBG reference?
kevin3333g is in the lead! ()
Score
91,537 (100.00%)
Max Combo
114
300 / 100 / 50
114 / 0 / 0
Misses
0
Geki (Elite Beat!)
10
Katu (Beat!)
0
Mods
HD,HR,NC,FL
Top 50 Scoreboard
| | Rank | Score | Accuracy | Player | Max Combo | 300 / 100 / 50 | Geki | Katu | Misses | Mods | |
| --- | --- | --- | --- | --- | --- | --- | --- | --- | --- | --- | --- |
| #1 | | 91,537 | 100.00% | kevin3333g | 114 | 114&nbsp&nbsp/ 0 / 0 | 10 | 0 | 0 | HD,HR,NC,FL | Report |
| #2 | | 88,674 | 100.00% | Nardoxyribonucleic | 114 | 114&nbsp&nbsp/ 0 / 0 | 10 | 0 | 0 | HR,DT,FL,SD | Report |
| #3 | | 88,674 | 100.00% | Conor | 114 | 114&nbsp&nbsp/ 0 / 0 | 1 | 0 | 0 | HR,DT,FL | Report |
| #4 | | 86,544 | 100.00% | v2fax | 114 | 114&nbsp&nbsp/ 0 / 0 | 3 | 0 | 0 | HD,HR,DT | Report |
| #5 | | 84,867 | 100.00% | BLACKJOKER01 | 114 | 114&nbsp&nbsp/ 0 / 0 | 0 | 0 | 0 | HR,FL,PF | Report |
| #6 | | 84,867 | 100.00% | Chriszo | 114 | 114&nbsp&nbsp/ 0 / 0 | 0 | 0 | 0 | HR,FL | Report |
| #7 | | 83,604 | 98.25% | e0486 | 114 | 110&nbsp&nbsp/ 4 / 0 | 0 | 0 | 0 | DT,FL | Report |
| #8 | | 82,517 | 95.61% | NekamiSasani | 114 | 104&nbsp&nbsp/ 10 / 0 | 6 | 0 | 0 | HR,NC,FL | Report |
| #9 | | 82,365 | 99.12% | Blue Steps | 114 | 112&nbsp&nbsp/ 2 / 0 | 2 | 0 | 0 | HR,DT | Report |
| #10 | | 81,230 | 96.93% | ChibiValy | 114 | 107&nbsp&nbsp/ 7 / 0 | 3 | 0 | 0 | HR,DT | Report |
| #11 | | 80,590 | 100.00% | sanalika1142 | 114 | 114&nbsp&nbsp/ 0 / 0 | 2 | 0 | 0 | HR | Report |
| #12 | | 80,590 | 100.00% | Kong253862 | 114 | 114&nbsp&nbsp/ 0 / 0 | 10 | 0 | 0 | HR | Report |
| #13 | | 80,590 | 100.00% | Evaine | 114 | 114&nbsp&nbsp/ 0 / 0 | 10 | 0 | 0 | HR | Report |
| #14 | | 80,590 | 100.00% | [CuteAnimeGirl] | 114 | 114&nbsp&nbsp/ 0 / 0 | 10 | 0 | 0 | HR,PF | Report |
| #15 | | 80,590 | 100.00% | -Electro- | 114 | 114&nbsp&nbsp/ 0 / 0 | 7 | 0 | 0 | HR | Report |
| #16 | | 79,840 | 99.12% | jack50013 | 114 | 112&nbsp&nbsp/ 2 / 0 | 0 | 0 | 0 | HR | Report |
| #17 | | 79,765 | 98.68% | Hopes | 114 | 111&nbsp&nbsp/ 3 / 0 | 8 | 0 | 0 | HR | Report |
| #18 | | 79,663 | 94.30% | Krugz | 114 | 101&nbsp&nbsp/ 13 / 0 | 8 | 0 | 0 | HR,FL | Report |
| #19 | | 79,467 | 96.49% | that1noob | 114 | 106&nbsp&nbsp/ 8 / 0 | 1 | 0 | 0 | HR,DT | Report |
| #20 | | 79,390 | 98.68% | Truekill | 114 | 111&nbsp&nbsp/ 3 / 0 | 7 | 0 | 0 | HR | Report |
| #21 | | 79,316 | 96.05% | broken_salad | 114 | 105&nbsp&nbsp/ 9 / 0 | 5 | 0 | 0 | HR,DT | Report |
| #22 | | 79,215 | 99.12% | Shirogumi | 114 | 112&nbsp&nbsp/ 2 / 0 | 3 | 0 | 0 | HR | Report |
| #23 | | 79,008 | 100.00% | efryo | 114 | 114&nbsp&nbsp/ 0 / 0 | 0 | 0 | 0 | NC,FL | Report |
| #24 | | 78,843 | 100.00% | Sleepteiner | 114 | 114&nbsp&nbsp/ 0 / 0 | 0 | 0 | 0 | PF | Report |
| #25 | | 78,843 | 100.00% | lli112 | 114 | 114&nbsp&nbsp/ 0 / 0 | 0 | 0 | 0 | None | Report |
| #26 | | 78,723 | 92.11% | SergoM4444 | 113 | 97&nbsp&nbsp/ 16 / 0 | 1 | 0 | 1 | HR,DT,FL | Report |
| #27 | | 78,577 | 99.56% | Queen G | 114 | 113&nbsp&nbsp/ 1 / 0 | 2 | 0 | 0 | None | Report |
| #28 | | 78,215 | 96.93% | -Phoenix- | 114 | 107&nbsp&nbsp/ 7 / 0 | 5 | 0 | 0 | HR,SD | Report |
| #29 | | 78,195 | 98.25% | NoahDoesSpore | 114 | 110&nbsp&nbsp/ 4 / 0 | 7 | 1 | 0 | HR | Report |
| #30 | | 78,110 | 96.93% | Alfearox | 114 | 107&nbsp&nbsp/ 7 / 0 | 8 | 0 | 0 | HR | Report |
| #31 | | 78,075 | 98.25% | Yachiru558 | 114 | 110&nbsp&nbsp/ 4 / 0 | 10 | 0 | 0 | None | Report |
| #32 | | 77,787 | 98.25% | badyixing | 114 | 110&nbsp&nbsp/ 4 / 0 | 0 | 0 | 0 | None | Report |
| #33 | | 77,643 | 99.12% | koi-san | 114 | 112&nbsp&nbsp/ 2 / 0 | 7 | 0 | 0 | None | Report |
| #34 | | 77,575 | 98.68% | Kyuthix | 114 | 111&nbsp&nbsp/ 3 / 0 | 0 | 0 | 0 | None | Report |
| #35 | | 77,571 | 98.25% | KemsGotRhythm | 114 | 110&nbsp&nbsp/ 4 / 0 | 9 | 0 | 0 | None | Report |
| #36 | | 77,505 | 96.49% | Andrua | 114 | 106&nbsp&nbsp/ 8 / 0 | 9 | 1 | 0 | HR | Report |
| #37 | | 77,371 | 97.37% | D3sol4t10N | 114 | 108&nbsp&nbsp/ 6 / 0 | 6 | 0 | 0 | None | Report |
| #38 | | 77,275 | 99.12% | papaswin1 | 114 | 112&nbsp&nbsp/ 2 / 0 | 0 | 0 | 0 | HR,FL | Report |
| #39 | | 77,208 | 98.68% | -Twistyy- | 114 | 111&nbsp&nbsp/ 3 / 0 | 4 | 0 | 0 | None | Report |
| #40 | | 77,175 | 97.81% | CatKasha | 114 | 109&nbsp&nbsp/ 5 / 0 | 7 | 1 | 0 | None | Report |
| #41 | | 77,103 | 97.37% | My Angel Diva | 114 | 108&nbsp&nbsp/ 6 / 0 | 3 | 0 | 0 | None | Report |
| #42 | | 77,063 | 97.37% | arutoran | 114 | 108&nbsp&nbsp/ 6 / 0 | 6 | 0 | 0 | None | Report |
| #43 | | 76,840 | 94.74% | JSajipai | 114 | 102&nbsp&nbsp/ 12 / 0 | 3 | 0 | 0 | HR,DT | Report |
| #44 | | 76,779 | 96.93% | tinGopa | 114 | 107&nbsp&nbsp/ 7 / 0 | 1 | 0 | 0 | None | Report |
| #45 | | 76,540 | 95.18% | _NVRMND_ | 114 | 103&nbsp&nbsp/ 11 / 0 | 2 | 0 | 0 | HR | Report |
| #46 | | 76,320 | 93.42% | zombi_shadow | 114 | 99&nbsp&nbsp/ 15 / 0 | 10 | 0 | 0 | HR | Report |
| #47 | | 76,283 | 98.25% | Watch and learn | 114 | 110&nbsp&nbsp/ 4 / 0 | 5 | 0 | 0 | None | Report |
| #48 | | 76,159 | 95.61% | jaylawjunhao | 114 | 104&nbsp&nbsp/ 10 / 0 | 0 | 0 | 0 | None | Report |
| #49 | | 76,111 | 98.25% | DaSushiAsian | 114 | 110&nbsp&nbsp/ 4 / 0 | 3 | 0 | 0 | None | Report |
| #50 | | 75,870 | 95.61% | komorebi | 114 | 104&nbsp&nbsp/ 10 / 0 | 0 | 0 | 0 | None | Report |