Beatmap Listing » Nico Nico Chorus - Rolling Girl (Band Arrangement)
Artist:
Nico Nico Chorus
Circle Size:

Approach Rate:

Title:
Rolling Girl (Band Arrangement)
HP Drain:

Star Difficulty:

(5.00)
Creator:
Shinde
Accuracy:

Length:
3:30 (3:08 drain)
Source:
Nico Nico Douga
Genre:
Novelty (Japanese)
BPM:
195
Tags:
wowaka vocaloid hatsune miku moebius akiakane kettaro shirokuro mitsumushi mii-chan taitson exit tunes
User Rating:
Success Rate:
Points of Failure:


(graph is accumulative, based on % at fail/retry)

16.4% (124774 of 760090 plays)

Submitted:
Ranked:
Aug 15, 2011
Dec 20, 2011
Rating Spread:

Favourited 393 times in total

Users that love this map: Yakanomura, Koro, Scorpionek, iys, Duco, -SakkyuN-, Koy121, Jaregoto, katekio, wanjai, TeNko, R e d, megpoidgumi, Jaoxxx, kounty, Mantis, Pizza Kun, sorrow clown, quicky1990, rebes and many more!
Options:
Modding / Discussion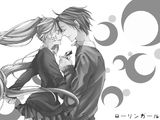 Finally done.
I mapped a map so I uploaded it.
Makes sense, ne?
I always wanted to map a difficulty to Rolling Girl to my tastes and how I envisoned it, but never really got to. It's still one of my favorite songs, so I finally got around to working on a WiP I had. I cannot stress enough how beautiful the song is to me. T_T Even after many months.
Since there are already 3 ranked mapsets, I think I can finally make this
for approval
?
Rohulk is in the lead! ()
Score
17,712,383 (99.02%)
Max Combo
970
300 / 100 / 50
686 / 9 / 1
Misses
0
Geki (Elite Beat!)
139
Katu (Beat!)
6
Mods
HD,HR
Top 50 Scoreboard
| | Rank | Score | Accuracy | Player | Max Combo | 300 / 100 / 50 | Geki | Katu | Misses | Mods | |
| --- | --- | --- | --- | --- | --- | --- | --- | --- | --- | --- | --- |
| #1 | | 17,712,383 | 99.02% | Rohulk | 970 | 686&nbsp&nbsp/ 9 / 1 | 139 | 6 | 0 | HD,HR | Report |
| #2 | | 17,547,016 | 98.37% | Recia | 970 | 679&nbsp&nbsp/ 17 / 0 | 133 | 13 | 0 | HD,HR | Report |
| #3 | | 17,528,558 | 98.08% | porinki | 970 | 676&nbsp&nbsp/ 20 / 0 | 131 | 15 | 0 | HD,HR | Report |
| #4 | | 17,512,315 | 98.28% | serea | 970 | 678&nbsp&nbsp/ 18 / 0 | 132 | 14 | 0 | HD,HR | Report |
| #5 | | 17,477,804 | 97.41% | SoraRoxas01 | 970 | 669&nbsp&nbsp/ 27 / 0 | 127 | 19 | 0 | HD,HR | Report |
| #6 | | 17,389,380 | 97.03% | Fenrir | 970 | 665&nbsp&nbsp/ 31 / 0 | 126 | 20 | 0 | HD,HR | Report |
| #7 | | 17,291,830 | 96.53% | Small K | 970 | 660&nbsp&nbsp/ 35 / 1 | 117 | 28 | 0 | HD,HR | Report |
| #8 | | 17,279,460 | 96.17% | Risiing | 970 | 656&nbsp&nbsp/ 40 / 0 | 120 | 26 | 0 | HD,HR | Report |
| #9 | | 17,274,509 | 96.43% | dat boi waffle | 970 | 659&nbsp&nbsp/ 36 / 1 | 122 | 23 | 0 | HD,HR | Report |
| #10 | | 17,244,605 | 95.11% | ZFM | 970 | 645&nbsp&nbsp/ 51 / 0 | 121 | 25 | 0 | HD,HR | Report |
| #11 | | 17,151,658 | 95.88% | JinKuRa | 970 | 653&nbsp&nbsp/ 43 / 0 | 116 | 30 | 0 | HD,HR | Report |
| #12 | | 17,128,750 | 96.17% | Pikasha- | 970 | 656&nbsp&nbsp/ 40 / 0 | 120 | 26 | 0 | HD,HR | Report |
| #13 | | 17,097,473 | 94.83% | Puzzle | 970 | 642&nbsp&nbsp/ 54 / 0 | 119 | 27 | 0 | HD,HR | Report |
| #14 | | 17,093,625 | 95.28% | BoT-Shirt | 970 | 647&nbsp&nbsp/ 48 / 1 | 114 | 31 | 0 | HD,HR | Report |
| #15 | | 17,067,010 | 95.02% | Haynoru | 970 | 644&nbsp&nbsp/ 52 / 0 | 122 | 24 | 0 | HD,HR | Report |
| #16 | | 17,012,623 | 94.61% | Qinec14 | 970 | 640&nbsp&nbsp/ 55 / 1 | 111 | 34 | 0 | HD,HR | Report |
| #17 | | 16,987,443 | 93.68% | Kor3ry3-Kun | 970 | 630&nbsp&nbsp/ 66 / 0 | 108 | 38 | 0 | HD,HR | Report |
| #18 | | 16,986,537 | 94.61% | Ferelix | 969 | 640&nbsp&nbsp/ 55 / 1 | 103 | 42 | 0 | HD,HR | Report |
| #19 | | 16,961,570 | 93.85% | -cr1mmy- | 970 | 632&nbsp&nbsp/ 63 / 1 | 115 | 30 | 0 | HD,HR | Report |
| #20 | | 16,952,986 | 95.28% | EmertxE | 970 | 648&nbsp&nbsp/ 43 / 5 | 124 | 19 | 0 | DT | Report |
| #21 | | 16,929,893 | 95.02% | ktoswazny | 970 | 644&nbsp&nbsp/ 52 / 0 | 111 | 35 | 0 | HD,HR | Report |
| #22 | | 16,901,260 | 94.88% | LordTimeWaste | 970 | 643&nbsp&nbsp/ 51 / 2 | 112 | 32 | 0 | HD,HR | Report |
| #23 | | 16,898,432 | 94.80% | potap | 970 | 642&nbsp&nbsp/ 53 / 1 | 112 | 33 | 0 | HD,HR | Report |
| #24 | | 16,858,306 | 94.78% | NoNameAlter | 970 | 642&nbsp&nbsp/ 52 / 2 | 113 | 31 | 0 | HD,HR | Report |
| #25 | | 16,848,406 | 95.59% | Vendemmia | 970 | 650&nbsp&nbsp/ 46 / 0 | 113 | 33 | 0 | HD,HR | Report |
| #26 | | 16,846,801 | 94.47% | stackerjoe | 970 | 640&nbsp&nbsp/ 49 / 7 | 106 | 38 | 0 | HD,HR | Report |
| #27 | | 16,826,660 | 94.20% | Ashtar | 969 | 636&nbsp&nbsp/ 59 / 0 | 117 | 28 | 1 | HD,HR | Report |
| #28 | | 16,820,640 | 92.72% | Yuki Elison | 970 | 620&nbsp&nbsp/ 76 / 0 | 108 | 38 | 0 | HD,HR | Report |
| #29 | | 16,816,970 | 100.00% | -Touka- | 970 | 696&nbsp&nbsp/ 0 / 0 | 146 | 0 | 0 | HD | Report |
| #30 | | 16,814,670 | 100.00% | Koltay | 970 | 696&nbsp&nbsp/ 0 / 0 | 146 | 0 | 0 | HD | Report |
| #31 | | 16,814,570 | 100.00% | Comess | 970 | 696&nbsp&nbsp/ 0 / 0 | 146 | 0 | 0 | HD | Report |
| #32 | | 16,811,041 | 93.18% | eoehd1ek | 970 | 626&nbsp&nbsp/ 65 / 5 | 110 | 31 | 0 | HD,HR | Report |
| #33 | | 16,810,062 | 99.90% | Wilchq | 970 | 695&nbsp&nbsp/ 1 / 0 | 145 | 1 | 0 | HD | Report |
| #34 | | 16,802,176 | 93.87% | homu-homu-tan | 970 | 632&nbsp&nbsp/ 64 / 0 | 104 | 42 | 0 | HD,HR | Report |
| #35 | | 16,798,409 | 99.71% | Ninjasukat | 970 | 693&nbsp&nbsp/ 3 / 0 | 143 | 3 | 0 | HD | Report |
| #36 | | 16,797,105 | 99.90% | DigitalHypno | 970 | 695&nbsp&nbsp/ 1 / 0 | 145 | 1 | 0 | HD,SD | Report |
| #37 | | 16,791,665 | 99.81% | Kumano | 970 | 694&nbsp&nbsp/ 2 / 0 | 144 | 2 | 0 | HD | Report |
| #38 | | 16,791,554 | 99.81% | Chewin | 970 | 694&nbsp&nbsp/ 2 / 0 | 144 | 2 | 0 | HD | Report |
| #39 | | 16,789,915 | 99.81% | Neliel | 970 | 694&nbsp&nbsp/ 2 / 0 | 144 | 2 | 0 | HD | Report |
| #40 | | 16,787,507 | 94.73% | Electovoid | 970 | 641&nbsp&nbsp/ 55 / 0 | 111 | 35 | 0 | HD,HR | Report |
| #41 | | 16,777,476 | 99.71% | ImMyyrh | 970 | 693&nbsp&nbsp/ 3 / 0 | 143 | 3 | 0 | HD | Report |
| #42 | | 16,762,610 | 99.62% | Gian | 970 | 692&nbsp&nbsp/ 4 / 0 | 142 | 4 | 0 | HD | Report |
| #43 | | 16,759,542 | 99.43% | Phoonie | 970 | 690&nbsp&nbsp/ 6 / 0 | 140 | 6 | 0 | HD | Report |
| #44 | | 16,757,694 | 99.43% | Rikuu | 970 | 690&nbsp&nbsp/ 6 / 0 | 141 | 5 | 0 | HD | Report |
| #45 | | 16,757,639 | 99.52% | zelda101 | 970 | 691&nbsp&nbsp/ 5 / 0 | 142 | 4 | 0 | HD | Report |
| #46 | | 16,756,168 | 95.09% | Kennen | 970 | 645&nbsp&nbsp/ 50 / 1 | 118 | 27 | 0 | HD,HR | Report |
| #47 | | 16,751,295 | 99.43% | 0203okaT | 970 | 690&nbsp&nbsp/ 6 / 0 | 141 | 5 | 0 | HD | Report |
| #48 | | 16,748,962 | 93.49% | 408 | 970 | 628&nbsp&nbsp/ 68 / 0 | 111 | 35 | 0 | HD,HR | Report |
| #49 | | 16,748,749 | 99.52% | Ramizen | 970 | 691&nbsp&nbsp/ 5 / 0 | 142 | 4 | 0 | HD | Report |
| #50 | | 16,747,067 | 99.62% | [ Mitchi ] | 970 | 692&nbsp&nbsp/ 4 / 0 | 142 | 4 | 0 | HD | Report |